The Evolution of 100% PURE
Highlighting 3 all-time favorite natural products
Posted on October 22, 2017
Written by: 100% Pure®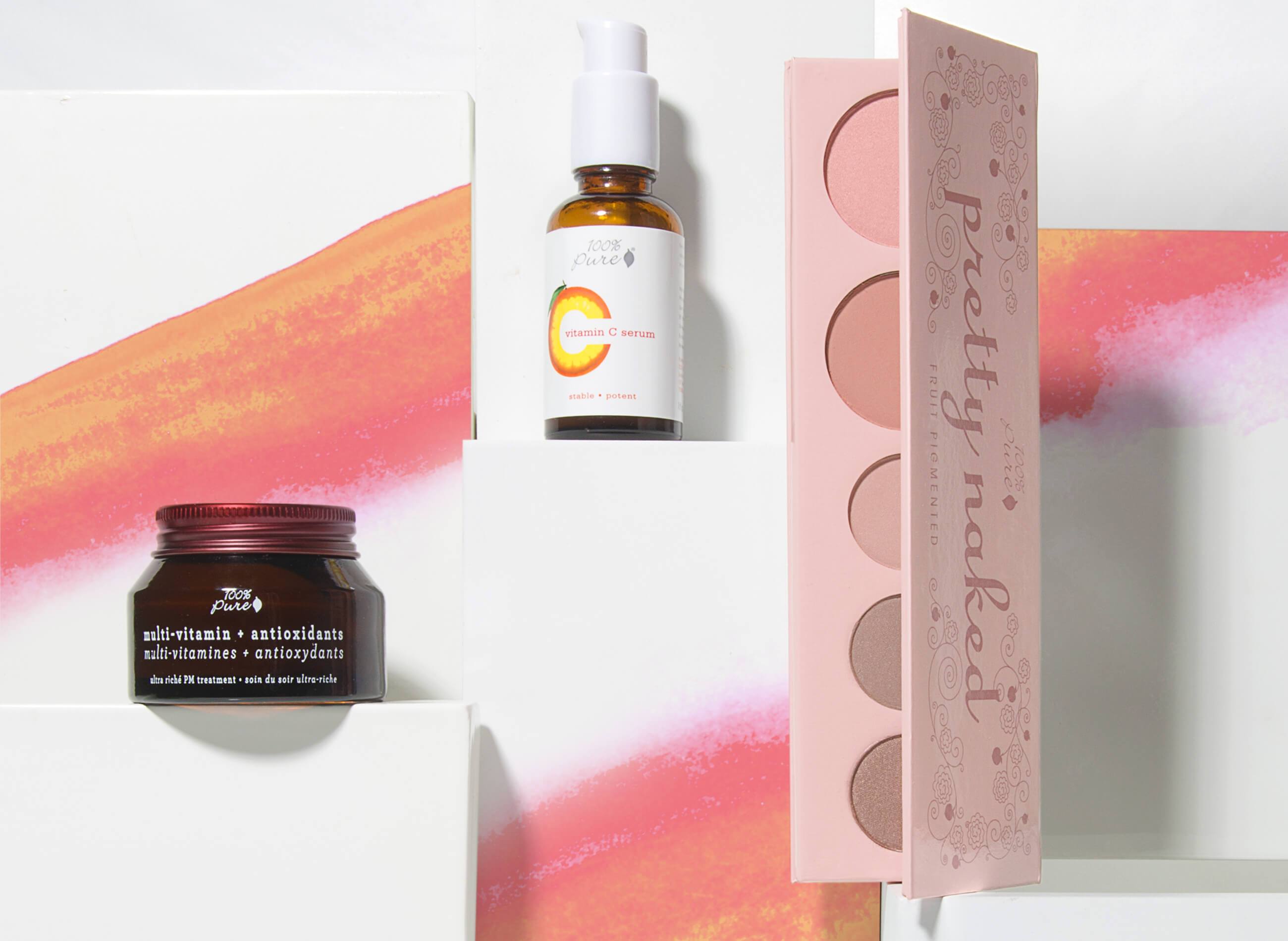 We've chosen three very special products to represent the 12 definitive years that 100% PURE has been in business. Over the past decade, the brand has launched into the natural beauty spotlight and redefined what it means to be truly pure; actively avoiding toxic, harsh ingredients and standing firmly for cruelty-free beauty. The stable preservatives in our Vitamin C Serum, the fruit pigments in our beloved Pretty Naked Palette, and the expertly formulated vitamin content of our Multi-Vitamin cream all represent the outstanding natural chemistry spearheaded by Susie Wang.
Vitamin C Serum
UC Berkeley student Susie Wang had always been a skincare junkie. So when a brand new Vitamin C serum was released by a famous department store brand, she saved up a week's worth of lunch money to purchase the pricey treatment. Sadly, not long after opening the serum, her thrill turned to disappointment when she noticed the once white formula had turned brown — this oxidation spelled certain skin care doom.
Much like when an apple is sliced and left on a counter, oxygen had begun to break down and physically alter the organic matter of the serum. This oxidation changed the properties of the serum, diminishing the potency of the vitamin C and converting it to a skin damaging free radical; the opposite of what was intended. After testing and witnessing the same issue in many other vitamin C serums, Susie took it into her own hands to develop a solution. The resultant years led to a successful vitamin stabilization patent, formulating for some of the biggest brands in the world, and the founding of 100% PURE.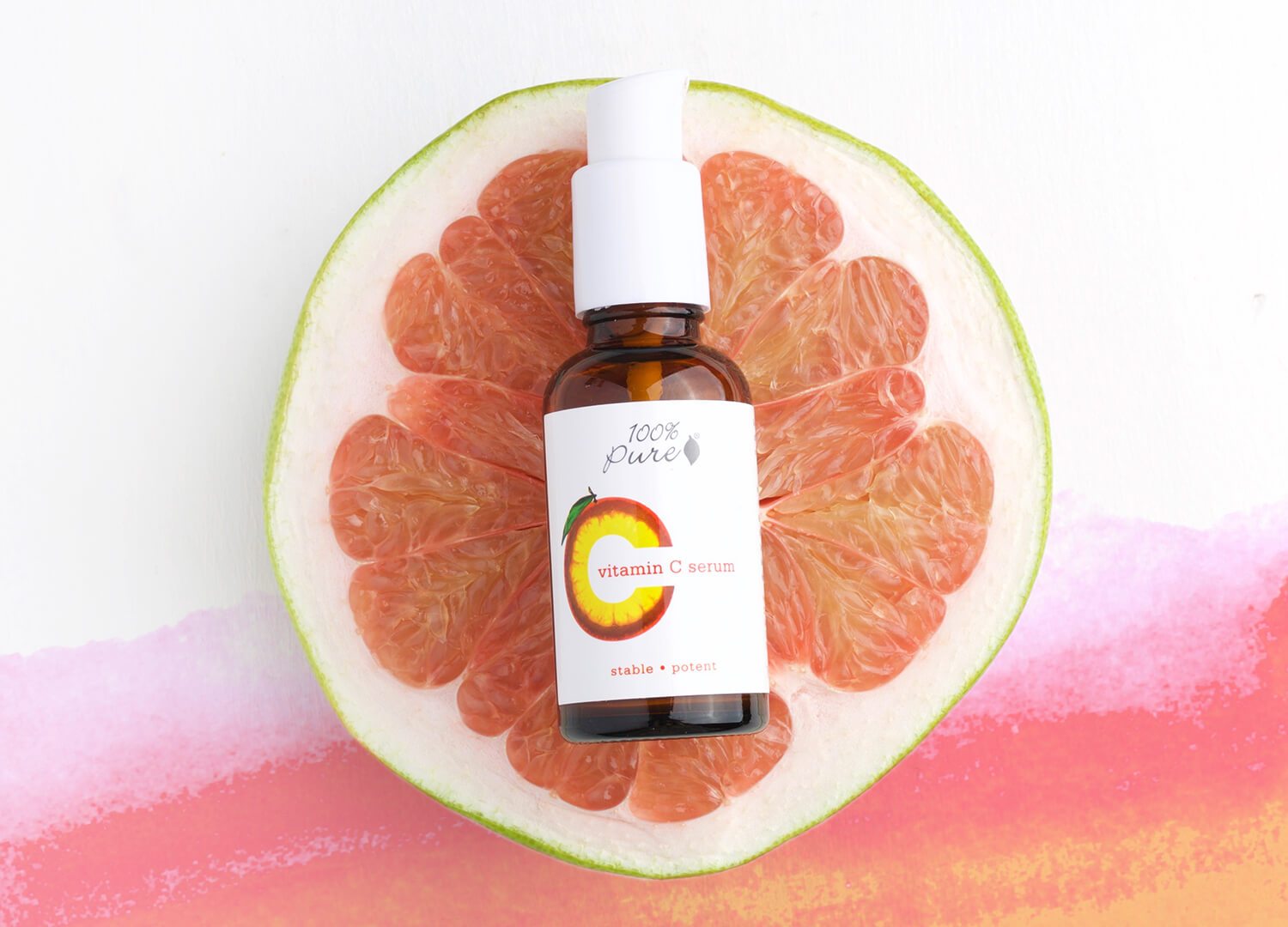 Our Vitamin C Serum is one of our most well-known, beloved natural skin care products, and for good reason. By using savvy skin care tactics like implementing potent antioxidants, vitamin E, and formulating with an aloe vera gel base instead of water, Susie created an ultra stable Vitamin C Serum that does not oxidize over time.
The benefits of vitamin C for skin are seemingly endless, making it a favorite for not only skin in its 20's-30's, but for aging skin types as well. Vitamin C, aka ascorbic acid, offers natural skin lightening and brightening, supports collagen production, fights bacteria with its inherent acidic properties, and boosts moisture and hydration in skin. The soothing, hydrating aloe vera gel base makes this serum ultra-absorbable and keeps skin smooth and supple. In a way, this popular natural serum formula was conceived by Susie Wang even before the founding of 100% PURE, and continues to represent the innovation that separates our brand of natural skin care from the pack.
I'm a 71 year old lady, and although I've always used sunblock and skin care products, I wound up with hyperpigmentation caused by medications interacting with the sun. About 3 years ago I started using vitamin c serum, and shortly after that I found yours. It is my absolute favorite, and although the spots on my face are still there, my skin has improved so much that friends have asked what I'm using. "100% Pure" Vitamin C Serum twice a day. Thank you for this wonderful product.
– Sharon B., Verified Buyer
I absolutely love this stuff! I was very very skeptical at first because my skin gets extremely oily from any type of serums, moisturizer, or oils. I tried this and was so impressed. It is so light weight and absorbs into my skin instantly with not even the slightest bit of oily skin from it. I would recommend this to anyone!
– Jess, Verified Buyer
Fruit Pigmented® Pretty Naked Palette
Can we just take a moment to appreciate the sheer beauty of this all-time favorite palette? The look possibilities of the Fruit Pigmented Pretty Naked Palette are endless, the soft nudes and pinks bring out a romantic blush in any skin tone, and the super popular shades have even sparked a sequel palette. This original palette creates stunning makeup looks that you won't believe are colored by fruit.
Susie Wang first came up with the idea for fruit pigments while picking berries in her garden. While plucking the ripe, red berries, she noticed the intense pigment rubbing off onto her fingertips. Having spent years formulating for some of the biggest beauty brands in the world, she was familiar with the type of synthetic, toxic dyes being used in conventional cosmetics, and instantly realized she had the answer for a safer alternative literally at her fingertips.
Susie and co-founder Ric Kostick patented a fruit pigmented® technology to safely color all 100% makeup, and never looked back once they'd unlocked the door to safer cosmetics. 100% PURE makeup products are pigmented by dehydrated and pulverized berries, veggies, and cocoa to ensure that they'll be safe on skin and non-irritating. Our fruit pigmented® natural lipsticks don't contain any heavy metals or animal byproducts that can slip through your lips, and are absolutely yummy thanks to the natural fruit oils and extracts, and our Pretty Naked Palette was one of the first palettes to achieve superstar status while being powered on fruit alone. Needless to say, we've got the color cosmetics game won with our fruit dyed technology.
The soft pinks, pearly metallics, and nudes of the Pretty Naked Palette utilize fruit pigments and responsibly sourced mica to give them their signature glow. The palette contains 3 neutral nude, softly shimmery eyeshadows, a peachy-pink nude blush, and a pearly pink luminizer to make day or night looks easy as pie. We love pairing this palette with a favorite natural foundation, fruit pigmented® lipstick, or natural volumizing mascara to amp up a complete fruit pigmented® look.
PRO TIP: Looking for deeper, darker pigment in your palette? For pigment with more dramatic pop on deeper skin tones, try our Pretty Naked II Palette!
I absolutely ADORE this neutrals palette. The luminizer is a great brightener, and I love using it in the corners of my eyes and under the arches of my eyebrows for a little definition. The pigmentation of everything is fantastic – something I definitely wasn't expecting from such a subtle palette. I also love that the there's a shimmer option as well as two matte shadows. Overall, a great purchase and I'm wholly satisfied!
– Stephanie, 100% PURE customer
I loved this so much I had to have it right away. I've made the switch completely to 100% pure makeup so that my skin (and body) stays optimally healthy, and once I bought this pallet was in love. The eye shadows are perfectly shimmery, long-lasting, and give me the natural, beautiful look I desire. Mix the blush with a little moisturizer (I like the green tea facial moisturizer) for a dewy, sun-kissed look. Layer with the luminizer and you're sure to get a few compliments throughout the day.
– Jessica C., 100% PURE customer
Multi-Vitamins + Antioxidants Ultra Riche PM Treatment
Our superstar Multi-Vitamin cream (what our 100% PURE family has nicknamed this beauty) represents 100% PURE's lifelong venture of creating beloved skin care products sourced from nature that actually work. This ultra luxe natural PM moisturizer is so hugely popular that we couldn't help but create a super high potency PM serum to pair with it! As a fairly new addition to our skin care family, this supremely anti-aging moisturizer has garnered quite the cult following, due to its delectable 'chocolate orange' essential oil scent and deeply rich, creamy texture.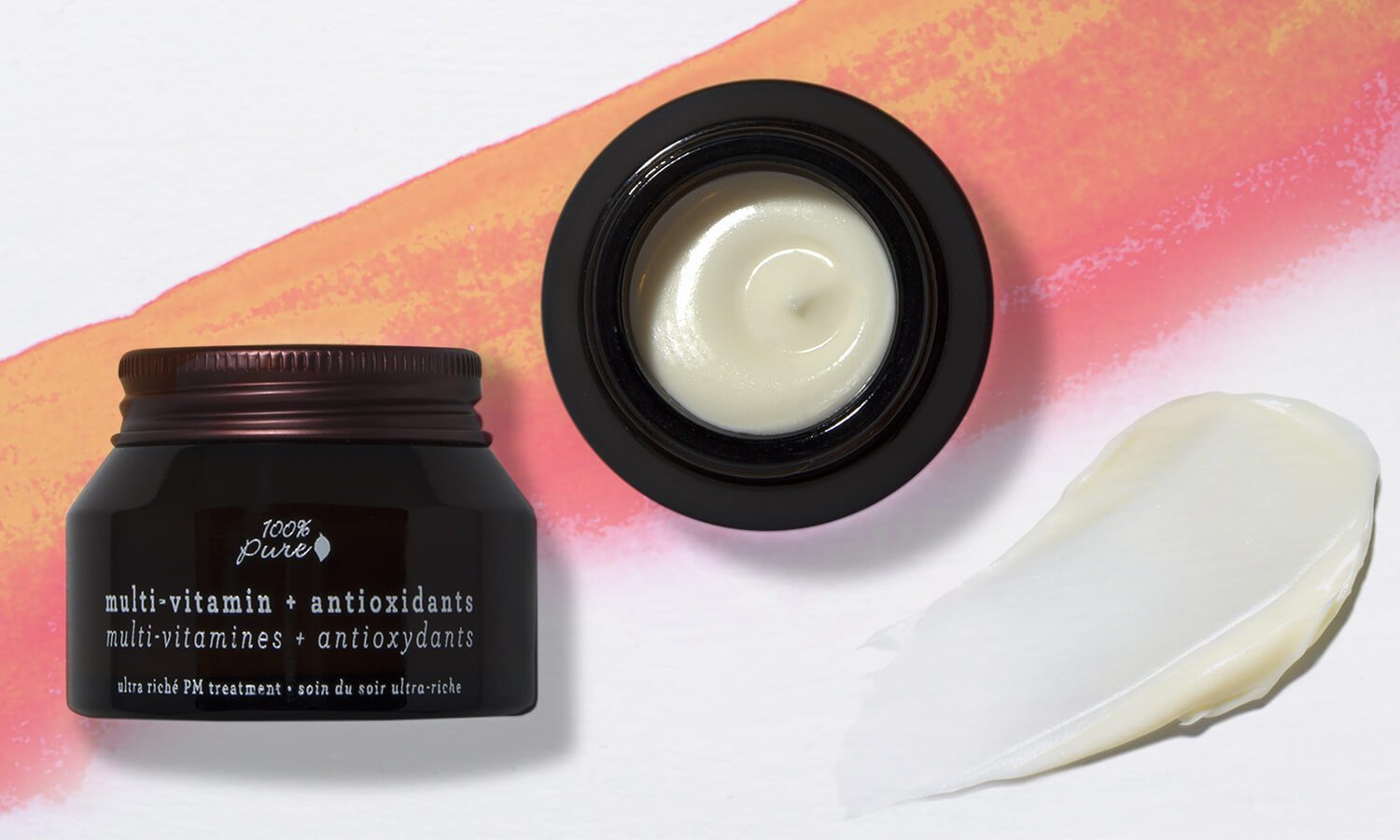 You'll find that most 100% PURE natural moisturizer formulas utilize a mix of avocado oil, shea butter, and vitamin E to offer a healthy skin care trifecta in their base. We do this to ensure multiple plant based benefits in each formula, not just plain moisturization. Avocado oil is a rich, semi-lightweight oil that is largely non-comedogenic, meaning it won't clog pores. Shea butter is a well-known skin moisturizer for face and body, touting hefty fatty acid content for improving elasticity and suppleness. Finally, we love vitamin E for its skin repairative properties, since it works wonders for minimizing appearance of scars in damaged skin, while also acting as a free-radical fighting antioxidant to reduce signs of aging.
By blending super-skin-hydrator organic aloe vera, skin repairative vitamin E, and nourishing avocado oil in our base, we were already starting with the makings of a super rich facial moisturizer for the ages. When Susie dared to add the ultra-potent, anti-aging blend of Vitamin B3 (Niacinamide), Vitamin C, Vitamin K2, Vitamin A (Retinol), and Vitamin B5, we found ourselves in gold-medal territory for nutrient packed facial moisturizers. This cream comes with serious skin softening street cred, extreme anti-aging potency, and a yummy one of a kind scent.
I use only 100 Percent Pure skin care, and even though I'm 50 and a grandma, my skin feels like satin, like my little granddaughter's. I've had people guess my age to be in the lower 30s, so I'm sticking with these products. The Ultra Riche PM Treatment feels amazing, so moisturizing, and never greasy, and the scent is luscious.
– Catherine Anne, 100% PURE customer
I have only been using this for about a week, but it feels so good after I wash my face. Super moisturizing, but not greasy or oily. My skin feels amazing when I wake up in the morning. Definitely feels like it's working. Love all the natural ingredients in it and smells so good. Feels like I'm feeding my skin and repairing it every night. I have super dry skin in the winter and I don't need to add a second moisturizer like usual. Highly recommend.
– Alexandra T., 100% PURE customer
While 100% PURE has accomplished a lot over the last decade, we've got our eyes set on the future and the endless possibilities for creating more natural beauty that makes a difference. We're shifting our product lineup to be vegan-focused, giving our customers more of the fruit pigmented® magic they've been asking for, and constantly innovating new and improved skin care. Stay tuned on our blog, as the near future only holds MORE big surprises for you green beauty revolutionaries!