100% PURE Legacy Story: Fruit Pigmented® Makeup
Highlighting 8 natural cosmetics made with revolutionary fruit pigments
Posted on November 16, 2017
Written by: 100% Pure®
Why We Use Fruit Pigments
As a renowned chemist, one of Susie Wang's proudest accomplishments is her discovery and utilization of fruit pigments in cosmetics: an innovation that has revolutionized the natural cosmetics industry and challenged the conventional method of dyeing cosmetics. Susie discovered fruit pigments one day while picking berries in her garden: noticing how easily the vibrant colors stained her skin, Susie knew she'd discovered something special.
These natural stains from fruit pigments were patented for use in natural cosmetics by Wang and co-founder Ric Kostick, and since then 100% PURE has used only fruit, vegetables, tea, coffee, and cocoa to color our extensive collection of natural cosmetics. Not only are our fruit pigments as natural as it gets, they're also chock-full of vitamins and antioxidants to offer naturally occurring, nutritional benefits to support healthy skin
Don't get the wrong idea: we're all for bold and pretty hues, electric eyeliners, lips that pop, and mega-watt highlighters for glowing cheekbones. What we're not so okay with are the toxic dyes and synthetic chemicals being absorbed into our pores while we wear those conventional cosmetics — they can affect anything from our skin moisture levels to our hormone balance, and it just ain't worth it!
By cultivating ingredient lists that pretty much mirror your farmer's market shopping lists, we're able to create our own Fruit Pigmented® color wheel. Our range of hues – illustrated in nude makeup palettes to high drama matte lips – are all created from fruit dyes and pigments. And we're not just talking about berries. We formulate our colors with cherries, tomatoes, beets, peaches, papayas, tea, cocoa, edible flowers, pomegranates… just to name a few!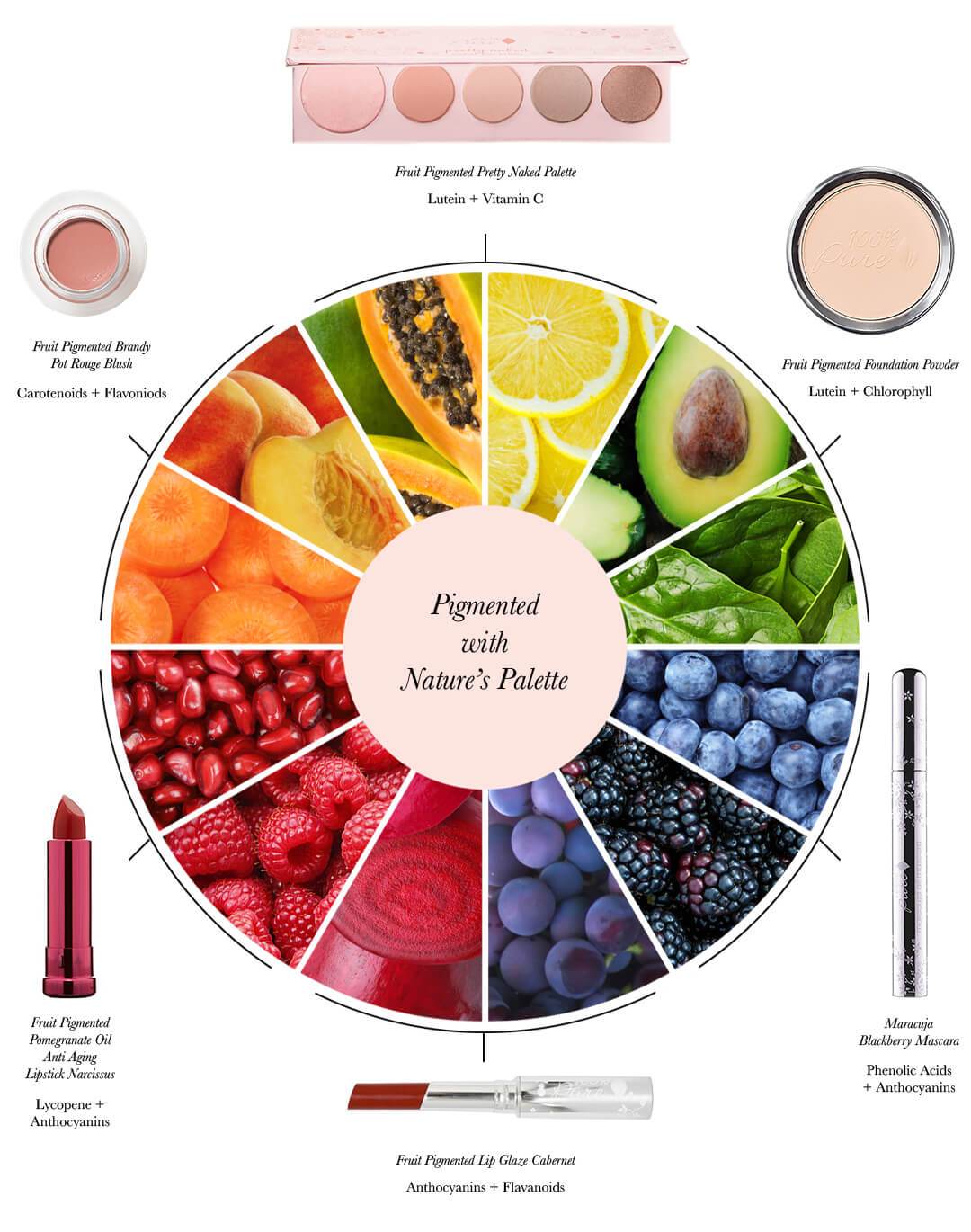 So what can fruit pigments do for you, other than get you a perfectly shaded pout? Using all natural beauty products formulated with fruit dyes and pigments allows you to avoid common colorants used in mainstream beauty products: synthetic dyes and iron oxides, both of which can act as irritants associated with inflammation, allergic reactions, and breakouts. Check out our breakdown on what gives makeup its color for a mini lesson on cosmetic colorants (and why you should be suspicious of synthetic ones).
Fruit Pigments + Natural Cosmetics = A Match Made In Nature
We've rounded up some of our fave fruit pigmented® products, and highlighted which fruits we've used in each formula to get them juuuust right. Let's take a peek!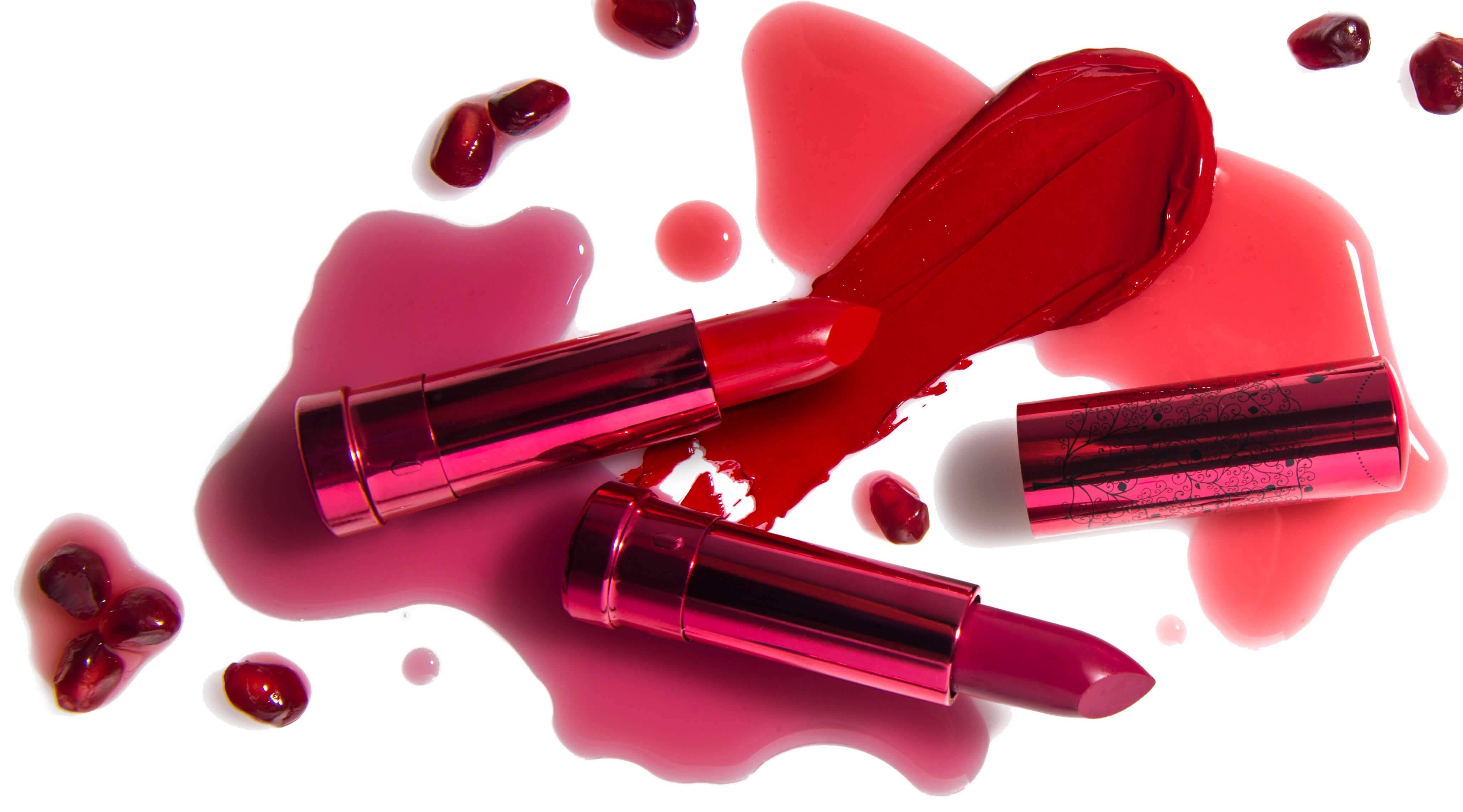 Poppy Lipstick
Pomegranate
Pomegranate is one of our favorite fruits to work with, thanks to its superior staining power (ever stained a shirt with pomegranate juice?), high levels of vitamin C, and stellar knack for treating skin roughness and flakiness. We're able to achieve deep, high drama shades with the natural blood red tones in pomegranate, so it's a go-to ingredient for dramatically red shades that look fabulous on a wide variety of skin tones. Pomegranate is featured front and center in our Fruit Pigmented Pomegranate Oil Anti Aging Lipstick: Poppy: a silky, seductive red that also works as an anti-aging lip treatment – thanks to a formula that includes pomegranate oil! Yeah, we're into multi-tasking.
Bamboo Blur Tinted Moisturizer
Avocado + Peach
OK, so avocado one isn't really a pigment — but we had to take a minute to highlight one of our all-time favorite fruit (yes, fruit: a berry, to be exact) ingredients! Paired with naturally skin-similar pigments from peach, avocado oil makes for a deeply nourishing, natural tinted moisturizer that performs like a lightweight foundation. When formulating foundations, we're all about multi-dimensional color that draws from a number of different base colorants — this helps us create shades that have depth (pro tip: stay away from one-dimensional foundation hues, as they'll flatten out your natural contours). To create the deep tan shade of Golden Peach, we've combined a number of fruit pigments (peach, apricot, carrot, and tomato), then added avocado as a rich and mellow base tone and moisturizer. Avocado is a fantastic shade to build depth for skin tone hues, plus it's an ingredient that's rich in healthy fatty acids to keep your skin plump and elastic.
Blackberry Mascara & Aubergine Matte Lipstick
Blackberry
Blackberries are packed with antioxidants, so they work double duty in both mascara and lip formulas as both a natural pigment and vitamin-packed treatment. While eyelash extensions might be having a moment right now, they're also pretty tough on both your schedule and your wallet. We're focusing on natural lashes: nourishing and strengthening them so they can shine solo. One of the ways we do this is by staying away from the super drying pigments present in most mainstream mascaras (the ones that leave you with dreaded dry clumps and a thinner lash line over time); instead, we put blackberries to work in our Maracuja Mascara formula, for a deep and luscious purple hue that's dramatic but not damaging.
We adore the sultry midnight tones found in the flesh and juice of the blackberry, which is why we utilized this tart little berry for deeper tones in our matte lipstick collection. Take Aubergine, for example: this deep, berry-eggplant hybrid is nothing short of a showstopper on any skin tone! Looking to summon your inner fall goddess? Pair Aubergine with Maracuja Mascara in Blackberry, then blend a little Sugar Plum Lip & Cheek Tint (also pigment by blackberries!) into your cheeks for a naturally wind-chilled flush.
Cabernet Lip Glaze & Plum Wine Lip Caramel
Cabernet Grape
Right now we're geeking out over grapes and their incredible medicinal properties when it comes to skincare (and wine drinking). Grape skins contain powerful antioxidants that fight skin aging and cell deterioration, while protecting against damage from pollutants. Plus they're loaded with phytonutrients and phytochemicals to help lighten discoloration and scarring, and tighten tired or sagging skin. We've worked cabernet grape into our Fruit Pigmented Lip Glaze: Cabernet formula, to get a sheer wash of color that's a deep red with blue and pink undertones. Super silky and emollient, this is a totally buildable lip color that – as usual – also doubles as a nourishing lip treatment.
Loving liquid lipsticks? We believe we've got the best of the best — our Lip Caramel collection is full of bold hues ranging from pinky nudes to inky wines, and totally colored by fruit and achiote seeds. Cabernet grapes infuse the vampy, black currant undertone of Plum Wine, our go-to for first dates and romantic rendezvous. With natural cosmetics superpowers like silky smooth coverage and intense pigment from natural dyes like grape, blueberry, and blackcurrant, it's a wonder Lip Caramels haven't taken over the world.
Strawberry Lip Butter
Strawberry
While the name and seeds suggest it, it may come as a shock that strawberries are quite considered an actual berry. Botanically classified as an 'accessory fruit', we couldn't agree more: strawberries are the ideal accessory for adding truly delicious color to natural cosmetics! This fan-favorite fruit offers the perfect pure red for our nourishing little lip butters: a small but mighty collection of lip softening, lightly pigmented purse accessories. These compact tins pack antioxidant and vitamin-rich a like strawberry, cranberry, tomato, and carrot, living in a base of skin moisturizing shea butter, avocado, and rosehip oil. Another benefit found in these little tins? Each formula is laced with lip-soothing peppermint oil!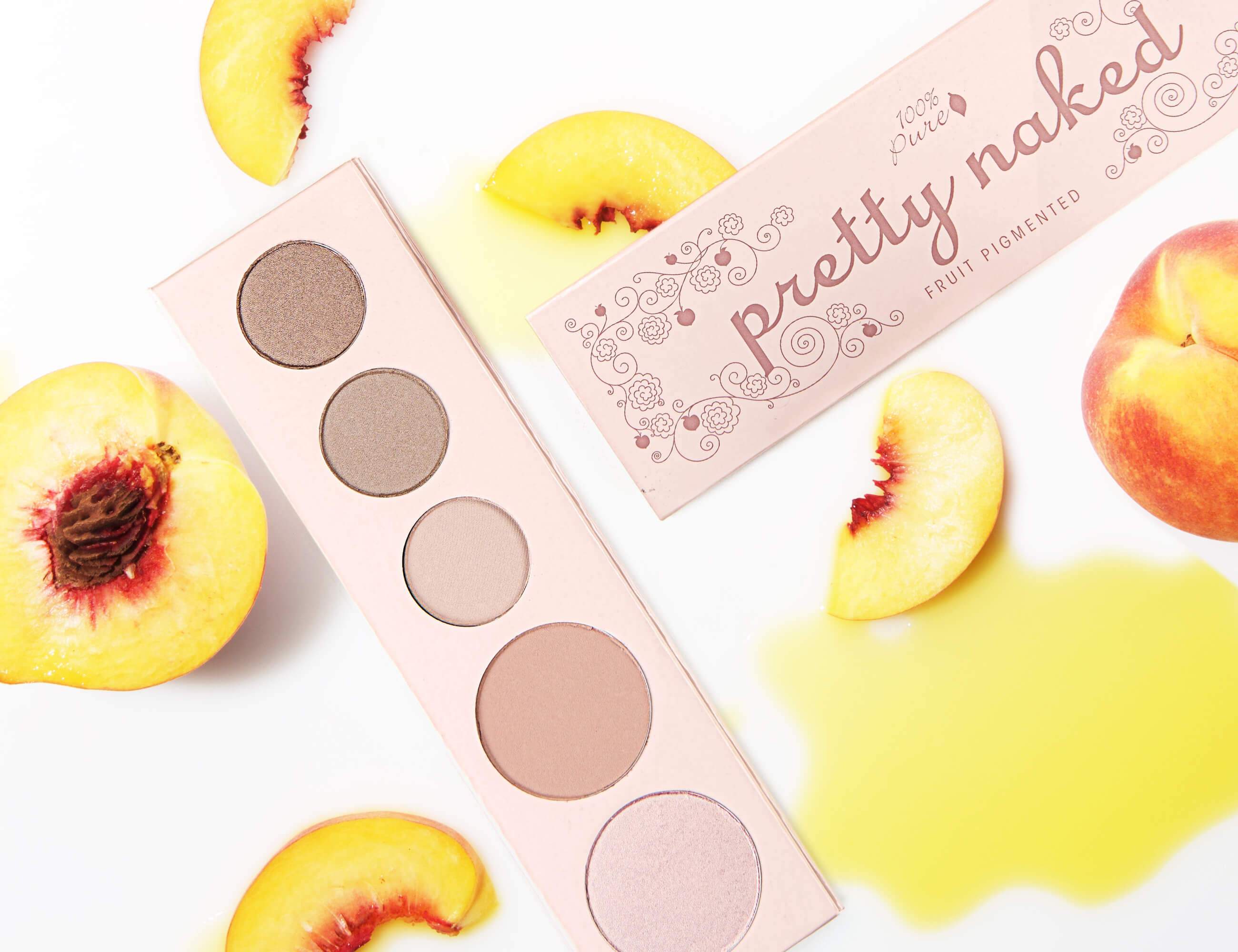 Pretty Naked Palette
Papaya
Our Fruit Pigmented Pretty Naked Palette is a must-have makeup kit for building natural, luminous looks — think goddess vibes. We've curated a selection of creamy pinks, shimmery nudes, and flushed bronzes for you to play around with on your lids and cheeks. Even though the colors are understated, the pigmentation is rich and concentrated; we've utilized a laundry list of fruit and vegetable pigments to create these ultra subtle hues, ensuring maximum dimension in each shade. Among them is papaya pigment, an ingredient we love for it's unique shade of rich, yellowy orange. Papaya is also packed with rejuvenating and cleansing enzymes, to naturally brighten skin for an amplified glow. Think soft, natural color derived from totally natural sources (whereas synthetic color can sometimes look like face paint – not a good look).
Ready to make the switch to powerful, stunning fruit pigments? Need help finding your perfect fruit pigmented® shades? Check out our lipstick guide for every skin tone, our natural foundation guide, or stop by in person at one of our 100% PURE locations for a free color consultation!