Your Guide to Hydrogel Sheet Masks
Hydrate, boost collagen, repair, and brighten with the ultimate lineup of facial masks
Posted on November 18, 2017
Written by: 100% Pure®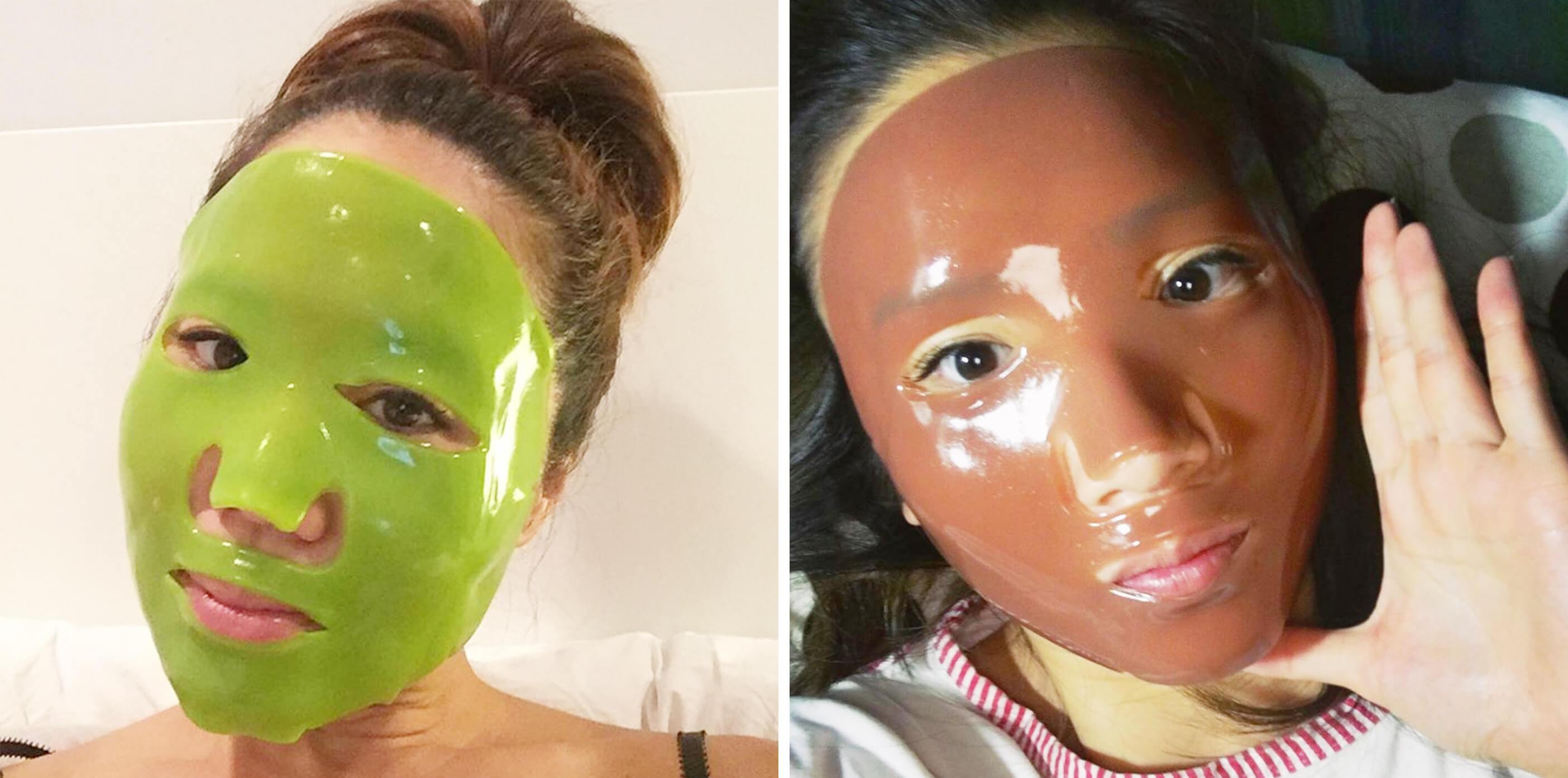 Why Your Skin Care Routine Needs a Hydrogel Mask
No matter your skin type, we can all agree that hydration is an absolute MUST. Making sure your skin is properly quenched and supple can enhance elasticity, radiance, and result in a more youthful complexion — any takers? We thought so!
While there are plenty of ways to add hydration to your skin care routine, we bet you'll have the most fun if you add it via sheet mask method. You can snap a selfie, scare your dog, and revel in the cooling comfort of a jelly-textured face mask — all while deeply hydrating skin.
Keeping skin happy doesn't have to be a full-time job, so don't think these face masks require any extra time to implement into your skin care routine. You can rock these masks at home while paying bills online, reading before bed, or even at the desk if your office vibes lean towards laid back. All it takes is a 15 minute mask session to replenish hydration and nutrients for happier, healthier skin.
Each of our hydrogel masks is made from organic aloe juice and plant cellulose, making them gentle enough for any skin type and totally biodegradable. Cellulose is the organic polymer that makes up the primary cell wall of plants, and is what we use to keep our masks bonded together. Organic aloe juice is a soothing anti-inflammatory and ultra hydrator, making it an ingredient that any skin type will love. Hydrogel masks start with this super skin nutritious duo as their base, and pack on the targeted ingredients for collagen boosting, soothing sun damage, or deeply replenishing dry or tired skin.
MASKING PRO TIP: As you wear the mask, the cellulose will start to wrinkle: this is a result of the hydrating liquids and nutrients leaving the mask, and being sucked into your skin! Keep your mask on for 15 minutes, or until it starts to wrinkle. Just remember to start with cleansed skin, and don't be afraid to wear over your favorite serum.
Natural Hydrogel Masks For Every Skin Mood
We know better than anyone that skin can most definitely have mood swings. We've made it easy to calm your moody skin by breaking down common skin symptoms, aka moods, and assigning you the perfect mask for the job.
Skin Mood: Droopy, crepey, or dull
Your Mask: Ginseng Collagen Boost Mask
It's no wonder that ginseng has been a star ingredient in traditional Chinese medicine for thousands of years. This little root packs big benefits not only for internal use, but for skin care as well. We've harnessed the anti-aging, toning, and brightening properties of Korean ginseng in this anti-aging sheet mask for maximum skin rejuvenating. Both ginseng and vitamin C work double time as they boost collagen in the dermis to tone, firm, and plump for a more youthful complexion. We added licorice to this already potent skin brightening mask, and even threw in wrinkle-reducing royal jelly and oxygenating manuka honey for extra skin plumping and an antibacterial boost.
Committed to keeping skin supple and bright? Stock up on this mask!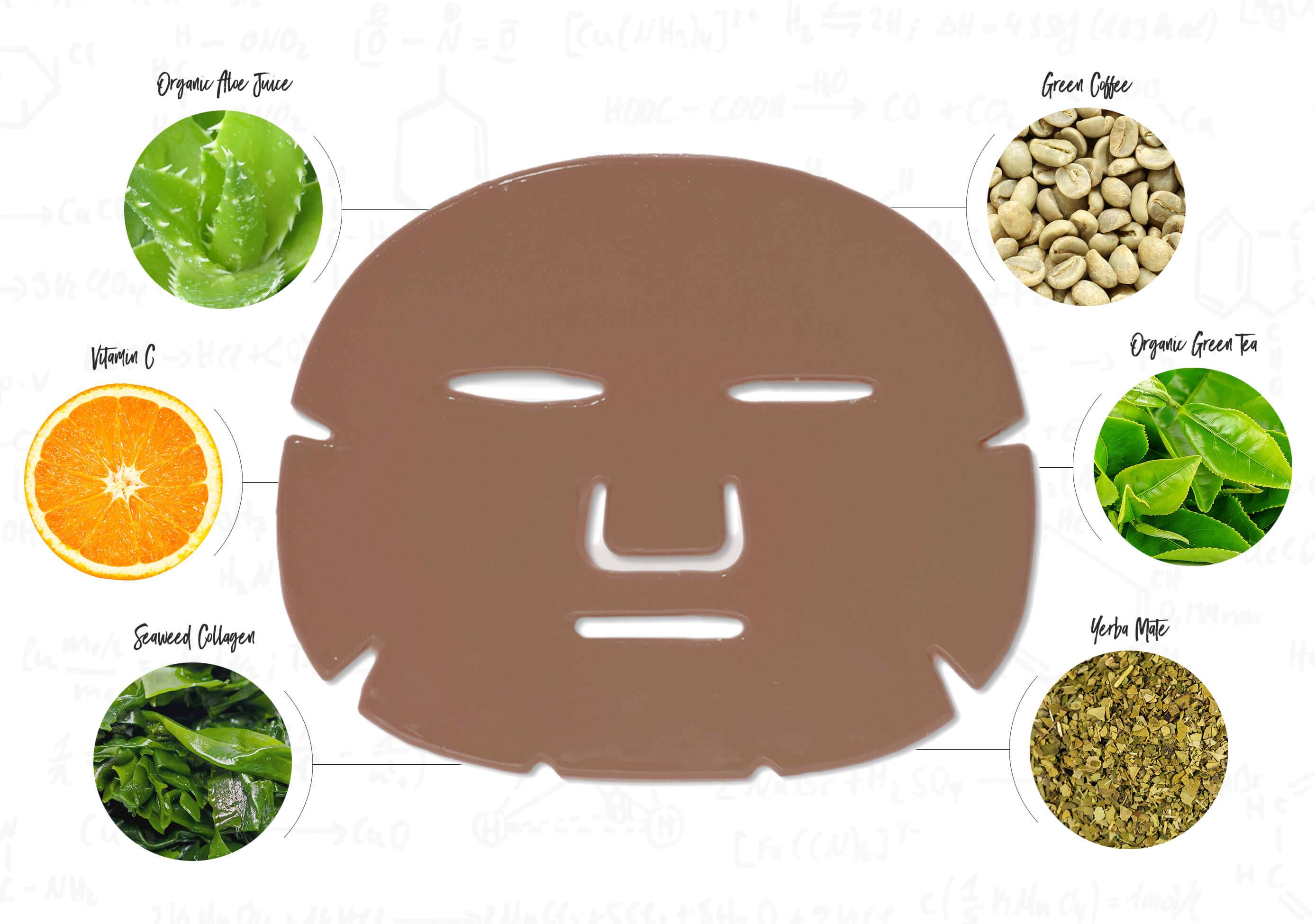 Skin Mood: Red, irritated, or inflamed
Your Mask: Caffeine Mask
Caffeine might be your morning BFF, but did you know that when applied topically it takes on a whole new purpose? Caffeine is a powerful antioxidant that both stimulates circulation and constricts blood vessels in skin. When your skin is scorched or damaged from sun/ environmental exposure, skin is likely to take on a more red, inflamed appearance. By increasing circulation and constricting blood vessels, stimulating caffeine is an amazing aid for minimizing red, flushed skin.
Committed to keeping skin calm and soothed? Stock up on this mask!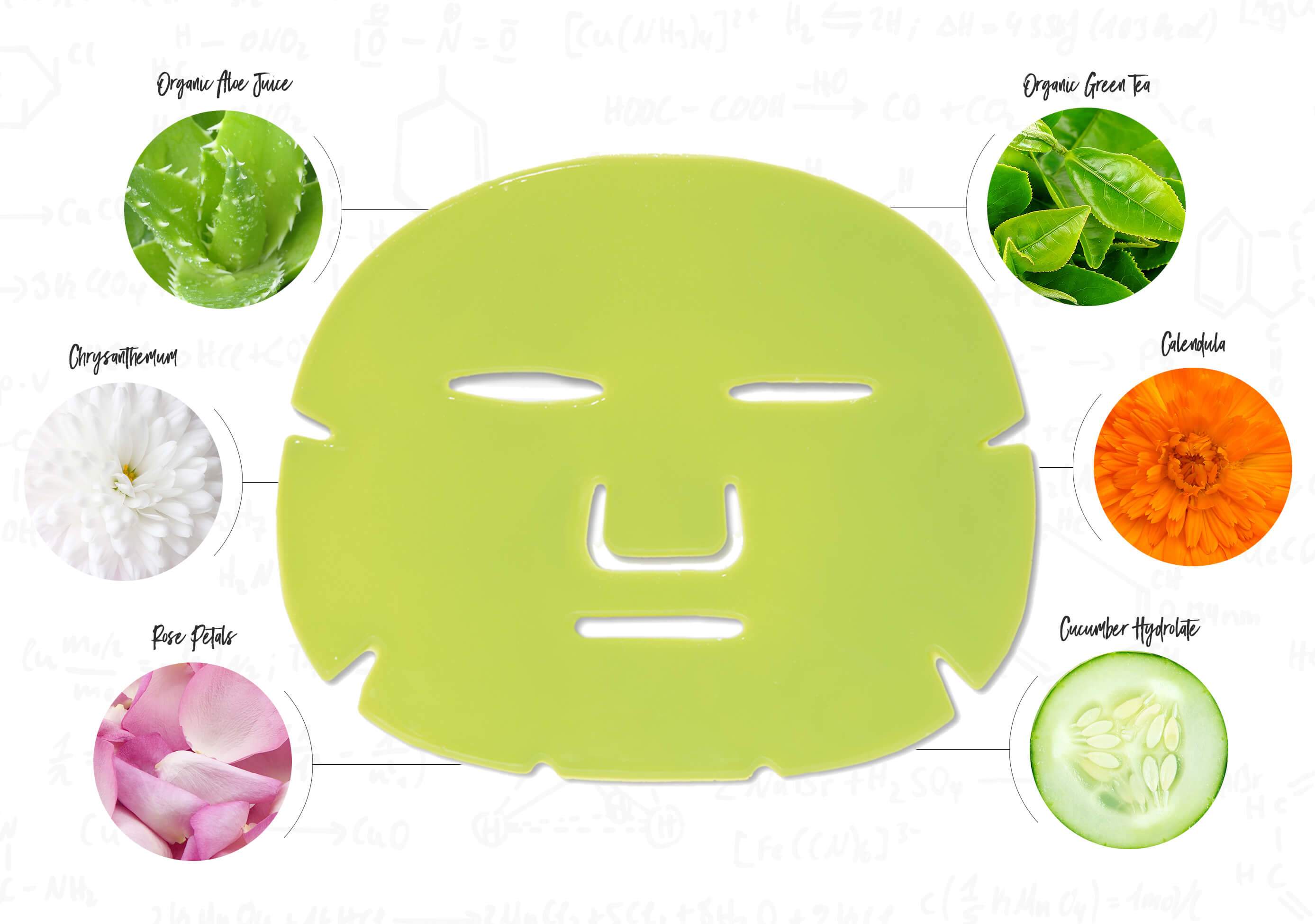 Skin Mood: Stiff, flakey, or parched
Your Mask: Green Tea Water Bomb Mask
"Water Bomb" says it all! This mask is the ultimate in skin-soothing hydration, thanks to extreme water drenchers aloe juice and hyaluronic acid. Organic aloe juice moonlights as a superb skin-healer and anti-inflammatory along with super soothing green tea, calendula, and chamomile. Our favorite 15-minute hydration method is sipping cucumber water with our feet up, while allowing this hydrogel mask to soak into skin to restore hydration for a replenished, healthy glow.
Committed to keeping skin hydrated and soft? Stock up on this mask!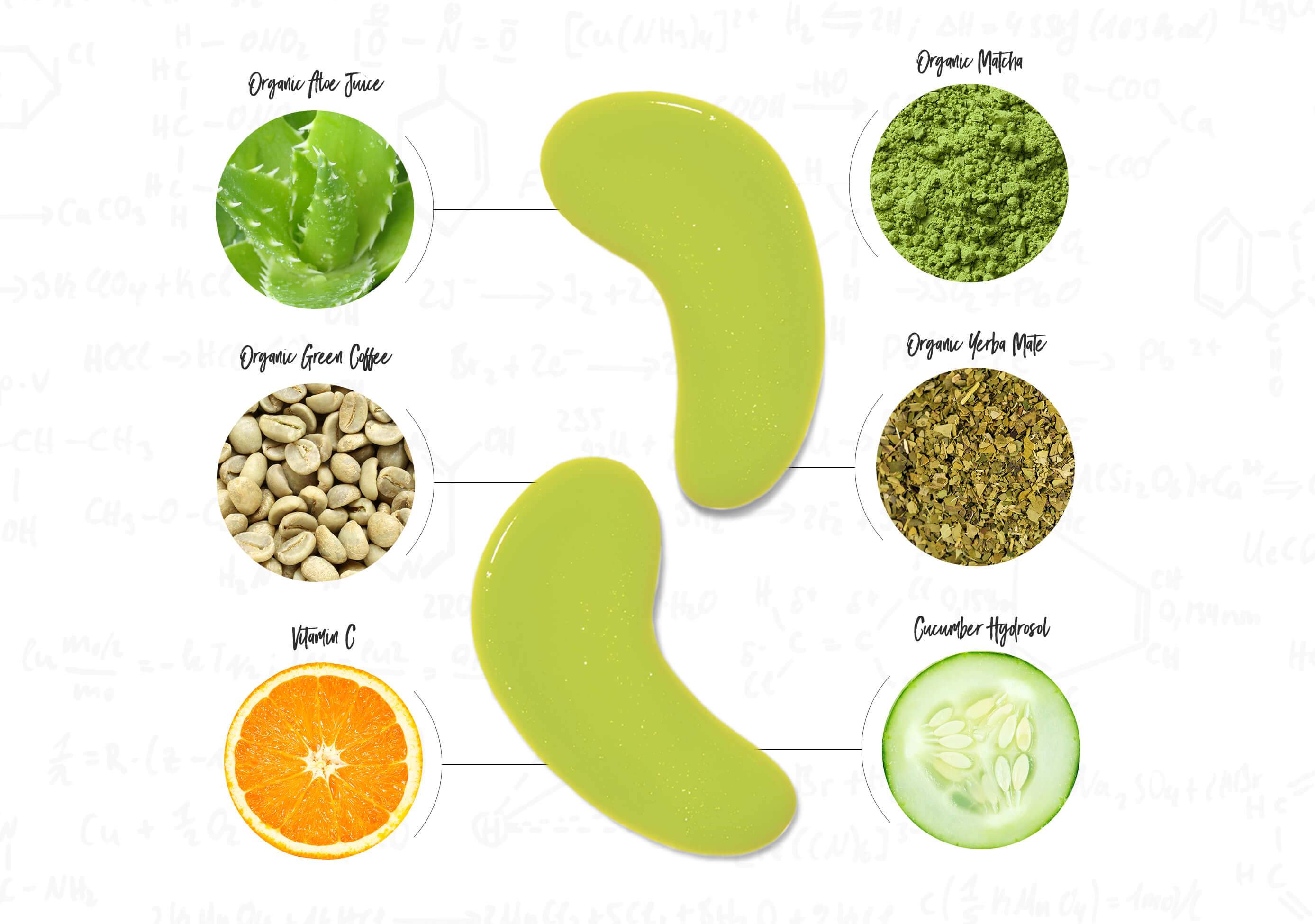 Skin Mood: Tired, gloomy, or creased
Your Mask: Bright Eyes Mask
These eye masks are truly skin superheroes for any skin type; long flights, extra early mornings, and DIY spa retreats would be seriously lacking without this green little duo. A potent trifecta of organic matcha green tea, green coffee, and yerba mate infuses tired skin with stimulating caffeine for a more awakened, de-puffed appearance around sleepy peepers. Cucumber hydrosol, organic aloe juice, and hyaluronic acid pack a triple dose of water into skin, which when paired with collagen boosting vitamin C will plump and minimize appearance of fine lines and wrinkles. Au revoir, dark circles and puffy under eyes!
Committed to keeping skin fresh and flawless? Stock up on this mask!
These babies prove that spa-worthy skin replenishment doesn't need to happen for hundreds of bucks, and they make a perfect gift for anyone who could use a sprinkle of pampering in their day to day routine. Don't be scared to take 10 or 15 minutes to give your skin some extra love, and remember: multitasking is your friend!
Want more skin care guides? Check out the benefits of green tea in skin care.