Learn the benefits of adding green tea antioxidants (EGCG) into your beauty routine and drinking it daily.
Posted on November 20, 2017
Written by: 100% PURE®
Eastern influences are huge in beauty and fashion right now: we're all about the East meets West collision of culture in everything from celebrity style to our favorite ingredients. In the fashion world, we're starry eyed over Zara's ready to wear line of patterned kimonos that are super wearable for fall. And in beauty, our current obsession is EGCG, a superstar ingredient with Eastern origin and Western diaspora. With this impressive resume, we've starred EGCG in our two newest skincare products: our new Green Tea EGCG Concentrate Serum and our new Green Tea EGCG Concentrate Defense Cream. We're shining a spotlight on these two new natural skincare products, which both incorporate EGCG in a super effective and absorbable form for maximum glow this fall.
New Additions to 100% PURE Antioxidant Skin Care
The Green Tea EGCG Concentrate Serum starts with a base of super soothing and anti-inflammatory organic aloe water. To achieve it's ultra rich emollient power, we've included rosehip oil and avocado oil in the formula, both plant oils with high levels of essential fatty acids for supple and hydrated skin. Add to this mix some of the most powerful antioxidant boosters being researched today: organic acai and organic goji berry, both tropical fruits with high antioxidant content, and proven ability to shore up skin cells and increases firmness and elasticity. And of course, the formula features both green tea, for its anti-inflammatory and circulation-boosting benefits (goodbye, weidly dark shadows) and EGCG, the anti-aging super ingredient that we're currently obsessing over. The formula is super concentrated so a little goes a long way – the blend is an aggressive age corrective formula that we've been developing for a while, and that your skin will love you for. Pat onto your face right after cleansing in the PM, and wait for it to fully absorb before sealing it in with your regular moisturizer.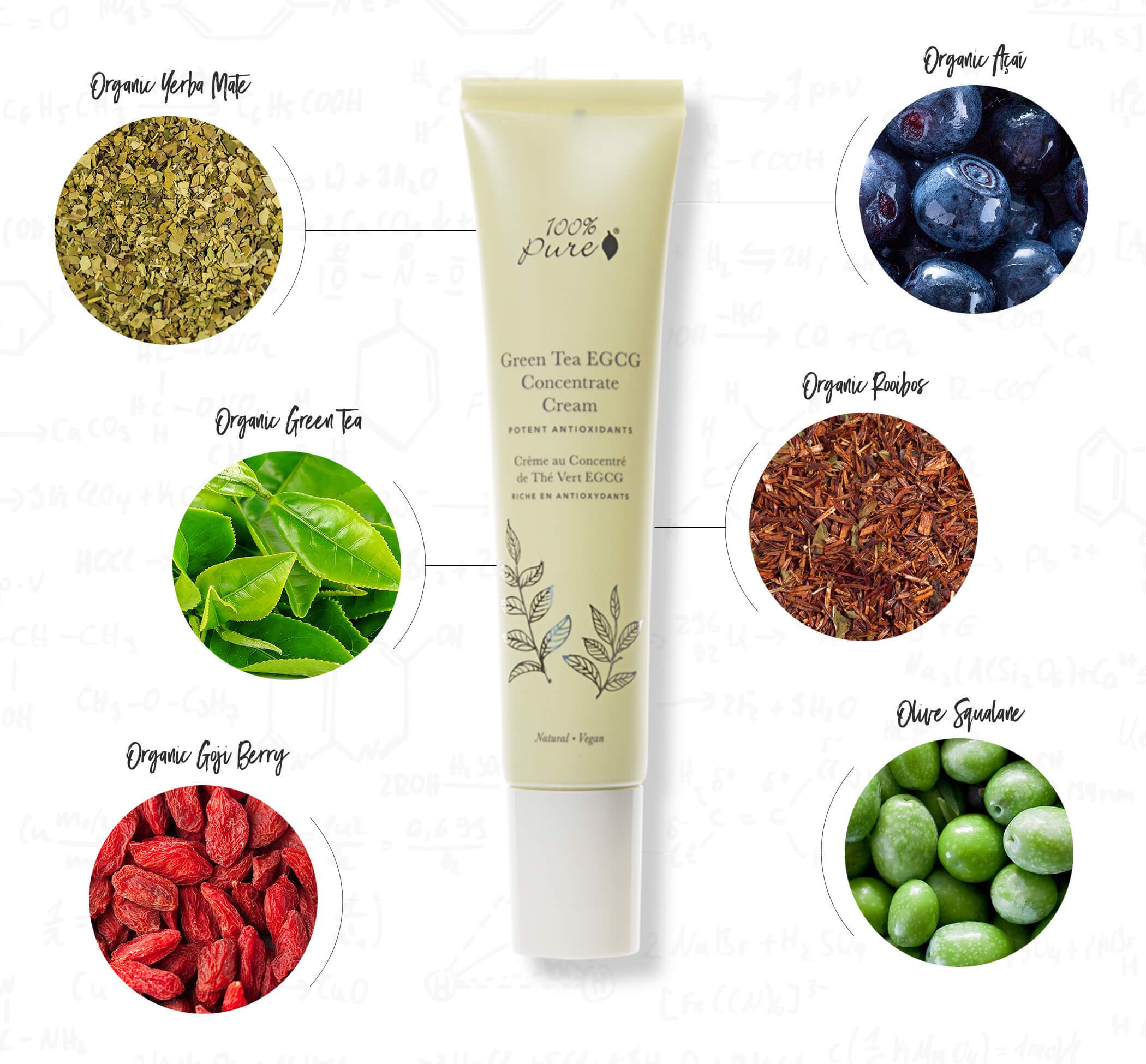 The second fam member in this new collection is our Green Tea EGCG Concentrate Defense Cream, which works synergistically with the natural green tea facial serum to keep your skin protected from the elements all day. The base is something new that we're super excited about: organic yerba mate water, a hydrosol extracted from the Ilex Paraguarensis plant that contains naturally occurring caffeine, which brightens and reduces puffiness when applied topically. We've built up the formula with açaí butter for antioxidant protection and super rich hydration, rooibos tea, which contains alpha-hydroxy acids and zinc (two essential components for skin clarity), and an antioxidant packed organic essential oil blend which includes bergamot fruit oil, cedarwood bark oil, and blood orange oil. These ingredients work in tandem to keep everyday damage at bay, and to give your skin a nourished and clear base under your makeup application. The formula stars green tea oil and EGCG, which hydrate, soothe inflammation, and keep fine lines and dullness far away from your face. This is a product that's designed to protect against environmental pollution in both the AM and PM – applying a small amount post cleanse will protect your dermis from free radical damage will gradually reverse past trouble spots. Over time, your skin will start to feel softer and denser – and most importantly, more fortified.
We've incorporated this tried-and-true little ingredient into two super hard working new products that we're going to zoom in on: our new EGCG Concentrate Serum and our new EGCG Concentrate Defense Cream (plus we're shining the spotlight on older cult-faves, our Green Tea Water Bomb Mask and Green Tea Fiber Brow Builder). All of these products have membership in the ultra elite green tea club – so what's all the fuss about?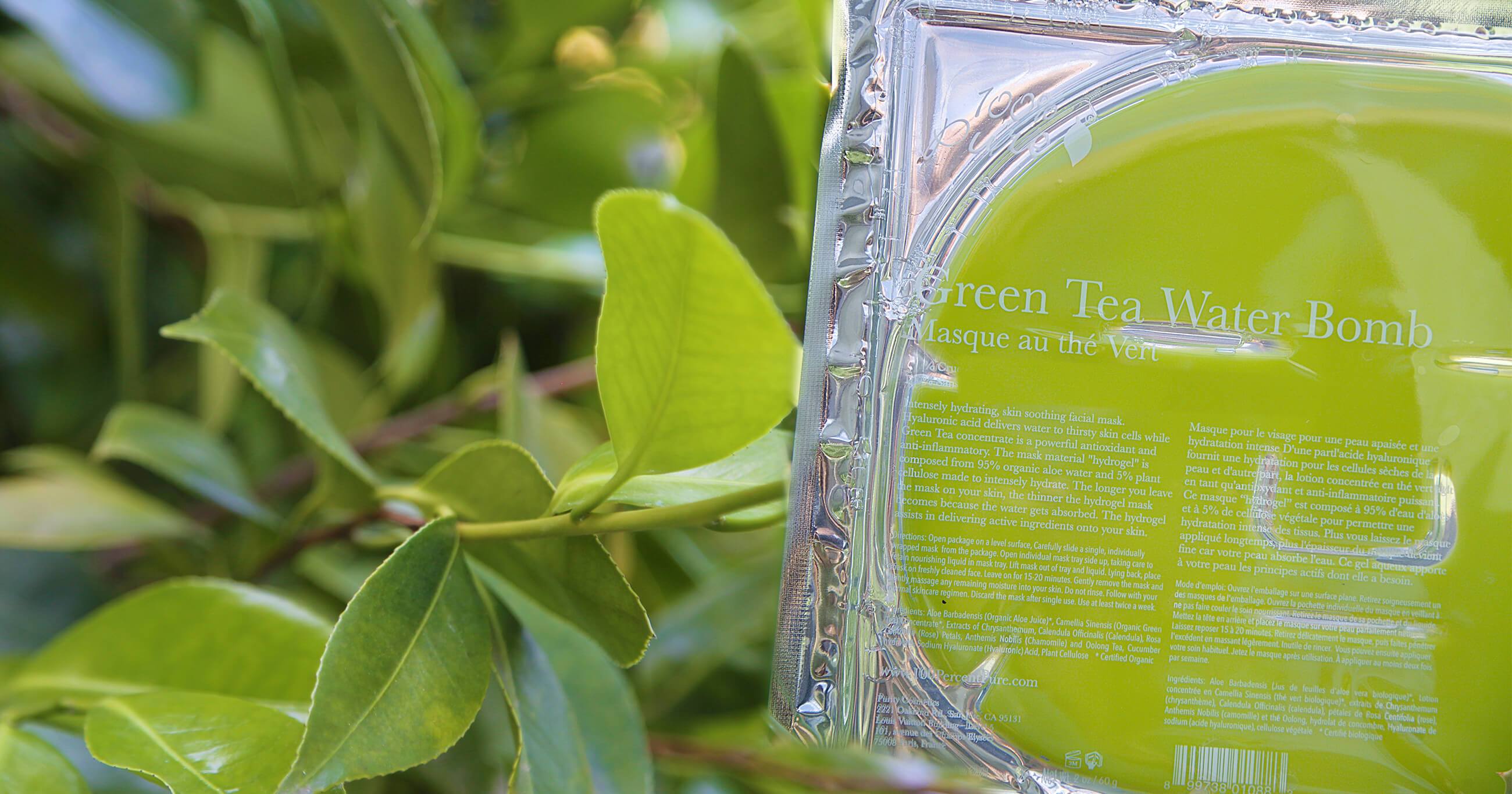 5 Ways Green Tea Is Helping Your Skin
Green tea has been a mainstay in the health community for years, starring in its conventional form – a tea sachet – as well as in everything from protein powders to plant-based cosmetics. It's a natural powerhouse that amps up both topical and ingestible beauty supplements, with its high antioxidant content, impressive amino acid profile, and powerful catechins. For maximum green tea healing, drink up a cup and apply it to your skin – on the inside, it has the ability to boost your brain functioning and fat-burning efficiency, and on your dermis…keep reading, that's what we're breaking down today.
All this said, the anti-aging properties that green tea rocks aren't it's only star qualities. It has a long list of other traits that have made it a heavyweight in the health conscious community for decades, and render it a valuable and effective ingredient not only for mature skin, but also for adolescent skin and combination skin. Here we've rounded up five more reasons to turn into a green tea super fan (if you're not one already).
Green tea is anti-inflammatory, thanks to its high content of polyphenols called catechins. 

Catechins

 reduce irritation and redness, and have been studied as a powerful remedy for overenthusiastic autoimmune responses that cause excessive irritation or swelling. With this property in mind, we designed our super popular Green Tea Water Bomb Mask, an intensely hydrating hydrosol mask that absorbs into your skin, leaving you with reduced redness and a calm + majorly hydrated complexion.
Another reason to love green tea? It's a powerful antibacterial agent that functions as an effective ingredient for treating acne and congested pores. Polyphenols in green tea damage bacterial membranes and fight against infection, meaning that it's a super useful tool for treating bacterial growth that causes comedones (and the dreaded pebbly skin effect). It helps kill systemic bacterial inflammation, working as a toning antifungal. Applause.
It's chock full of Vitamin B2 and Vitamin E, both essential for skin health maintenance. B2 plays an essential role in maintaining collagen levels for youthful skin structure and firmness, and Vitamin E supports new skin cell growth and also acts an intense hydrator for soft and nourished skin. So. Key.
Caffeine and tannins in green tea help shrink blood vessels around the eyes, meaning that caffeine is a godsend when it comes to treating puffiness that happens in the eye area when you haven't gotten enough Zzs. Plus caffeine stimulates fluid drainage and encourages cell turnover for increased brightness, the result being a more awake you (and the liberty to use a bit less under eye concealer).
Green tea leaf fibers are proven to stimulate hair growth, thanks to catechins and polyphenols stimulating cell turnover in hair follicles. With this benefit in mind, we feature green tea fiber into our celebrated Green Tea Fiber Brow Builder, which fans cheekily refer to as "hair extensions for your eyebrows." It's a super effective formula that builds and thickens your brows over time, and provides super natural definition and sculpting. We truly believe that brows are your best accessory, but that's a topic for another post.
Green Tea (EGCG) in Your Natural Skin Care Routine
Antioxidants are a powerful piece in the anti-aging puzzle because they work to reduce inflammation and free radicals that accelerate skin aging. Matcha is a particularly valuable ingredient when it comes to antioxidants because it contains EGCG, a hard-to-find antioxidant that counters the effects of pollution, UV rays, radiation, and chemicals. A daily dose of matcha applied topically can powerfully counteract cellular damage on the face, and reinforce your skin's natural ability to defend itself. Armed with this knowledge, we created our green tea skincare collection, which harnesses the antioxidants of goji berries and rooibos, and the protecting properties of EGCG.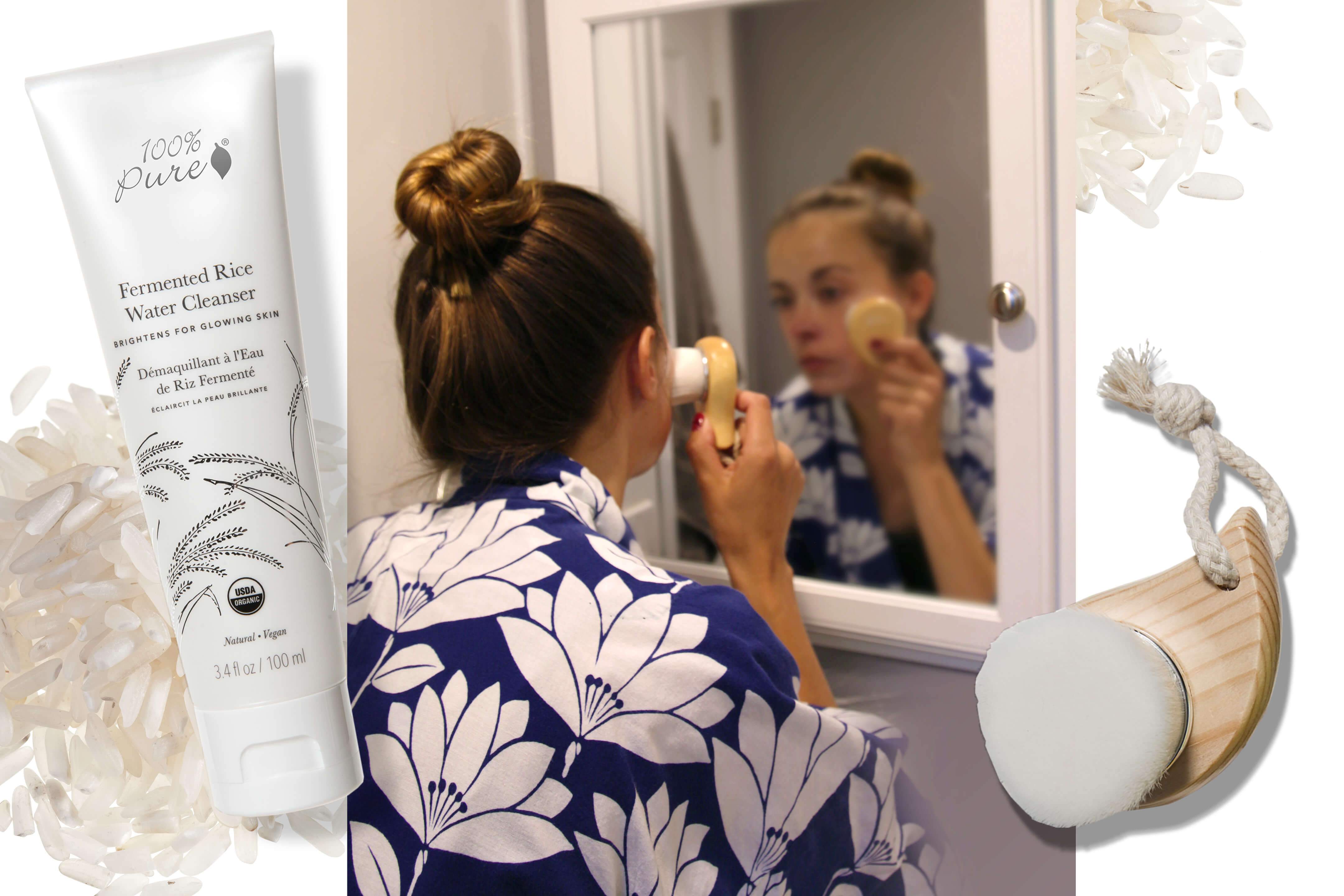 Step 1: Cleanse
Start your Japanese inspired skincare routine with our Fermented Rice Water Cleanser for a brightening cleanse that will dissolve pollutants and makeup with a natural formula comprised of fermented rice water (aka sake), mulberries, and mushrooms. This cleanser is formulated without sulfates or harsh detergents, and instead relies on plant derived acids and organic licorice to clean your pores without stripping your face of natural oils.
PRO TIP:For a 1-2 punch of extra gentle exfoliation and brightening, massage with our cruelty free Facial Cleansing Brush to promote healthy skin cell turnover.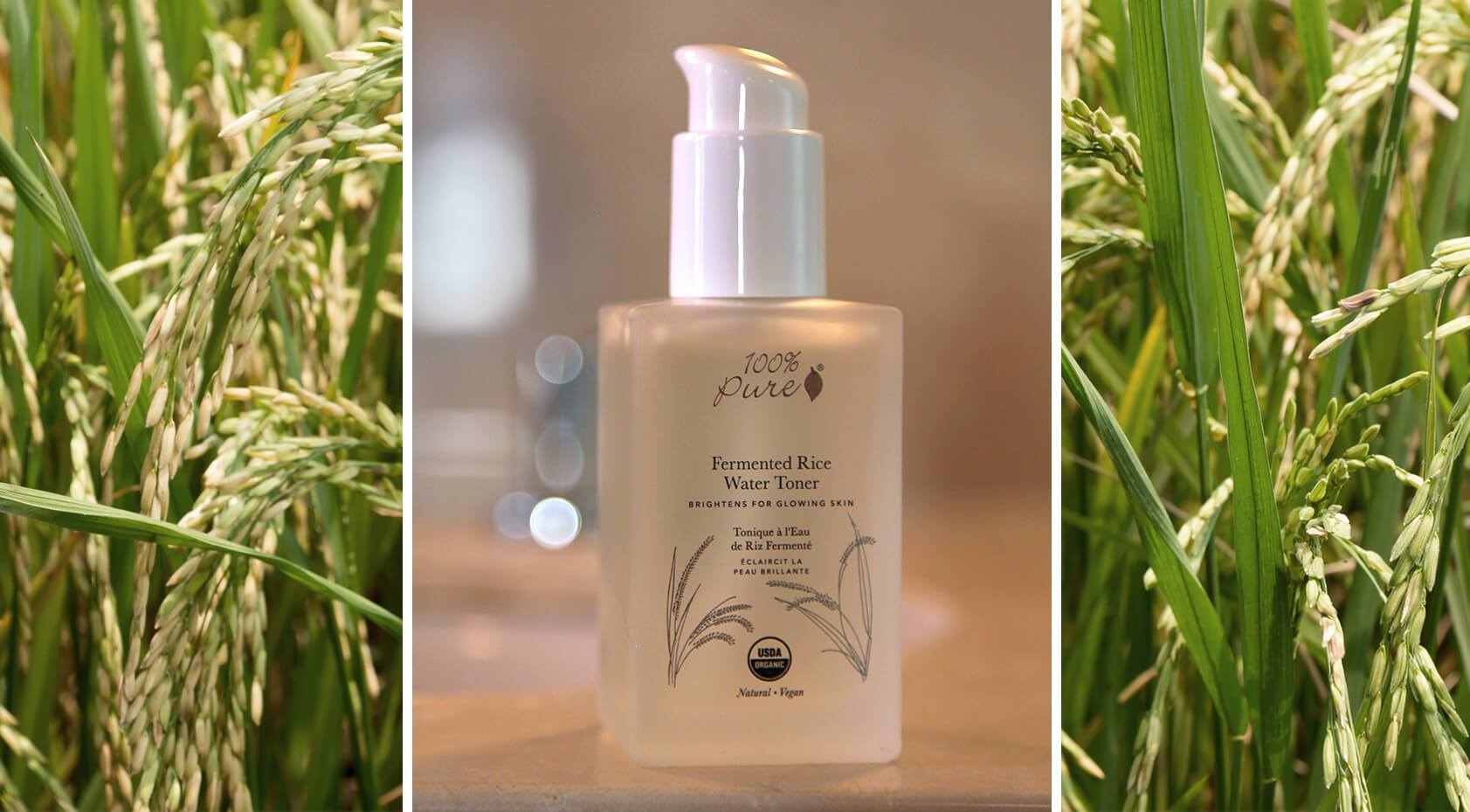 Step 2: Tone
Continue your skincare lineup on your cleansed skin with our Fermented Rice Water Toner,which boasts a super nutrient-dense formula that combines the skin plumping properties of hyaluronic acid with the antioxidant nutrient shot provided by sake. This is a toner that's been specifically designed to deeply soften, nourish and brighten your complexion. The concentration of natural ingredients help to lessen dark spots to give you a healthier glow.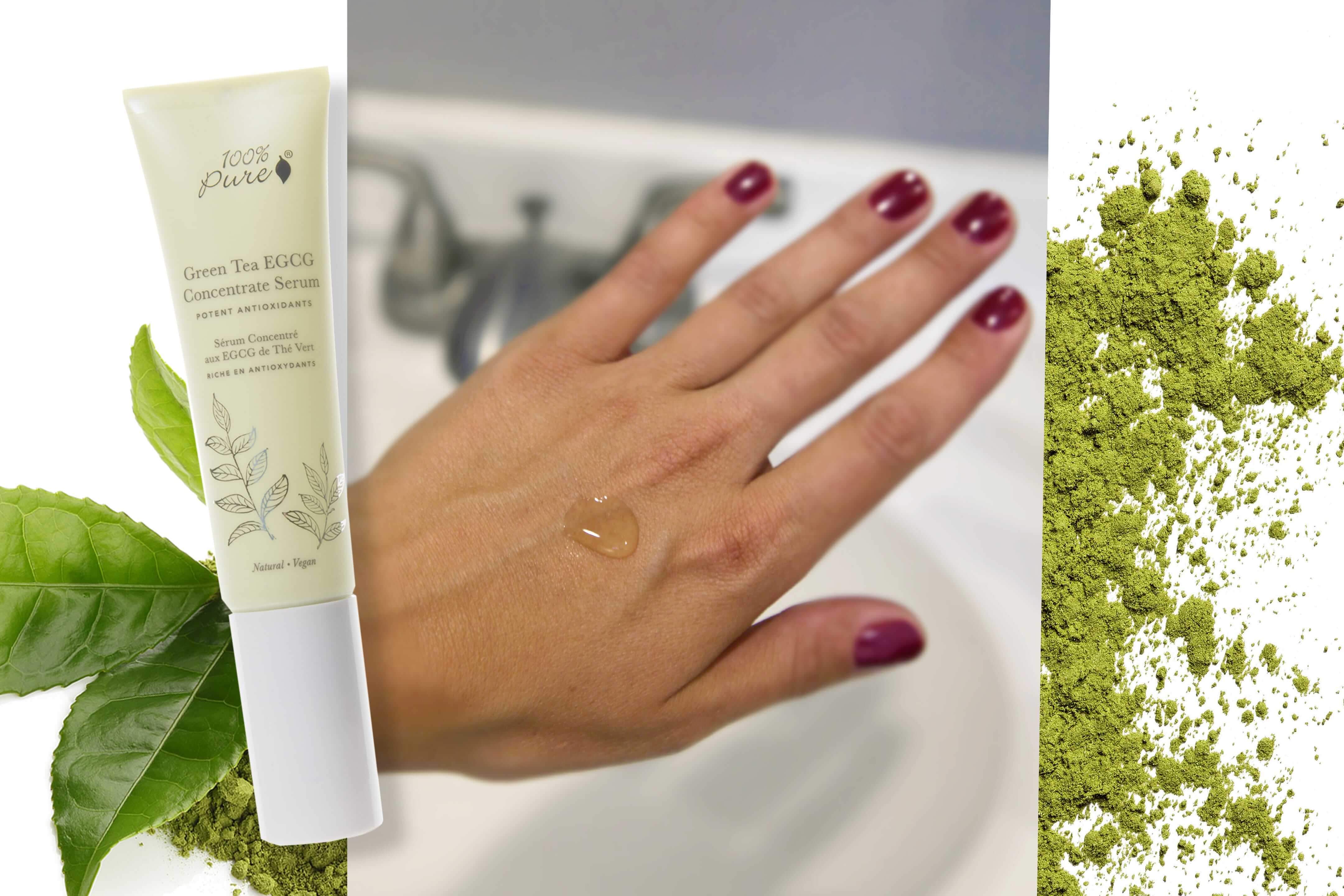 Step 3: Enrich
Now it's time for the star green tea extract to join the tea party. Apply our Green Tea EGCG Concentrate Serum, which boasts a nutrient-dense formula that was specifically designed to soften your skin all while providing protection against environmental damage through the properties of EGCG. This natural facial serum works behind-the-scenes protecting your face from free radicals caused by pollutants: apply a dime-sized amount before a day in the city to protect your delicate dermis from environmental junk.
PRO TIP:Why do you apply serum first? Always apply serum as your first skincare layer (after cleansing) for extra nutrients and vitamins. The molecules are smaller than a moisturizer, so your serum can easily penetrate deeper layers of your skin helping to hydrate and protect more effectively.
Step 4: Moisturize
Finish your full green tea regime with natural hydration. Our Green Tea EGCG Concentrate Cream harnesses green tea oil, yerba mate, olive squalane and potent rooibos for a deeply nourishing treatment that will counteract previous damage from the sun and toxins.
Green Tea Garden Field Trip
We're swooning over this transformative ingredient because it has all star properties that will leave you with an energized body and healthy, antioxidant-infused skin. And in line with our spirit of constantly evolving our knowledge around the different types of ingredients we use, we took a trip, this past summer, to the Hakone Garden, one of California's oldest Japanese gardens, to learn a little bit more about the histories and rituals associated with these plants.
Hakone Garden is truly a hidden (green) gem that will instantly transport you to another part of the world. Perched in the Santa Cruz Mountains, the stunning 18 acres that make up Hakone Garden have been meticulously cared for by Kyoto-trained landscapers since 1968. It recently was inducted into the National Trust of Historic Preservation for its rich heritage and in order to continue the legacy for future generations. Each secret pathway leads to another special surprise, like the Tea Garden that was created to bring serenity to guests while they prepare to enter the tea ceremony rooms. An exact replica of a Azumaya (tea waiting pavilion) is tucked away, near the Moon Viewing House, for guests to wait until they are summoned by the tea master for their tea ceremony.
Cue our mini lesson on all things matcha, and why you need these organic skin care products in your beauty routine asap.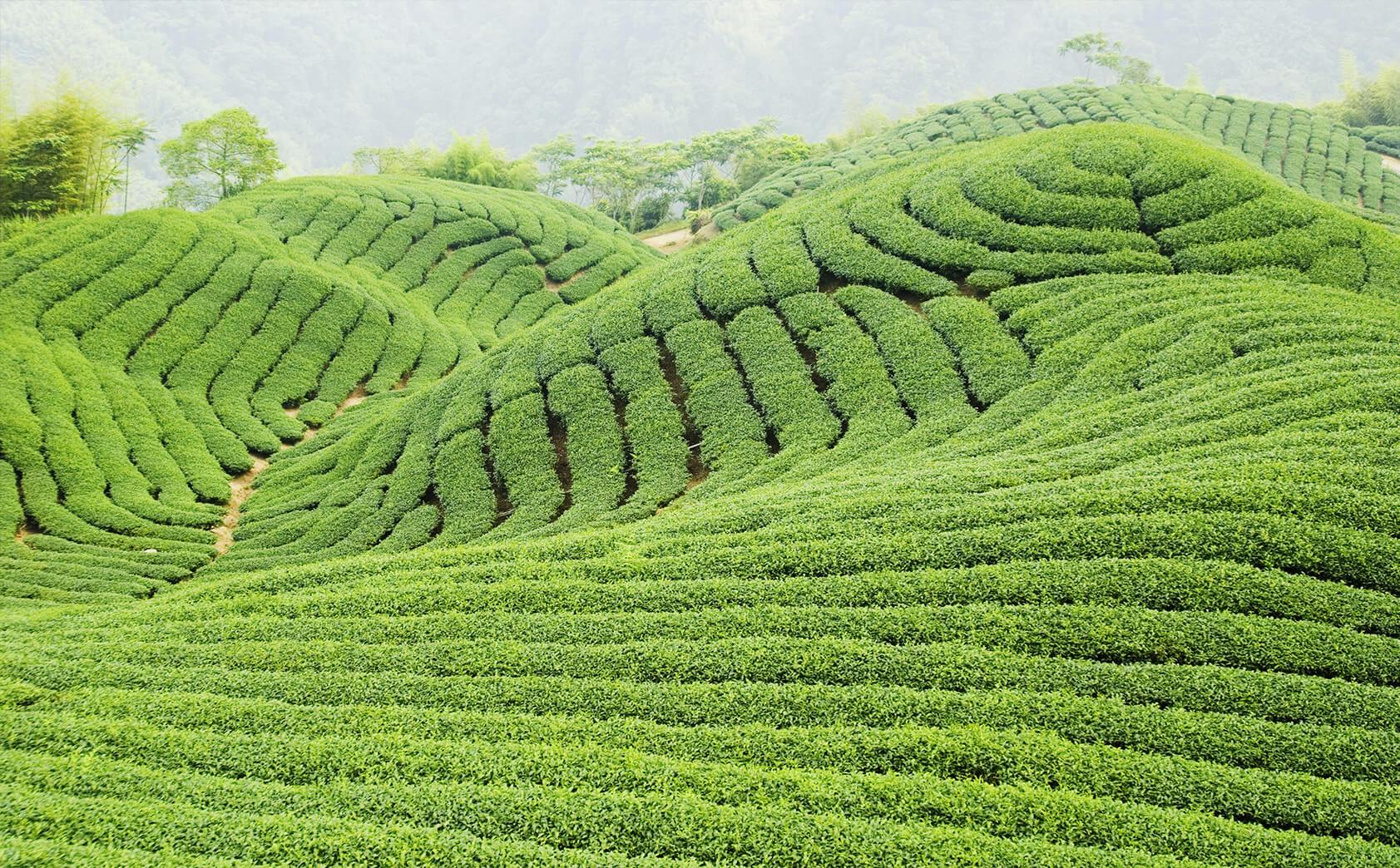 The History of Matcha
First let's talk where matcha all started. In the 7th century, Japanese monks visiting China to study Zen Buddhism returned home with their new discovery of matcha's wonderful healing properties. In the following centuries, it became a staple beverage for Japanese monks, imbuing them with immediate energy and a mental focus that enhanced their meditations. Today, Matcha has developed a shining reputation for its high levels of antioxidants, which studies have shown are 60x more than found in spinach and 7x more than what's in high quality dark chocolate (this isn't going to stop us from eating chocolate for "antioxidants" though).
How to Prepare the Perfect Cup of Matcha in 5 Easy Steps
Brewing the perfect cup of matcha isn't a secret we want to keep to ourselves. There are a few simple steps to get a delicious, frothy green potion at home, every time.
Quality Matcha

Start with small amounts of quality powder. It's more about quality than quantity. Matcha tends to be more expensive because it's very labor intense to grow and produce the silky green powder. We would recommend buying Matcha produced in Japan for the best quality and taste. It might be tempting to buy cheaper bulk options but the taste and antioxidant quality will be much lower.

(Simple) Tools

You won't need the latest electric blending gizmo to achieve the perfect froth. The original bamboo whisk is the standard for a reason. Pair this with a small bowl (not a cup) to allow for easy whisking.

Water Temperature

Matcha dissolves best in hot water. Even if you are hoping to make a matcha latte, start with hot water. No one wants to sip on lumpy tea bubbles floating in cold water.

Sift

Just like cake flour, spending an extra 20 seconds sifting the powder will make for a smoother cup of matcha free of lumps.

Ratio

Under or over on the amount of matcha and you'll either be underwhelmed by the cup or overwhelmed by the bitter taste. We recommend using 1 teaspoon per 6 ounces of water. For first timers try that ratio and adjust next cup, according to your taste.
Top 5 Health Benefits of Drinking Matcha
What sets matcha apart from green tea is that you're ingesting the entire green tea leaf versus sipping a brewed version of it.
Matcha powder has 

137 times more antioxidants

 than it's brewed counterpart. You'd have to drink about 10 cups of regular steeped green tea to equal 1 cup of matcha.
If you aren't on the matcha train yet, you might want to join because this trending green drink is the color of health. It has an 

added boost of chlorophyll

 packed into each cup which helps detoxify the body by eliminating harmful heavy metals and chemicals.
Did you know that matcha also has a high amount of polyphenols? These naturally occurring compounds are thought to get broken down in our bellies creating an increased count of beneficial bacteria.
Besides a healthy gut, matcha also support a healthy mouth. The catechins have an 

antibacterial effect and are little plaque scrubbers for our teeth and gums, helping to prevent periodontal disease and cavities.

Help 

stabilize your blood sugar levels

 while sipping this green cup. The natural sugars found in matcha protect against insulin spikes and the polysaccharides in green tea (especially in this concentrated form) has been used in Eastern medicine as 

treatment for diabetes.
So that's the story – green tea is a powerful plant-based cosmetic with a wide range of applications, and a total overachiever profile. Keep up with us for more ingredient storytelling and beauty tips. The world of organic cosmetics draws from a rich history of holistic health and ancient traditions. Nourish and protect your skin with our non-toxic formulas, and stay woke to what ingredients are in your beauty and skin care routine.