Seaweed collagen, algae and kelp extracts are the newest superstar ingredients in your natural skincare and natural makeup routine.
Posted on December 22, 2017
Written by: 100% PURE®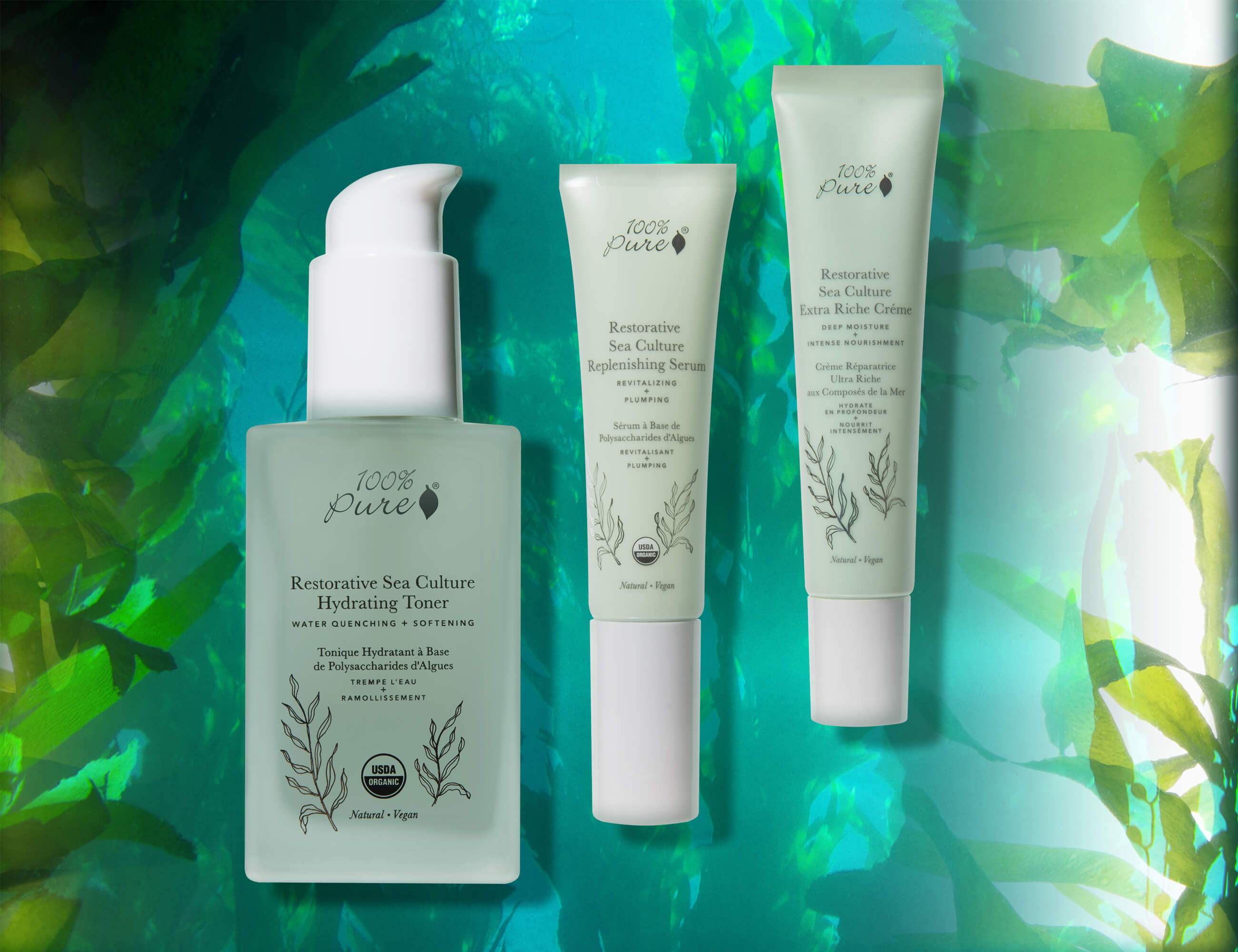 Why Seaweed?
Our obsession with learning about the source of our natural beauty products sometimes leads us to unexpected places. Mother Nature offers literally everything you need to look amazing, so we're taking a page from the original green goddess' book and tapping into an under-the-sea beauty ingredient. This is why we're giving a shout-out to seaweed, kelp, and algae. It's an unexpected beauty heavyweight from the deep blue that's packed with vitamins and antioxidants (great for your body when you eat it in sushi, and also, as it turns out, your face when you apply it topically). Seaweed collagen, algae, and kelp extracts pack a punch in a variety of ways, rendering them the star ingredients in products ranging from natural moisturizers to natural face cleansers.
Kelp and Seaweed in Natural Skincare
Our love affair with seaweed doesn't stop at the sushi bar. We're also obsessed with this humble ingredient because of its remarkable ability to retain moisture. Ever made miso soup? Think about how much dried seaweed expands when you let it sit in your bowl. Applied topically, this wonder sea plant is effective at helping to trap moisture inside the skin's epidermis, and the bonus is that it's full of skin-healthy lipids that are easily absorbable. When dreaming of a life under the sea, we tapped into exactly what makes the ocean so special; its natural source of skin-loving minerals and vitamins. We just launched our new Restorative Sea Culture Hydrating Toner, Restorative Sea Culture Replenishing Serum and Restorative Sea Culture Extra Riche Créme.
This natural facial serum is perfect for all skin types. Our ultra light, silky smooth natural serum was crafted to deeply saturate your dry, thirsty skin with intense sea-inspired hydration. Harnessing the powder of seaweed polysaccharides, this wonder serum will help hydrate and plump your skin for a more youthful complexion.
Our rich, luxurious face cream drenches skin with deep moisture while delivering nutrient-rich sea minerals, antioxidants, amino acids, vitamins, and other beneficial trace elements for a healthier, softer complexion. Seaweed polysaccharides and red algae lock in long-lasting hydration for supple, nourished feeling skin.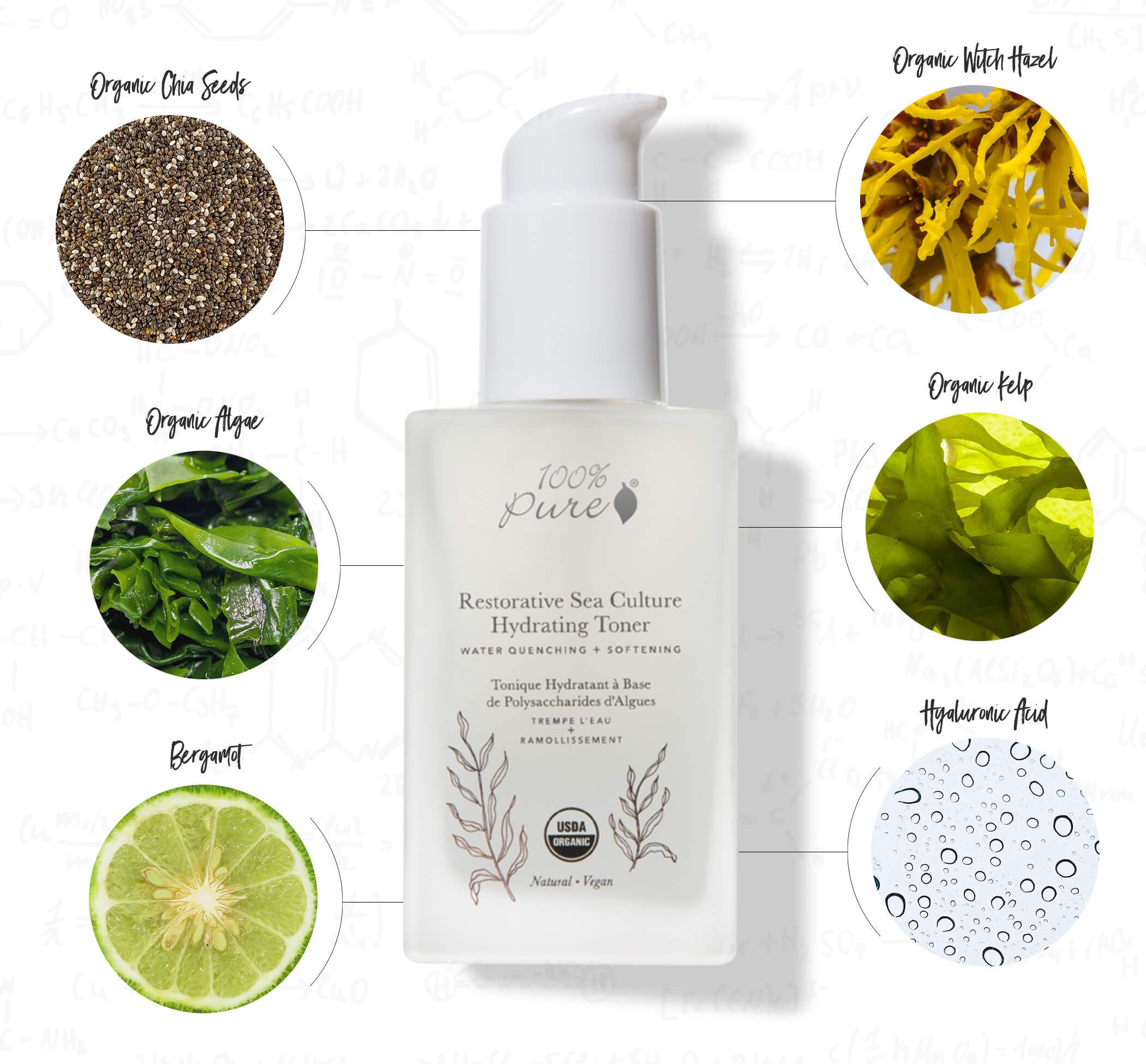 Do you tend to have dry skin, especially during the cold winter months? Take a dive into our USDA Organic Certified natural toner that will help soften, plump and hydrate your water parched skin. We started with a gelatinous algin base (thank you again, seaweed) to help pump your skin full of hydration. While seaweed is the natural filters of the ocean, helping to detoxifying and declutter, we sourced our seaweed from unpolluted waters in order to keep our skin care formula the most pure and full of nutrients and minerals, while keeping out any unwanted toxins or junk.
Why You Should Be Using a Toner
If you aren't already using a natural facial toner in your daily routine, you might be missing a crucial step in your lineup. Not all toners are created equal, though; when finding the perfect natural toner for your skin type, make sure to avoid toners that contain alcohol, menthol, or toxic ingredients such as parabens or synthetic fragrances. The purpose of using a toner is to prime skin and to get it to the perfect pH balance. Unbalanced skin can lead to unhappy, stressed out skin. Toners also help prep your face so the other key players, serum and moisturizer, can easily and deeply penetrate into your skin's layers.
Toners Restore Skin Balance
Your skin's perfect pH is a like an idyllic little ecosystem that's not too acidic and not too alkaline, but just right. If you introduce a product that doesn't fit into this smooth running system, it can throw the whole operation out of whack, resulting in too dry or too oily skin. It's important to choose a natural facial toner that works for your skin type, so your skin will feel like goldilocks… just right.
PRO TIP: For oily or acne-prone skin, use our: Tea Tree & Willow Clarifying Astringent. For normal to dry skin, use our: Restorative Sea Culture Hydrating Toner. For dull or lackluster skin, use our: Fermented Rice Water Toner.
Toners Add Extra Hydration
In case you didn't notice, we've included hyaluronic acid in all of our natural toners; that's the hidden gem who's pumping your skin with extra hydration. If you're looking to improve the texture and overall appearance of your skin, you'll want this ingredient on your beauty shortlist. Hyaluronic acid is something your body produces naturally and works to retain collagen, elasticity, and moisture in your skin. As we age, this precious, natural production starts to slow down, leading to our skin having more trouble retaining moisture: one of the major culprits of aging and dry skin. By adding a toner into your beauty routine, you'll be adding a much needed drink to extra parched skin.
Seaweed Facial Cleanser
We've put these vegetables of the sea to work in our Lavender Seafoam Facial Cleanser, a rich foaming natural facial cleanser containing a seaweed trifecta: Fucus Vesiculosus (Kelp), Ulva Lactuca (Sea Lettuce), and Spirulina Platensis (Spirulina) that will leave you with a clean, radiant face and healthy complexion.
Did you know? Women lose collagen at a faster rate than men. It's a huge bummer, but luckily seaweed and kelp have come to the rescue!
So what's the takeaway? When it comes to the vitamin and mineral-packed benefits of seaweed, it's a no-brainer addition to your natural skin care, hair care, and makeup routine. To reap its remarkable benefits, try one of our seaweed infused natural beauty products this winter.
Seaweed Collagen in Natural Makeup
Now that you're on-board with seaweed in your skincare routine, it's time to reveal that we've been letting seaweed creep into our natural makeup formulas for some time now! It might sound like a plot out of 20,000 Leagues Under the Sea, but we promise this giant sea creature is totally friendly. The collagen present in algae works as a powerful anti-aging compound, preventing damage to amino acids in your skin and both protecting and reinforcing cell membranes. So far so good! Recent research also shows that a peptide extracted from the algae, Chlorella vulgaris, stimulates production of four types of dermal collagen and elastin. In other words, seaweed collagen is a powerful tool in helping to fight wrinkle depth, stimulating skin renewal, and regenerating tissue.
Did you ever think that seaweed would be in your natural makeup routine? Well if you aren't using it yet, you're going to want to make the switch to our Mattifying Primer. Our silicone free formula contains our current crush: seaweed collagen. This natural formula will leave you with a plumped base and noticeably minimized lines and creases for the perfect makeup canvas. If you still need convincing about primers in general, read our thoughts in our recent skincare post, under the section: 8 Reasons Why You Should Be Using a Primer.
Maybe most importantly, seaweed collagen is a stellar source of hyaluronic acid, a naturally-occurring acid found in the human body that acts as a lubrication agent for our hair and skin. Hyaluronic acid is what makes seaweed collagen a viable alternative to its animal counterpart, type I collagen, which is synthesized from the bones and skin of animals (no thank you!). Hyaluronic acid boasts all of the same properties as animal collagen, plus it has lower rates of allergic reaction, a better rate of absorption, and is cruelty free. It plays a critical role in skin health, with its remarkable ability to bind to 1,000 times its weight in moisture. We're totally sold on this vegan makeup product.
Did you know? 75% of our skin is made up of collagen. Collagen is the major factor in your skin's overall texture.
What Are the Health Benefits of Seaweed?
Seaweed is absolutely packed with vitamins and nutrients, beneficial trace minerals, and plenty of healthy fiber. We love seaweed for these naturally occurring benefits for skin, for hair, and for health. Some types of seaweed have even been marked as containing cancer-fighting agents, making them true contenders as one of the healthiest ingredients in the world!
According to the National Ocean Service, "seaweed" is the common name used to identify countless species of marine plants and algae that grow in the ocean, rivers, lakes, and a variety of other bodies of water. They range greatly in size, color, and texture, and can even grow in such large 'forests' that they overtake entire regions of beaches and shorelines. The most common colors of seaweed are green, brown, red, and black.
Many informed Californians trace these beaches every day, on the lookout for edible seaweeds that they use to fortify their diets with healthy doses of vitamins and minerals. Harvesting these seaweeds is of course not for beginners, as not all seaweeds are edible; in California you'll need a license to harvest seaweed for this very reason. An excess of certain seaweeds can even cause adverse reactions such as nausea, abdominal pain, and fever. If you do know what you're looking for and you do have a license, you'll know that some of the tastiest edible seaweeds to harvest along the California coast are wakame, nori, and bull kelp.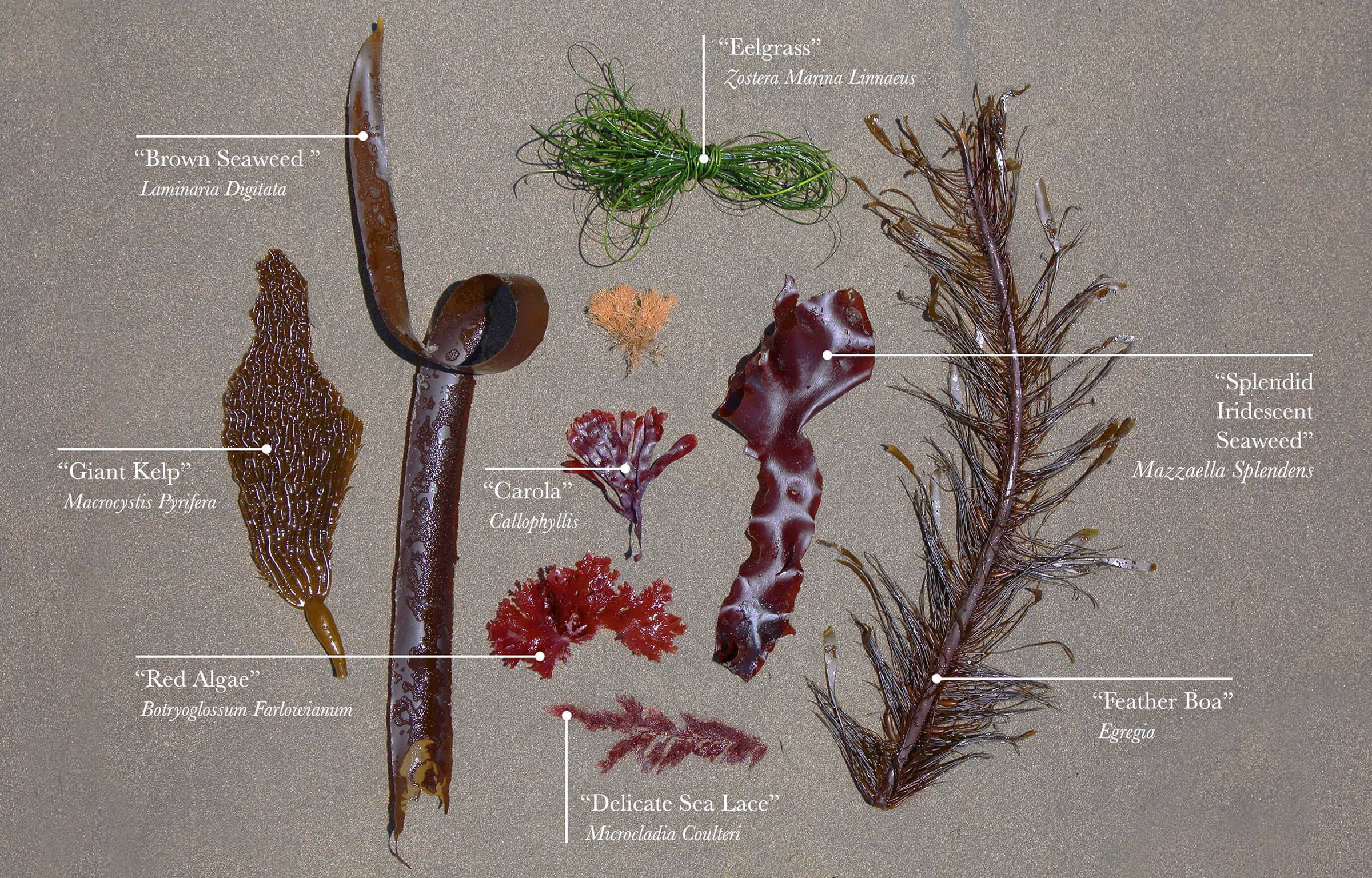 Pacific Coast Kelp and Seaweed Guide
We took a walk down to Pico Creek in Cambria, California with our trusty ocean foraging identification book in tow, to see what types of seaweed and kelp were on-shore. To our surprise there were a ton of different species and couldn't wait to get down to our field identifying!
Kelp and Seaweed Found:
"Brown Seaweed" Laminaria Digitata
"Giant Kelp" Macrocystis Pyrifera
"Red Algae" Botryoglossum Farlowianum
"Eelgrass" Zostera Marina Linnaeus
"Carola" Callophyllis
"Delicate Sea Lace" Microcladia Coulteri
"Splendid Iridescent Seaweed" Mazzaella Splendens
"Feather Boa" Egregia
If you're looking for more remarkable benefits from seaweed or algae, try one of our ultra hydrating Caffeine Masks, which feature seaweed collagen, aloe juice, and green coffee, for a soothing, anti-inflammatory and ultra hydrating treatment. Seaweed collagen is also fantastic for hair. Try our Moisture Drench Shampoo and Moisture Drench Conditioner for a shower duo that will leave you with deeply moisturized and restored locks. Or, try our aptly named Kelp & Mint Volumizing Shampoo for fortified and shiny locks. For smooth, bumpless legs, go with our Pink Grapefruit Seaweed Shaving Cream. Any which way you choose, seaweed will be the perfect addition to your shower routine! Stay tuned for more skincare launches and ingredient deep dives!