High Pigment Liquid Lipstick
Fruit and achiote seeds give the luscious color to our natural liquid lipsticks!
Posted on May 3, 2018
Written by: 100% PURE®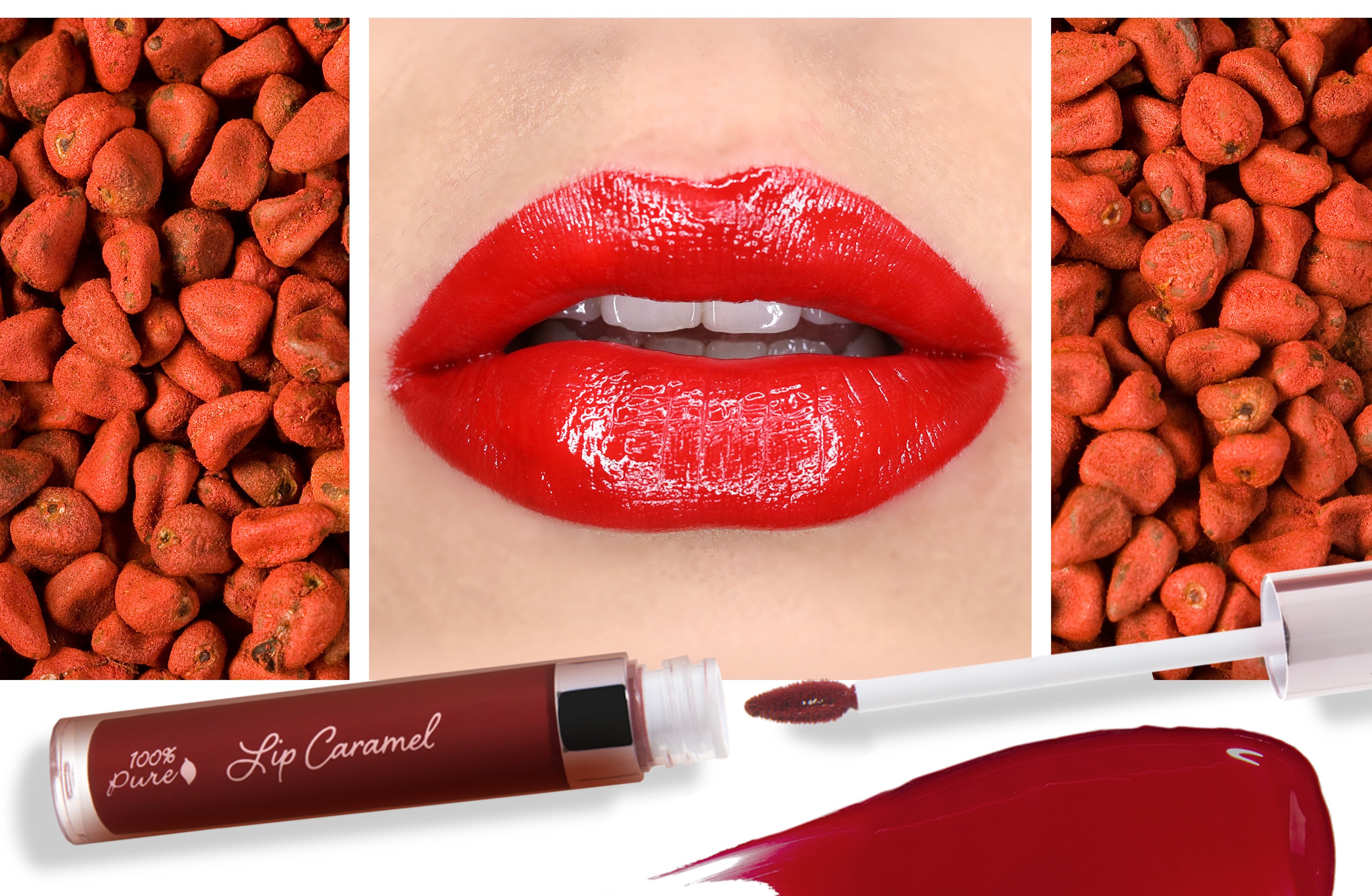 We created the Lip Caramel Collection for all beauty lovers who want intense, high pigment liquid lipsticks. And they're aptly named too because of how yummy their ingredients are! The deeply saturated shades are colored from natural fruit pigments and achiote seeds. Did you know that achiote seeds were used by many ancient civilizations? Mayans used the seeds to create body paint, the Wayampi used it for insect protection, and Aztecs added it to delicious chocolate drinks. We've harnessed this historical seed's intense color to create a lightweight lip formula perfect for 21st century beauty. Our innovative lip caramels combine the smooth texture of gloss with the high performance effects of a lip stain. With a wide range of beautiful shades to choose from – from nudes to magenta – each lip caramel's subtly sweet scent of vanilla and caramel will leave you reminiscing over delectably sweet treats!
What is Achiote?
Achiote seeds, also known as annatto seeds, are a natural pigment found in Central and South America. The spiky green fruit pods – covered in a bright pink fluffy exterior – hold tiny achiote seeds inside. This tropical tree goes by the scientific name Bixa orellana. Ancient cultures have long prized the bright fruits and quickly learned how to crack open the pods to collect the red colored seeds inside. When the seeds are processed into a paste or powder, the intense red pigment can be used in natural cosmetics or medicine. This natural dye has been used for thousands of years but we are only beginning to fully understand their medicinal benefits as well.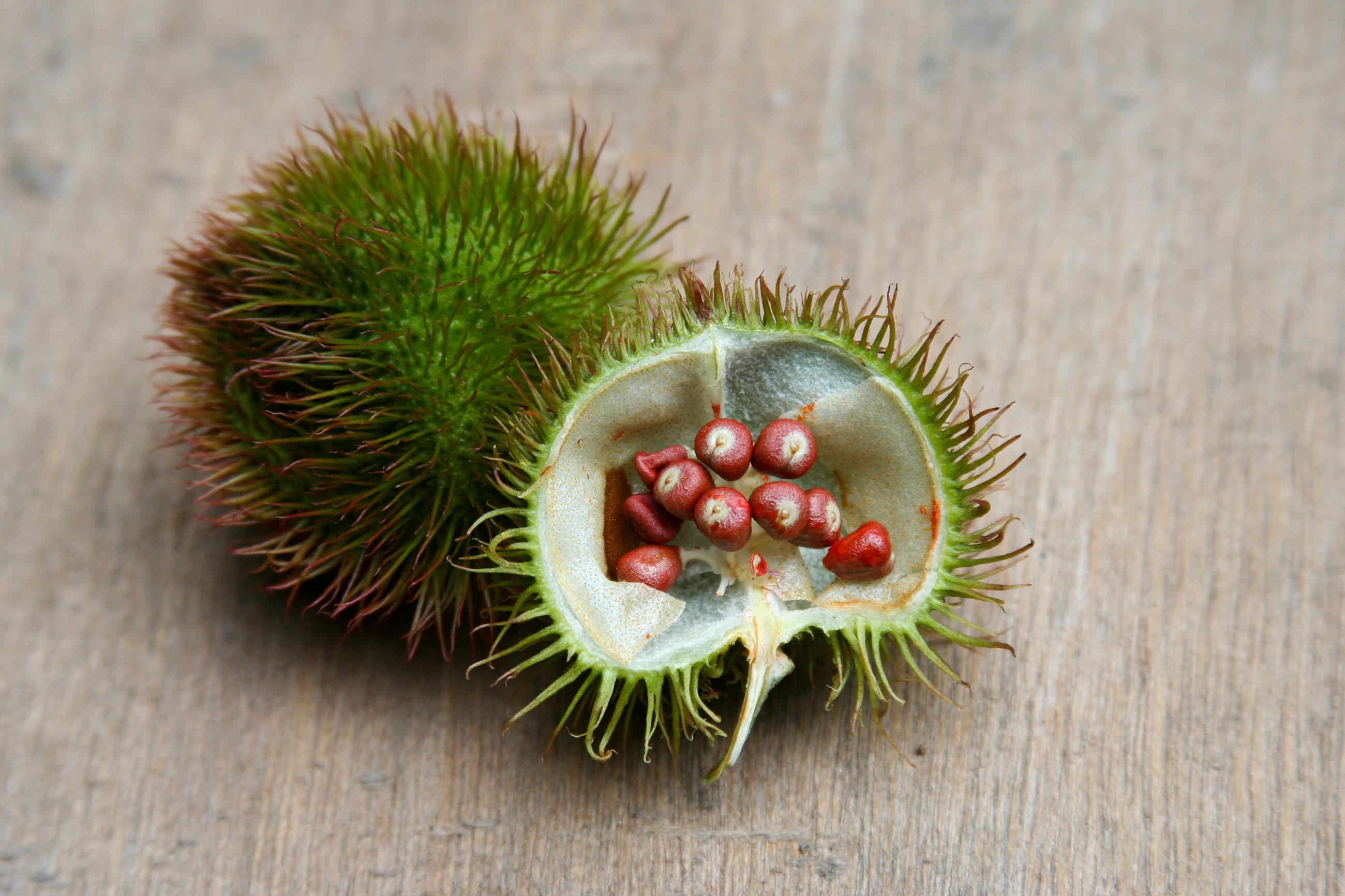 Antioxidants in Annatto (Achiote)
Before we dive into the cosmetics eye candy that achiote seeds possess, we're making a quick detour to focus on achiote's high antioxidant content. Thanks to ancient Caribbean and Central American cultures for recognizing achiote's potential, we are able to study this ancient superfood to learn more about achiote's powerful chemical composition. Within the tiny reddish orange seeds lies a high concentration of tocotrienols. Besides the similarity to high concentrations of vitamin E, annatto seeds also have a lot of carotenoid (which is responsible for the bright red or orange seed color). This antioxidant powerhouse ingredient is sought after for its anti-aging properties as well. When applied topically, achiote paste has been shown to reduce the signs of wrinkles and blemishes by helping to tighten skin, giving it a youthful appearance. Also boasting antimicrobial properties, this wonder seed can also help heal burns or wounds when applied topically, and works to help speed up the skin's healing process, while reducing the appearance of scars.
Synthetic vs. Natural Dyes
We've got more than a few shades of fruit pigmented® natural liquid lipsticks. Instead of using synthetic dyes, from chemicals to even bugs to color lipstick, we're covering your beautiful lips in healthy fruit oils, and fruit pigments from achiote seeds. Have you ever wondered what colors your cosmetics? If you haven't made the switch to natural makeup, then we want to fill you in on what all those FD&C artificial dyes actually are. While the FDA still recognizes synthetic colorants as safe, we'd certainly disagree after mounting scientific evidence that prove otherwise. Since synthetic dyes are relatively new, there are still no health studies for long term artificial color consumption. Why risk it? Our healthy fruit pigments – made from achiote seeds, pomegranates, apricots and raspberries (just to name a few) – don't need to come with a warning label. Revolutionary patented fruit pigmented® technology is what keeps us going. If you are in the team of work smarter not harder, than why not give our natural lipsticks a try? You'll be putting on high performance, highly pigmented lipstick that doubles as a lip treatment because they're chock-full of antioxidants, vitamins and minerals. Each swipe is like luxurious, healing lip care.
Natural Liquid Lipsticks
Did we also mention that our Lip Caramel collection is full of bold, beautiful shades, ranging from punchy pinks to deep wine stained lips? We knew Mother Nature got it right the first time, so we decided to borrow from her rainbow palette to create our silky smooth natural lipsticks. If you are undecided on which natural lipstick is for you, head over to our Lipstick Guide for a complete breakdown on shade, skintone and occasion to point you in the right direction. Not sure our intense, high shine liquid lipsticks are for you? We have you covered with our formula breakdown in How to Find The Perfect Natural Lipstick Formula. But keep in mind, it's 2018, so we're giving you a gentle nudge to step out of your comfort zone and dare to try something new! It's only natural lipstick, so the downsides are pretty minimal and the upsides could be limitless. Check out the gorgeous swatches on our buildable Lip Caramel guide below.
PRO TIP: Apply our Creamy Long Last Lip Liners directly to lips, outlining first for a clean line to keep Lip Caramels in place and to avoid feathering.
Lip Caramel: Red Velvet: Deep classic red
Lip Caramel: Butterchew: Pinky brown nude
Lip Caramel: Cherry Cordial: Bright berry
Lip Caramel: Scotch Kiss: Clear bright coral
Lip Caramel: Sorbetto: Medium pink-purple
Lip Caramel: Plum Wine: Deep purple wine
Lip Caramel: Melon Drop: Bright coral pink
★ ★ ★ ★ ★
Incredible
"Insane pigment and color payoff. Gorgeous cool red shade. Very generous size (this will last a LONG time). Gentle vanilla-y scent. Dries down to a stain that lasts a good while. Gorgeous!"
Laura T., Verified Buyer of Lip Caramel: Cherry Cordial
★ ★ ★ ★ ★
Superb quality as always
"Vibrant, bright and glossy, without being super sticky. I also like to tone it down and wear as a stain under lip balm. Goes well with my light skin. It's a really beautiful color."
Roxana B., Verified Buyer of Lip Caramel: Red Velvet
★ ★ ★ ★ ★
So pretty, long-lasting and very versatile!
"I absolutely love this lip gloss. The color is a pretty bright pink that works really well with a low-makeup, glowy look. It smells SO good and you can feel how natural the product is, too–I have very sensitive skin and lip products often irritate my skin, but not this one. You also have a lot of application options–if you put it on full strength with the wand it's very shiny and bright, but you can also use a tiny dab on your finger and spread it on your lips to leave a very pretty and natural-looking stain. It also lasts really long, longer than even some "long lasting" products I've used. Even after a meal it leaves a pretty tint and a little goes a long way to touch up. Considering purchasing in other colors!"
Katie L., Reviewing Lip Caramel: Melon Drop