Natural Face Masks Guide – The Hydrogel Edition
Why choose a natural face mask, and what our hydrogel masks do to solve your skin care woes.
Posted on June 25, 2018
Written by: 100% PURE®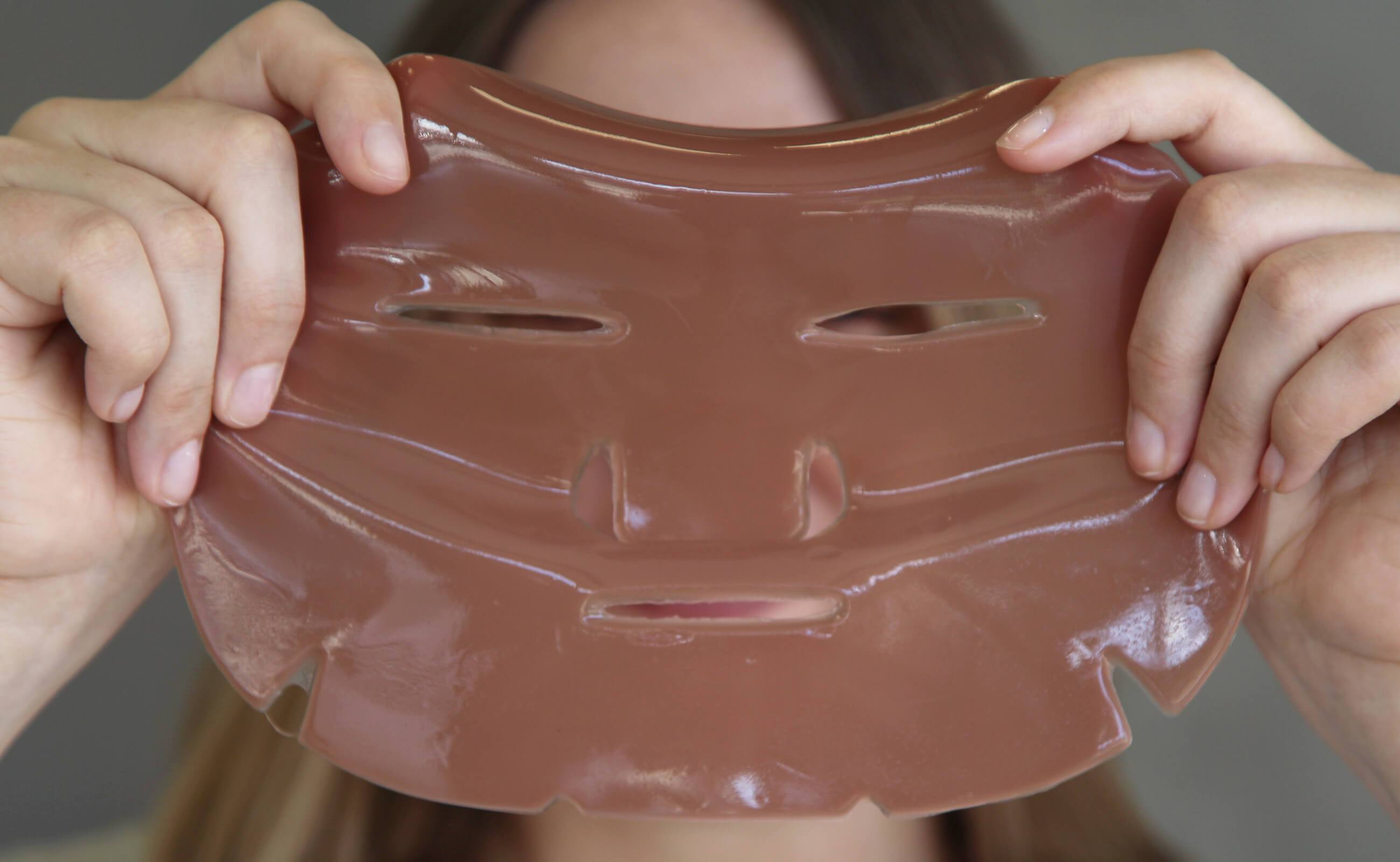 What are Face Masks?
You may have seen all kinds of face masks in your life…especially the famous green clay face mask. These days, there are "natural face masks" made out of all kinds of supposedly beneficial ingredients, and some are even made with stranger ingredients – 24k gold, snail mucus, bee venom, and even caviar! These are some interesting ingredients to say the least! But what is a face mask used for? Many people think of these as special treatments only applied on fancy spa days. They're like the decadent dessert of skin care in many people's lives. Face masks are actually an important part of your skin care routine, not necessarily required to do daily, but for the best results, masking at least 2-3 times a week brings your skin the most benefits.
There are different masks for all different skin types, but not all masks should be used for all skin types (unless you're using natural face masks – more on that later). Clay masks may be great for drawing out impurities, helping to reduce oil, and preventing blemishes. However this type of mask may not be suitable for dry or sensitive skin types as they could dry out or irritate the skin further. Enter our natural face masks. These masks are beneficial for all skin types, and are able to aid certain conditions depending on the mask.
Why Do You Need to Use Natural Face Masks?
Think about your daily skin care routine – you may use your daily pea size amount of serum, or a quarter sized amount of moisturizer. Masks tend to be more potent, and your skin doesn't absorb all of the benefits at once like with other skin care products. Face masks are worn for a longer period of time so your skin can fully absorb the benefits.
As with all skin care products, you should always go with our high standards of natural! We've talked about why natural is better because of the crazy toxins and other slacking synthetic ingredients conventional cosmetic companies put into their products. Conventional face masks may contain silicone based emollients to make your skin feel superficially smooth but actually suffocate your skin, or maybe artificial fragrances that irritate skin. Chemical peel face masks may produce faster results, but are you OK with stripping and damaging your skin in the long run? We're on team work smarter, not harder. For starters, we've said no to diluting skin care products with plain water, thickeners, and fillers, so you can enjoy more potent skin care. Why include useless synthetic ingredients when you can reap the benefits of natural ingredients – that do double duty to hold your favorite beauty product together AND nourish your skin?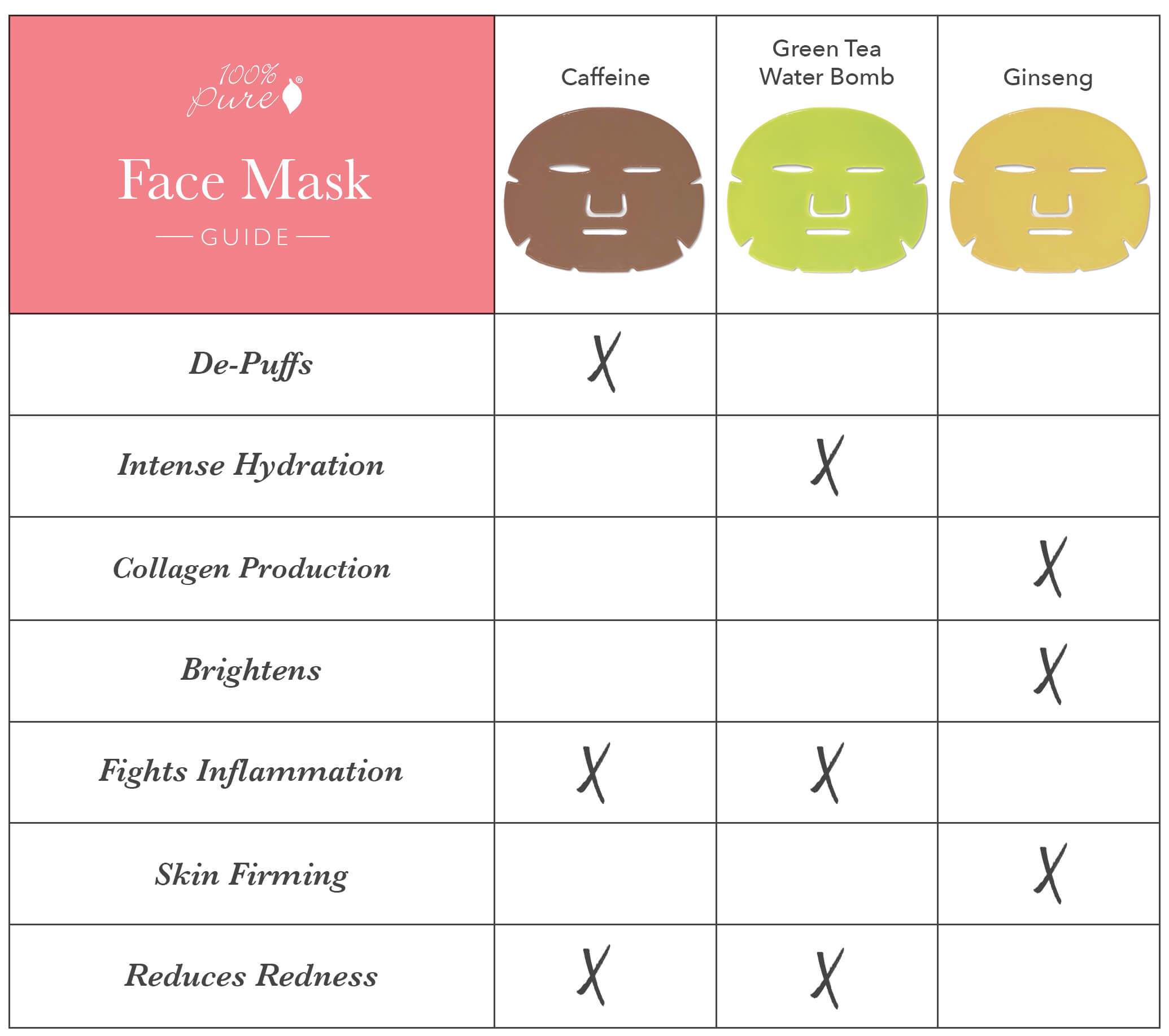 What's Special About Our Natural Face Masks
Our natural face masks pack a whammy even in their base ingredients. While conventional face masks might start with a synthetic base material that provide minimal benefits to your skin, our natural face masks start with a nourishing hydrogel base. This hydrogel material is made with plant cellulose – an organic polymer that makes up plant cell walls and keeps our masks pieced together – and soothing aloe juice. We use this natural material because it absorbs the ingredients and lets them slowly penetrate your skin upon application. As you wear these masks, you will notice that the longer you wear them, the material gets thinner because your skin is absorbing the ingredients from the hydrogel. The colors of the masks come from the natural ingredients used. Because they contain no toxic chemicals, synthetic dyes, or harmful ingredients, our natural face masks are beneficial for all skin types. Another huge plus to the material these are made from? Good for the planet – these babies are biodegradable. Yay! Without further ado, we'll introduce you to our hydrogel goodies (stay tuned for a new Korean sheet mask release to add to our natural face masks collection).
Our Natural Face Masks – The Hydrogel Edition
This mask is great after a day at the beach, or an afternoon out in the sun. The anti-inflammatory caffeine in this mask helps to reduce damage and redness that may have been caused by sun exposure. The seaweed collagen in this mask helps to plump the skin, making fine lines and wrinkles less noticeable. The antioxidant rich green tea helps to fight off pesky free radicals that we have to face daily. Feeling a little red or puffy? The yerba mate in this face mask is another anti-inflammatory that helps to soothe the skin with nourishing caffeine. Stock up on this mask for a regular de-puffing, anti-inflammatory treatment.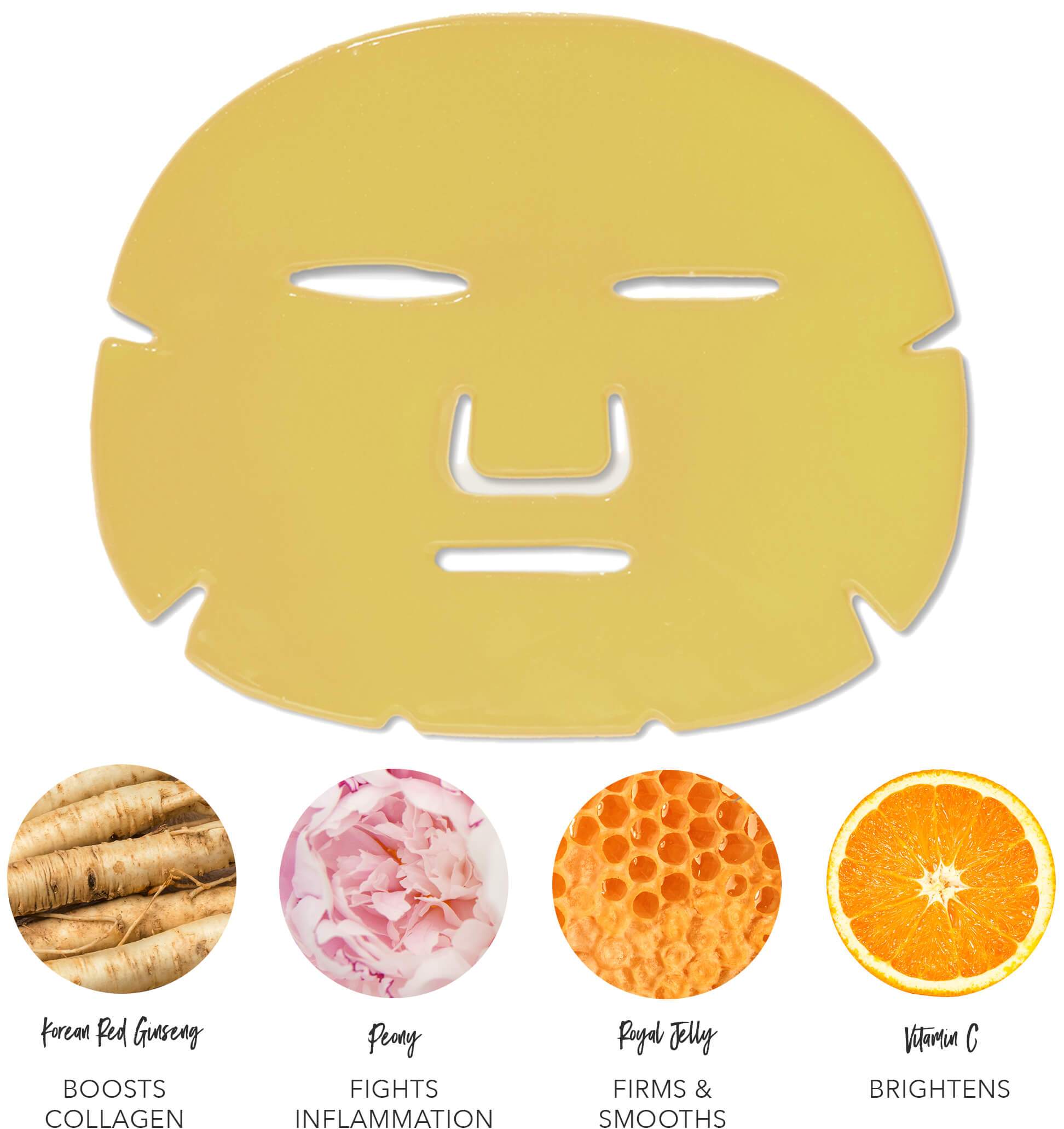 This mask is great for those looking for anti aging properties. Korean red ginseng is a skin care gem that boosts collagen production, which helps skin appear more plump and youthful. The peony in this mask helps to reduce inflammation and redness in the skin. This mask also contains royal jelly, which is known to help firm and smooth the skin. Last but not least, the vitamin C is also a collagen booster and skin brightening agent. Stock up on this mask for a regular firming, brightening skin treatment.
This mask is perfect for those with thirsty skin. Feeling tight, dry, or even flakey? This is your go-to mask. Hyaluronic acid and aloe juice drench your precious skin with water. Green tea is a powerful antioxidant and anti-inflammatory that strengthens and repairs your skin for the long run. It contains rose hydrosol which helps to soothe skin and reduce redness. It also contains aloe which has healing properties. There is cucumber in this mask that helps to add extra hydration to the skin, and lastly calendula which is hydrating and skin smoothing. Stock up on this mask for a regular skin hydrating treatment.
How to Properly Use Natural Face Masks
Remove any makeup that you are wearing.
Thoroughly cleanse your skin with the best cleanser for your skin type.
Exfoliate your skin by gently massaging our Acai Berry Facial Scrub into your skin in circles. If you feel that the scrub is too rough, you may dilute it with water.
After exfoliating, open mask package and slide out of packaging carefully (make sure the tray containing the mask is the right side up).
Place mask on face so it sits comfortably. Nose in place, eyes are able to see through the mask etc. If the eye slits are too small, the beauty of this face mask is that you can stretch it to make the holes larger.
Once placed comfortably on the face, GO RELAX! Relax?! What's that? We know you want to run around the house doing things that need to get done while getting your facial on. But this is your time. Time for you to unwind, relax your body, hey – you can even meditate! Lie down to reap the full benefits of our natural face masks.
Leave the mask on for at least 15 minutes, but keep it on as long as you like if you have the time. These masks are ultra hydrating, and your skin can always use the extra hydration. You will know if the mask is no longer good when it starts to feel paper thin and dry.
Use your favorite serum! Before you do that, if there is any fluid left in the tray, feel free to pat it into your face. It's like a hydrosol with bonus ingredients.
Moisturize. Keep your hydration in by locking it down with a moisturizer.
SPF is a daytime must! If you mask at night, no need.