Vanessa Kirby Wore 100% PURE to the Emmys
Supporting Actress Nominee Vanessa Kirby wore fruit pigmented® makeup to the Emmy Awards — here's how to get her glamorous look!
Posted on October 05, 2018
Written by: 100% PURE®
Have you binge-watched the newest season of the Netflix Original Series The Crown? Vanessa Kirby's poignant performance as the glamorous Princess Margaret is still creating buzz, even though the role has officially been handed off to Helena Bonham Carter for season 3. Kirby's embodiment of the younger sister of Elizabeth II in The Crown snagged her a Primetime Emmy nomination for Supporting Actress in a Drama Series. The cherry on top? 100% PURE makeup was behind the scenes, helping prep the brilliant and beautiful actress for her big night!
100% PURE partnered with Celebrity Makeup Artist and Green Beauty Expert Katey Denno to create Kirby's princess-worthy Emmys night look, which E! News is calling a winner in their Best Beauty at the Emmy Awards 2018. Vanessa Kirby wowed on the 70th Annual Emmys red carpet, in a nude blush Tom Ford gown and glowing skin. The gown served as a contemporary twist on the princess's signature plunging neckline and bare, luminous shoulders. Kirby's natural beauty was complemented by healthy skin, a nude lip, and her bold signature brows. Here's how to recreate her stunning Emmys makeup look!
How to Get Vanessa Kirby's Red Carpet Makeup Look
The Look: Denno's makeup look for Vanessa was 100% inspired by true, old Hollywood glamour. "I could do this look over and over on her and not get bored," Denno said on Instagram. Straight, pushed-back platinum locks and nude shimmer gave the look a modern edge, without losing the traditional essence of Hollywood glam. The Emmy nominated actress was serving flawless, retro silver screen vibes all night!
STEP 1: Skin
To enhance Vanessa Kirby's warm, porcelain skin and sexy bared shoulders on the red carpet, Denno made sure to prep her skin to give off a healthy glow. To get a hydrated base, you can use Argan Oil on the shoulders, neck, and decollete, and a light layer of natural moisturizer on the face.
To ensure Vanessa's foundation would stay put through the long night ahead, Denno first applied a layer of Mattifying Primer on her clean, hydrated skin. After letting the primer set, she used both a Kabuki brush and Makeup Sponge to apply our new Full Coverage Water Foundation in Warm 2.0 all over the face. "I really love it for red carpet because of its full coverage dewy, glowy finish," Denno said before the show. "I use it with their primer and it really does make the foundation glide over pores." This aloe-based, fruit pigmented® foundation was blended to perfection into Vanessa's skin for a satin airbrushed effect, with just a kiss of dewiness.
STEP 2: Brows
To enhance and style Kirby's "signature bold brows", makeup artist Katey Denno first filled the brows with powder pigment. You can use a tinted brow gel / pomade like our Long Last Brows to lightly fill and create your desired shape. This full, bold brow look was finalized with a final fill and structuring with our Green Tea Fiber Brow Builder in Medium Brown, by brushing hairs upwards, then flat towards the tail.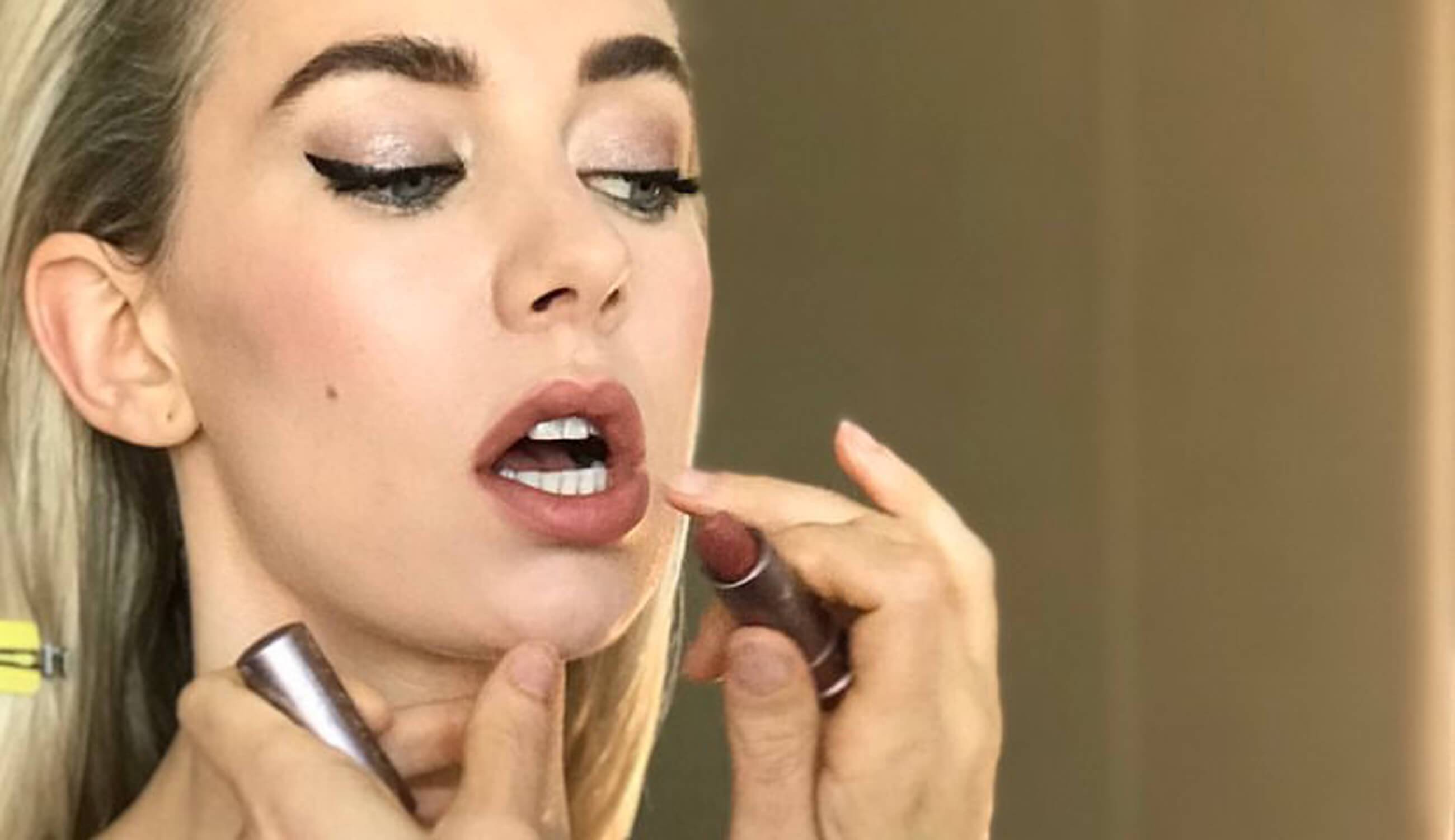 STEP 3: Cheeks
To get that warm, peachy glow that Vanessa wore on her cheeks, you can use our Fruit Pigmented® Blush: Healthy. Apply a very light dusting to the apples of your cheeks with a blush brush. For a whisper of natural highlight, dip into Better Naked Palette Highlighter: Fox with your brush and dust along the high planes of the cheeks and very lightly onto tip and bridge of nose. With camera-ready looks, applying highlight lightly is key to avoid an unnatural glare of shimmer in the camera flash.
PRO TIP: Applied too much blush? Keep your kabuki brush or makeup blender nearby. Use any pigment leftover from the foundation step to diffuse a heavy-handed layer of blush. Just lightly blend over your cheeks until you've toned them down to a more natural looking flush.
STEP 4: Eyes
Denno gave Vanessa a clean, "subdued shimmery eye" makeup look using taupe, light mauve brown, and just a hint of sparkle. Start by dipping into your Better Naked Palette: Kitty eye shadow with a flat shader brush, applying all over your lid. Next, grab a small fluffy crease brush and dip into Better Naked Palette: Butterfly eye shadow and buff into your crease for light, smokey definition. With this same brush, go back in with Kitty and blend the darker color shadow into your base color for a seamless finish. Finish by dipping your flat shader brush into Fruit Pigmented® Satin Eye Shadow: Star, and applying only to the center of your lid, from lashline to crease. Blend by tapping it gently with your fingertips, to create a subtle pop of glamorous shimmer.
Princess Margaret made a classic winged liner look posh and refined, paired with voluminous silk ball gowns and plunging necklines. Denno recreated this "signature black feline flick liner" with a liquid eyeliner, tracing a gentle curve across the upper lash line. She ended with a subtle swoop just past the corners of the eyes. Use our Long Last Liquid Liner: Black Tea to ensure a smudge-proof finish that can last all through the red carpet, awards ceremony, and Hollywood after parties! Make sure to use black for enhanced impact and drama. Denno finished Vanessa's Emmys eye makeup look with a lash lengthening black mascara.
STEP 5: Lips
To keep lips moisturized all night, celeb makeup artist Katey Denno primed them with a hydrating lip balm like our sweet Cherry Lip Balm. For the final touch to this nude, retro-glam red carpet makeup look, Denno finished with our Cocoa Butter Matte Lipstick: Mojave. "I debated doing a deep, bold berry lip but then realized that's what she wore for the Emmy's last year, so we went with the perfect semi matte nude". The warm, clay brown color of Mojave was the perfect compliment to Vanessa's warm, fair skin and denim blue eyes.