Find Your Perfect Natural Lipstick
The complete guide to every 100% PURE natural lipstick formula with lipstick swatches and shade descriptions.
Updated on December 12, 2018
Written by: 100% PURE®
A beauty lover can never have too many lipsticks… right? Don't worry, we get it! Welcome to a safe space for indulging, obsessing, and learning about every non-toxic natural lipstick formula from 100% PURE. If you're just dipping your toes into natural beauty, boy have we got some eye candy in store for you!
Choosing the perfect lipstick can be intimidating, so we've simplified the process. In this straightforward natural lipstick guide, we'll guide you through finishes, shade descriptions, and lipstick swatches. Get ready to meet your one true natural lipstick love!
Before You Choose Your Perfect Lipstick Shade…
We know how tempting it is to dive head-first into the lipstick pool. But to be sure you're picking the most flattering shade for you, start by identifying your skin tone first. No matter if your skin is fair, medium, or deep, everyone has a tone to their skin. That tone is the most important factor to consider when searching for your perfect shade of natural lipstick.
Check out the basic skin tone breakdown below. It will help you navigate the guide coming up next:
COOL SKIN TONES: Pink, Blue undertones
WARM SKIN TONES: Yellow, Golden undertones
OLIVE SKIN TONES: Mix of Green, Red, and Yellow undertones
Fruit Pigmented Lip Glaze (Discontinued)
Finish: 
Semi-Opaque Gloss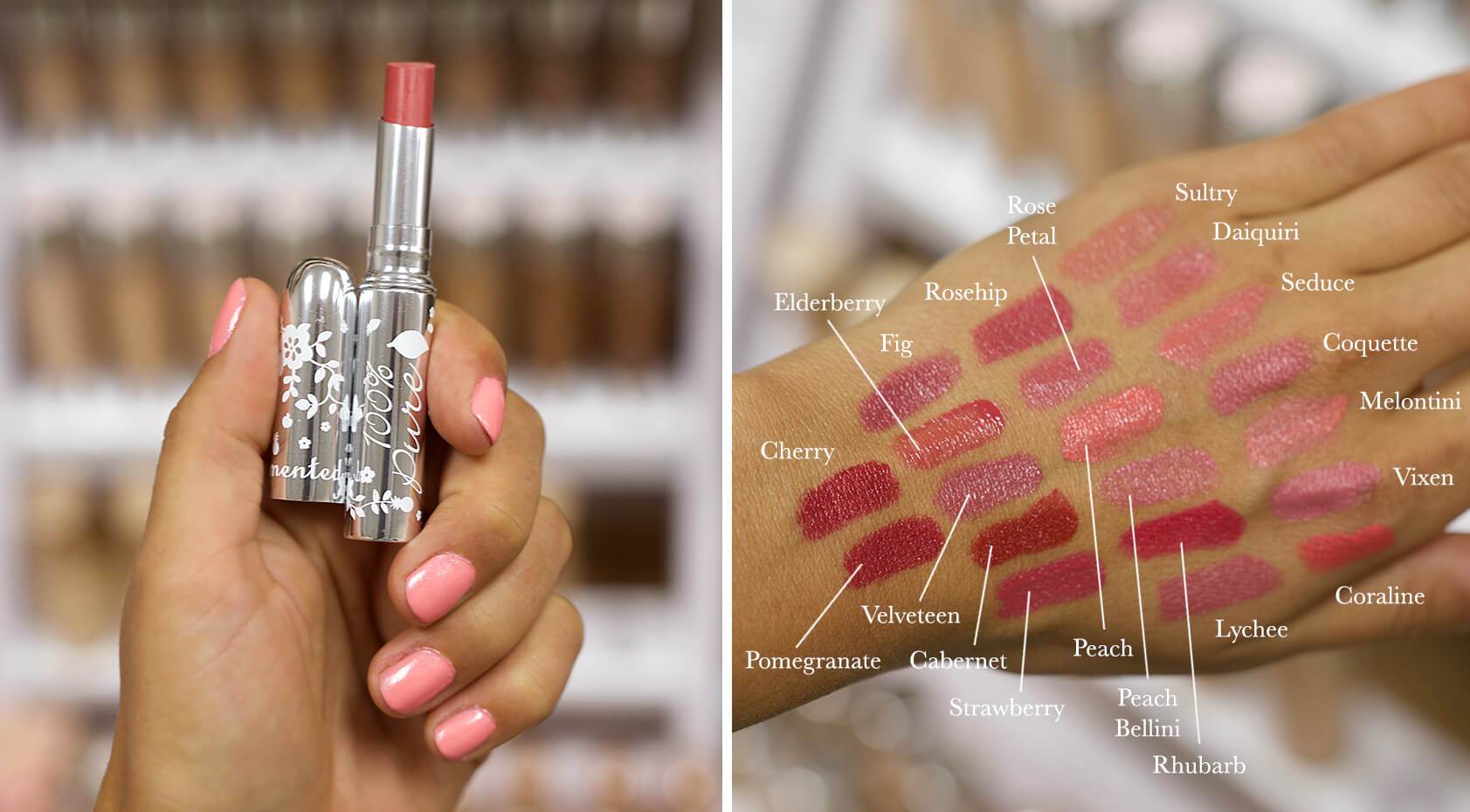 Have you been looking for that perfect blend of a lipstick and lip balm? Look no further than our Fruit Pigmented Lip Glaze. Our cruelty free lip formula was created to give you the finest sheer wash of color for your lips.All twenty gorgeous lip glaze shades will cover your lips with highly nourishing vitamins and antioxidants. Treat your lips to deep hydration with skin softening avocado butter and cocoa butter. Lip Glazes are perfect for on-the-go makeup application; quickly swipe onto lips and you're ready to get back to it! Stash one in your pocket book, gym bag, or office drawer.
PRO TIP:Oh no! You accidentally extended your Lip Glaze bullet too far out and it broke off! Don't stress, pop the bullet into a small container with a lid and apply as normal with our Cruelty Free Retractable Lip Brush L10.
Fruit Pigmented Lip Glaze: Sultry
Shade Description: Warm peachy brown
Best Skin Tone and Undertones: warm or olive
Fruit Pigmented Lip Glaze: Daiquiri
Shade Description: Medium pink
Best Skin Tone and Undertones: warm, cool, or olive
Fruit Pigmented Lip Glaze: Seduce
Shade Description: Coral nude
Best Skin Tone and Undertones: warm or olive
Fruit Pigmented Lip Glaze: Coquette
Shade Description: Dusty rose nude
Best Skin Tone and Undertones: warm, cool, or olive
Fruit Pigmented Lip Glaze: Melontini
Shade Description: Peachy coral
Best Skin Tone and Undertones: warm, cool, or olive
Fruit Pigmented Lip Glaze: Vixen
Shade Description: Warm dusty pink
Best Skin Tone and Undertones: warm or olive
Fruit Pigmented Lip Glaze: Coraline
Shade Description: Red coral
Best Skin Tone and Undertones: warm, cool, or olive
Fruit Pigmented Lip Glaze: Rosehip
Shade Description: Deep berry brown
Best Skin Tone and Undertones: warm, cool, or olive
Fruit Pigmented Lip Glaze: Rose Petal
Shade Description: Deep mauve pink
Best Skin Tone and Undertones: warm, cool, or olive
Fruit Pigmented Lip Glaze: Peach
Shade Description: Deep peachy coral
Best Skin Tone and Undertones: warm or olive
Fruit Pigmented Lip Glaze: Peach Bellini
Shade Description: Purple pink
Best Skin Tone and Undertones: cool or olive
Fruit Pigmented Lip Glaze: Rhubarb
Shade Description: Deep berry pink
Best Skin Tone and Undertones: cool or olive
Fruit Pigmented Lip Glaze: Lychee
Shade Description: Deep pink brown
Best Skin Tone and Undertones: warm, cool, or olive
Fruit Pigmented Lip Glaze: Fig
Shade Description: Deep pale mauve
Best Skin Tone and Undertones: cool or olive
Fruit Pigmented Lip Glaze: Elderberry
Shade Description: Deep pink mauve
Best Skin Tone and Undertones: warm, cool, or olive
Fruit Pigmented Lip Glaze: Velveteen
Shade Description: Dusty nude pink
Best Skin Tone and Undertones: warm, cool, or olive
Fruit Pigmented Lip Glaze: Cabernet
Shade Description: Deep brick red
Best Skin Tone and Undertones: warm or olive
Fruit Pigmented Lip Glaze: Strawberry
Shade Description: Soft berry pink
Best Skin Tone and Undertones: warm or olive
Fruit Pigmented Lip Glaze: Cherry
Shade Description: Deep purple berry
Best Skin Tone and Undertones: cool or olive
Fruit Pigmented Lip Glaze: Pomegranate
Shade Description: Deep pinky red
Best Skin Tone and Undertones: warm, cool, or olive