Breaking down the best ways to exfoliate for your skin type, the do's and don'ts of exfoliating, and how to exfoliate during each season
Updated on Jan 27, 2019
Written by: 100% PURE®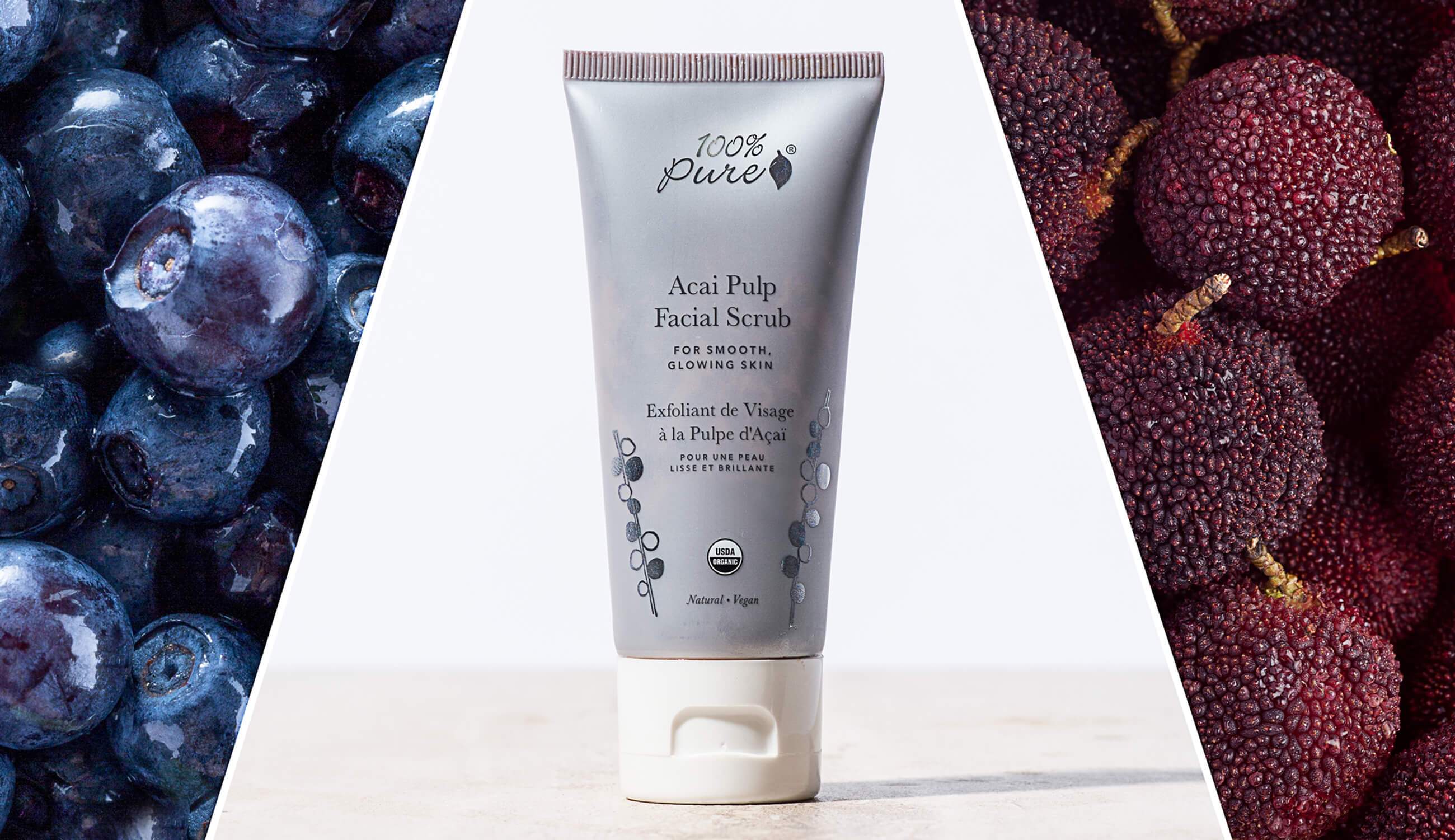 For many, a common skin care routine is as simple as cleanse, moisturize, and go! Often overlooked, exfoliation is an important step in a healthy skin care routine for all skin types; yes, even sensitive skin needs to receive its fair share of exfoliation!
With Acai Pulp Facial Scrub, we've formulated an organic facial scrub that will check all of your exfoliating boxes. Brightens? Check! Buffs away dead skin? Check! Gentle enough for any skin type? Check! Free of skin stripping chemicals and detergents? Check! Free of environmentally damaging exfoliating beads? BIG CHECK! This organic facial scrub is chock full of antioxidant rich super fruits for fortifying skin against environmental and free radical damage to keep filthy smog, exhaust, and environmental debris from wreaking havoc on your delicate skin.
So what do we use to exfoliate delicate facial skin, instead of plastic beads or rough edged sand, sugar, or salt? We've used to 2 sizes of grape seeds, of course! These exfoliators are gentle enough for even sensitive skin types, but pack plenty of buffing power to slough away bumps, flakes, and dead layers to reveal fresh, more supple skin. The additions of acai, elderberry, yumberry, and goji berry pack on the skin nourishing potential in this fruity little natural wonder.
How to Exfoliate for All Skin Types
OILY / ACNE PRONE SKIN
When skin doesn't shed fast enough, a buildup of dead skin cells can occur. This buildup can cover and clog the pores, causing sebum (your skin's natural oil) to accumulate within them. As acne-causing bacteria feed on sebum, a buildup of sebum underneath your skin can result in acne-causing bacteria reproducing at larger rates, resulting in breakouts. Exfoliating helps to clear pores by removing the dead skin cells, dirt, and oil that can build up and create clogging complications. Generally, exfoliating your face 2-3 times a week would be beneficial for oily skin. Acne-prone skin can be more sensitive than other skin types, so when exfoliating, make sure to mix the scrub with water on fingers before applying, and cut down to 1-2 times a week if skin seems to be more sensitive than usual.
DRY SKIN
Exfoliation for dry skin should be less frequent, as the skin's lipid barrier can be compromised with over exfoliation. For dry skin types, flakes, bumps, and uneven patches are frustratingly common occurrences. Regularly exfoliating helps to clear flakes and bumps, resulting in skin that's softer and more smooth to the touch. Added bonus? Your makeup application will be much more manageable, since smoothed skin allows for a more even finish!
AGING SKIN
As we age, average rate of skin cell turnover (the process that reveals fresh, younger layers of skin) slows down. Before the age of thirty, our skin normally sheds every 28 days. After 30 however, that rate begins to slow down and continues to slow every year. Exfoliating helps to speed up and increase skin cell turnover rate, boosting your skin's circulation and healing process. By clearing away dead skin cells that cause dullness, exfoliation can also brighten your complexion, giving you a healthy, natural glow.
DULL / LACKLUSTER SKIN
Sloughing off dead skin cells helps to reveal the fresh, youthful skin waiting beneath. If you feel your complexion is a bit on the 'blah' side, exfoliation can perk your skin right up; using an organic facial scrub with brightening fruit extracts and citrus can certainly be an asset in this department!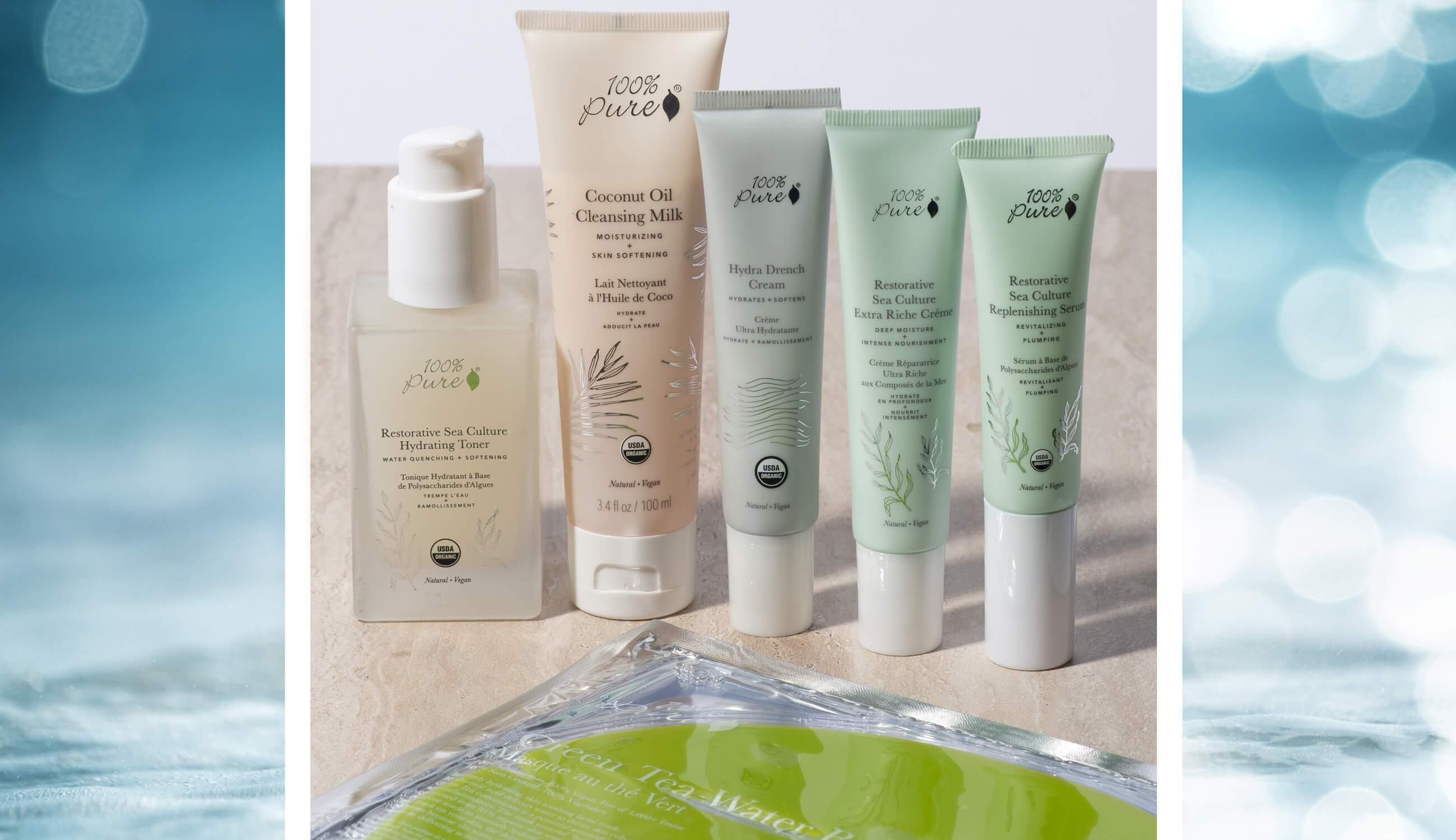 Scrub After-Care
You may already know how to exfoliate your skin properly – but it's just as important to keep on caring for your skin after exfoliation. Especially after exfoliating, it's important to be gentle with your skin, and to protect it from the elements.
We recommend that you carefully check any conventional cleansers, toners, and other skin products that you use every day. If any of your daily skin care products feature chemical exfoliants such as citric acid, salicylic acid, or lactic acid, you should avoid using them for a few days after you've used your scrub. Too many courses of mechanical and chemical exfoliation can result in irritation and inflammation in the skin, which can in turn contribute to skin damage over time. You should also make sure to steer clear from products that contain harmful, denatured alcohols such as cetyl alcohol. These ingredients can dry your skin and damage it at the cellular level; applying them to your skin right after exfoliating will allow them to penetrate even deeper into the tissue.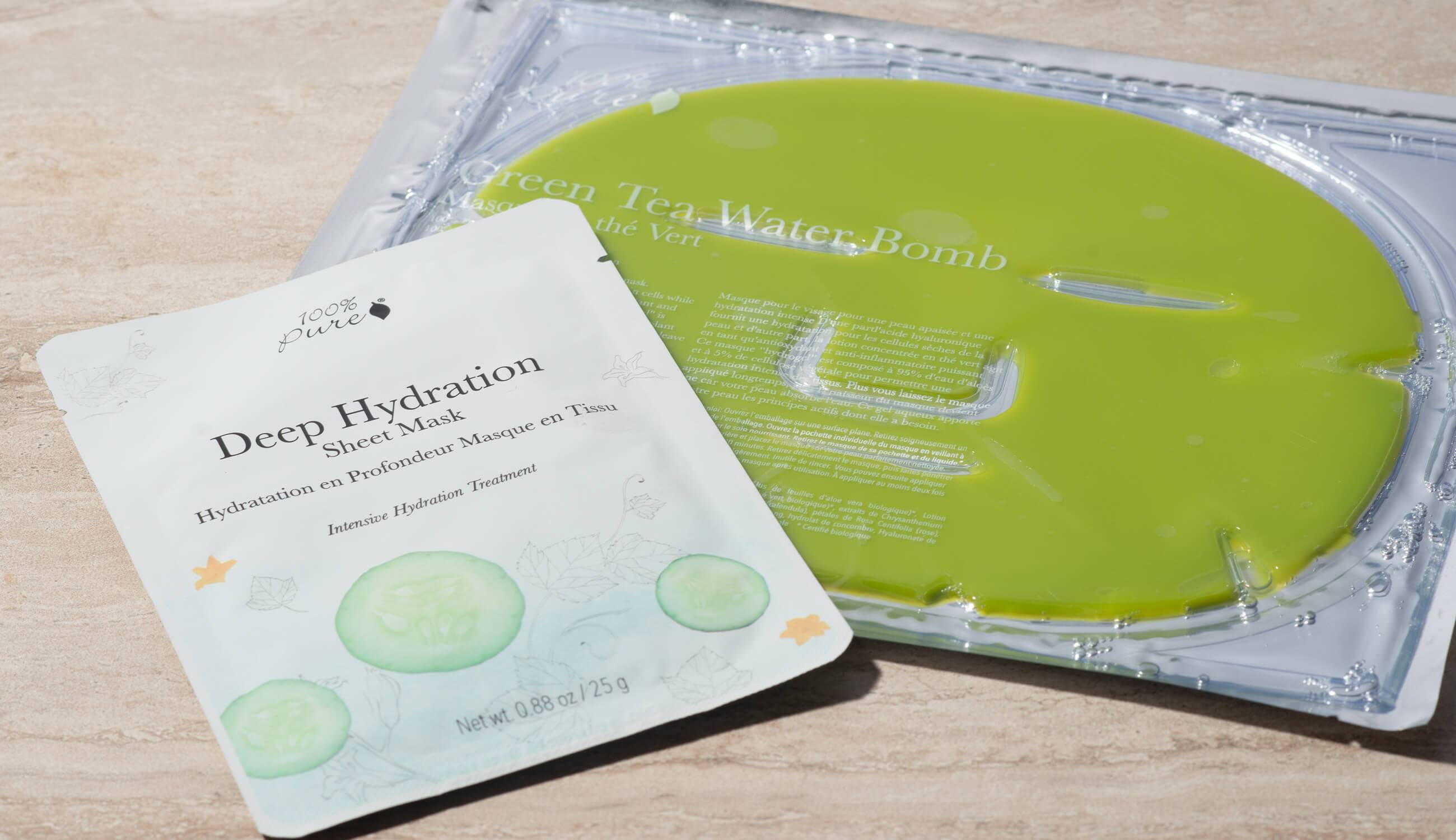 The best way to care for your skin after exfoliating is by applying light products that will deliver deep hydration. We love our Deep Hydration Sheet Masks, which deliver a powerful dose of hydration using natural ingredients–resulting in plumped, supple-looking skin. Our Restorative Sea Culture Hydrating Toner is another great hydrator. It's packed with marine nutrients to soften and brighten your skin, it'll help your skin to recover from the exfoliation process looking smoother and brighter than before.
How to Exfoliate in 6 Steps
STEP #1
First things first: start with a cleanser that's right for your skin type. We chose our Coconut Oil Cleansing Milk since it's a super gentle, moisturizing cleanser that works for all skin types. Take your time when massaging this cleanser into your skin, to increase blood flow and circulation.
STEP #2
Next, use our pamper worthy Acai Pulp Facial Scrub for exfoliating. This scrub uses 2 sizes of grape seeds for amazing exfoliation results. The larger seeds buff away flakes and bumps, and the small seeds polish the skin, making it feel supple and soft. Because this is a potent formula, make sure to first emulsify a quarter sized amount onto your fingers with water, and use on wet skin. When applying any facial scrub, take care to massage gently into skin using upward circular motions for up to 2 minutes. Rubbing any scrub too vigorously into skin, or rubbing it in for too long, can cause irritation and damage to the skin.
STEP #3
Now that you've exfoliated your skin, it's time to reap the next phase of benefits from exfoliation: better product absorption! We love our Restorative Sea Culture Toner because of the amount of hydration it delivers into skin with purely sourced, gelatinous algin from seaweed. It also helps to soothe skin and reduce inflammation with calming, alcohol-free witch hazel. Any skin type can use a bit of hydration to restore plump, more youthful looking skin!
STEP #4
The next step is to apply nourishing serums that can deeply penetrate your freshly exfoliated skin; a great serum option would be the Restorative Sea Culture Replenishing Serum for enhanced hydration and nourishment after exfoliation.
STEP #5
Especially after exfoliating, we need to make sure our skin gets all the hydration and moisture it needs. We use the Hydra Drench Cream which hydrates and softens skin, then follow with the Restorative Sea Culture Extra Riche Créme for deep, water locking moisture from bacuri butter, shea butter, coconut oil, and jojoba oil.
STEP #6
Last but certainly not least, add an eye cream to your ultra primed skin! For PM use, try our Retinol PM Eye Cream. If you're following up after a morning exfoliating session, try our super moisturizing Super Fruit Oil Nourishing Eye Cream for daytime wear.
The Do's and Don'ts of Exfoliating
DO
Exfoliate at night, and make sure to use SPF during the day; the fresh skin that's been revealed is delicate, and needs to be pampered and protected. It can also be more sensitive to sunlight, and using a natural sunscreen will protect it from sun damage.
Exfoliate 1-3 times a week depending on skin type. Once a week is recommended for those with sensitive skin types, and for more oily skin types, 3 times a week is recommended. Gauge how your skin feels, and add in more or less exfoliation as needed.
Exfoliate your body, not just your face; properly exfoliating your body can buff away dry skin and prime skin for maximum absorption of products to follow. Dry brush your skin with a bath sponge or body brush, to remove already loose dead skin. When adding your natural body scrub to wet skin, always be sure to gently massage into skin using circular motions to increase circulation and get an even exfoliation. Follow with an ultra skin softening, nourishing body cream or body butter in your signature scent to restore hydration and moisture to freshly exfoliated, delicate skin.
DON'T
Don't over-exfoliate! It can cause damage to the skin's lipid barrier. Exfoliating too frequently can cause damage to the skin itself, but can also cause increased dryness and sensitivity. Gentle exfoliation is key.
Don't exfoliate damaged skin! If you have sunburnt or hypersensitive skin, or open acne lesions on your face, exfoliation can make damaged skin issues worse.
Don't use plastic exfoliant beads! These beads have been banned since July of 2017, however there are still brands selling products that contain them, so you'll have to carefully read product labels. These plastic beads go down the drain and end up in our ocean, wreaking havoc on both plant and animal marine life.
Don't use salt or sugar scrubs! They may prove too harsh for delicate skin of your face; save these for rougher parts of your body like elbows, knees, and anywhere else you have a tough buildup of dead or dry skin. Any scrub that's too abrasive can cause micro tears in the skin. Ground apricot pits are more eco-friendly than plastic beads, but are another big culprit to micro tears and they should be avoided.
How to Exfoliate for Fall & Winter
During fall and winter, it's normal to be tempted to up your exfoliating game, as the cold air outside and the dry warm air indoors can create more dryness in the skin. Just make sure to follow up with ample hydrating and moisturizing products.
How to Exfoliate for Spring & Summer
There can be more moisture in the air during spring, and depending on where you live, summer can be quite humid. You can lessen your exfoliation depending on your skin type. For example, if you're experiencing a blemish flare-up, this may be a good time to up your exfoliation, to clear dead skin buildup in pores and keep debris from sticking to skin due to increased moisture in the air.
Not to be forgotten, exfoliation is a super important part of your skin care routine, no matter your skin type! Following these basic guidelines will lead to rejuvenated, brighter, and potentially clearer skin. Sound good? We think so too.