Your Guide to Natural Face Cleansers
Kick-start your natural skin care routine with a match made in cleanser heaven!
Published on Apr 17, 2019
Written by: 100% PURE®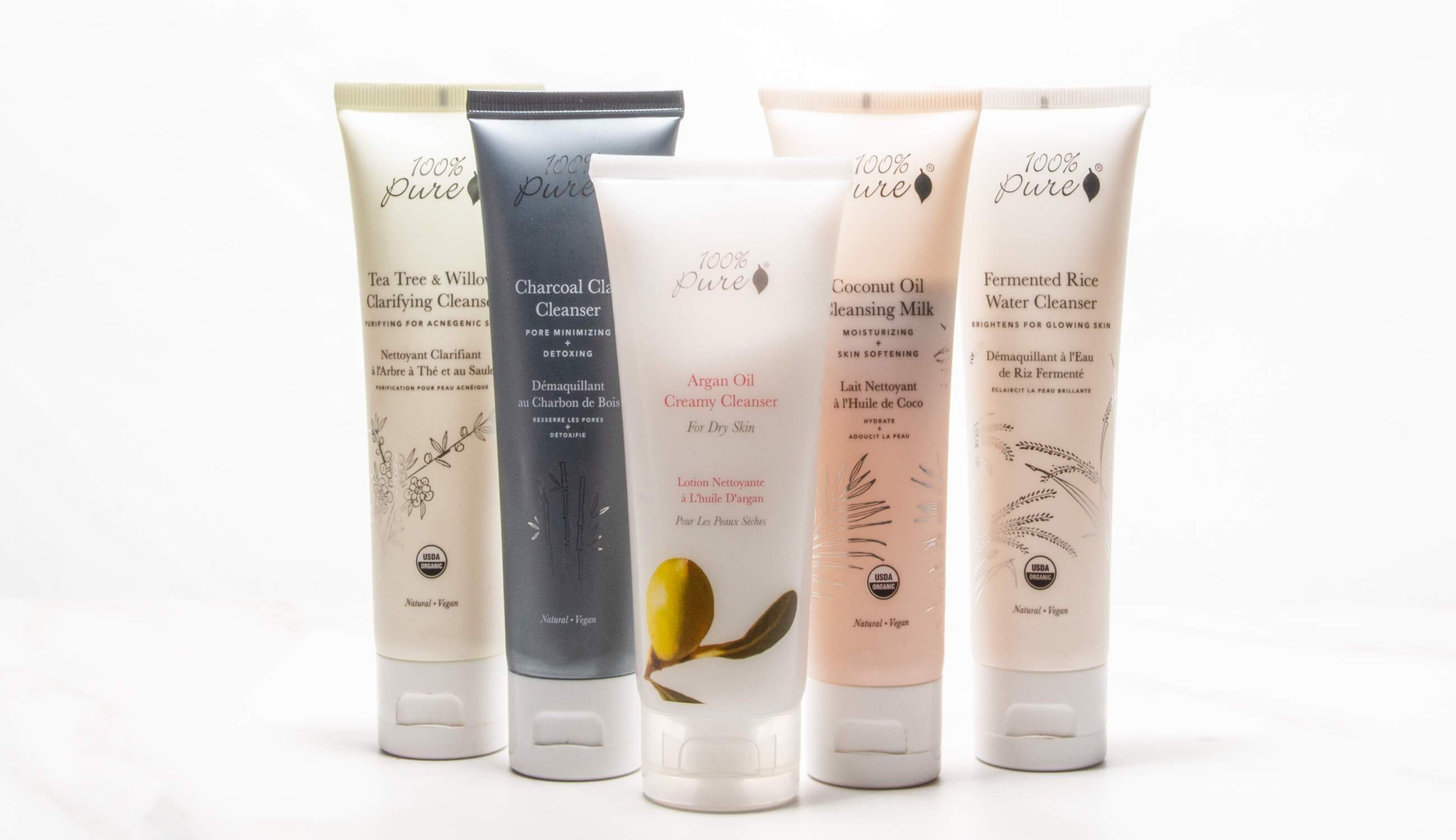 An effective skin care routine starts with clean and refreshed skin. Before you can reap the full benefits of your skin care, you'll need to cleanse the impurities, environmental pollutants, makeup, sunscreen, excess oil, and dirt from your skin. That's a lot of stuff that can accumulate throughout the day! Without cleansing the skin first, you run the risk of clogging pores, which can lead to unsightly blackheads and blemishes.
Before you run out and choose a face cleanser, know that not all cleansers are created equal. Many on the market use synthetic chemicals, harsh and drying surfactants, and petrochemicals as preservatives. We at 100% PURE are committed to using only natural ingredients, free of synthetic chemicals, chemical dyes, and artificial fragrances. We believe that the best natural face cleansers don't need to be synthetic to be effective!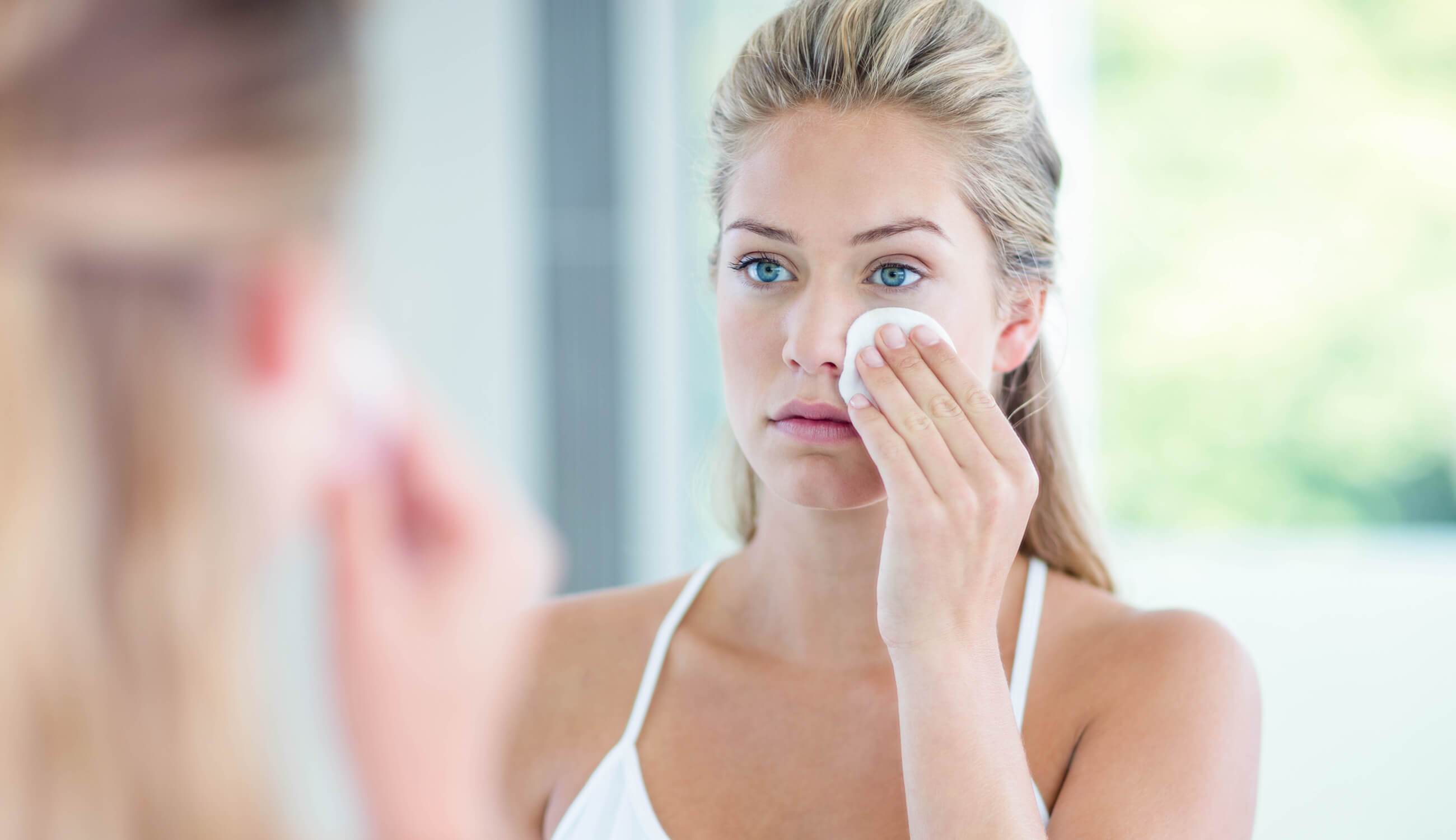 Your Cleanser Needs Based on Your Skin Type
If you're shopping for a natural face cleanser, the first step is knowing what your skin type needs to succeed. Choosing the wrong natural face cleanser can lead to breakouts, dry skin, and generally worsened skin symptoms. Here's what you should be looking for in a natural face cleanser, based on your skin type:
DRY SKIN Cleanser Needs:
Ingredients that inject rich moisture and refreshing hydration into ski
OILY SKIN Cleanser Needs:
Ingredients that degrease the skin, regulate oil production, and can bond to and remove excess oils from skin
COMBO SKIN Cleanser Needs:
Ingredients that both regulate oil and reinforce moisture
ACNE-PRONE SKIN Cleanser Needs:
Ingredients that calm redness, soothe irritation and inflammation, and purify pores-
SENSITIVE SKIN Cleanser Needs:
Ingredients that will hydrate and moisturize, without stripping or irritating skin
NORMAL SKIN Cleanser Needs:
Ingredients that keep skin in balance while reinforcing tone, texture, and hydration
DULL SKIN Cleanser Needs:
Ingredients that regulate melanin production, remove layers of dead skin, improve skin texture, and brighten skin tone
AGING SKIN Cleanser Needs:
Ingredients that encourage brightness, elasticity, moisture, and skin suppleness
Natural Face Cleanser Breakdown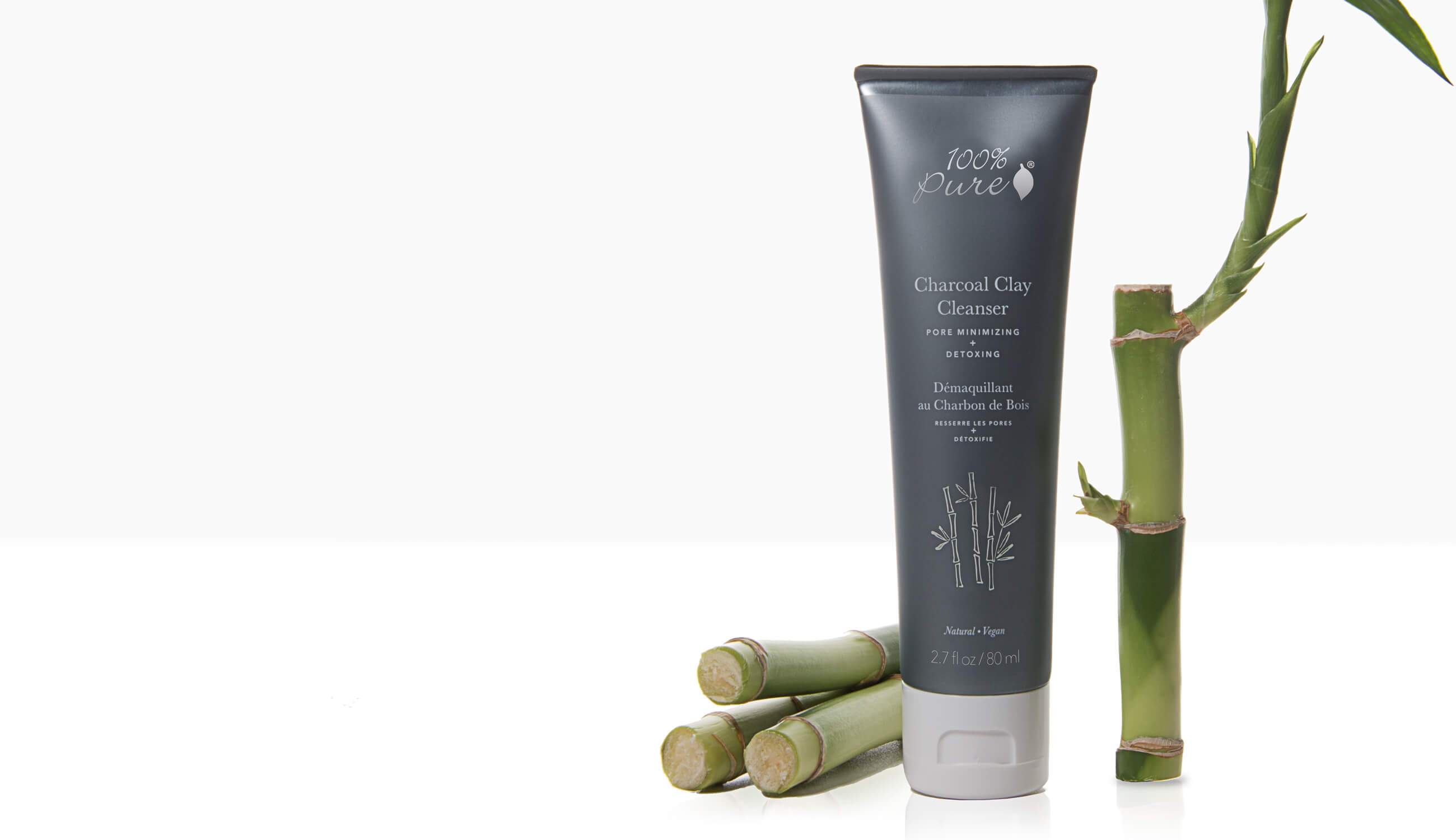 SKIN TYPES: Combo, oily, normal
Key Ingredients: Bamboo Charcoal, Activated Charcoal Powder, Brazilian Black Kaolin Clay
The benefits of activated charcoal are no secret. Its homeopathic uses date back to the ancient Egyptians, and in 1811 chemist Michel Bertrand even survived a dose of poison by ingesting the black powder. Charcoal has intense detoxifying power, which is why we've made it the star of this cleanser. Made in a base of brightening and oil regulating lemon water, this cleanser also cuts down on grease with Brazilian black kaolin clay. These two ingredients are especially powerful degreasers, and will help regulate oil production in oily skin types. We've also added organic glycerin to ensure moisture retention and help reduce fine lines.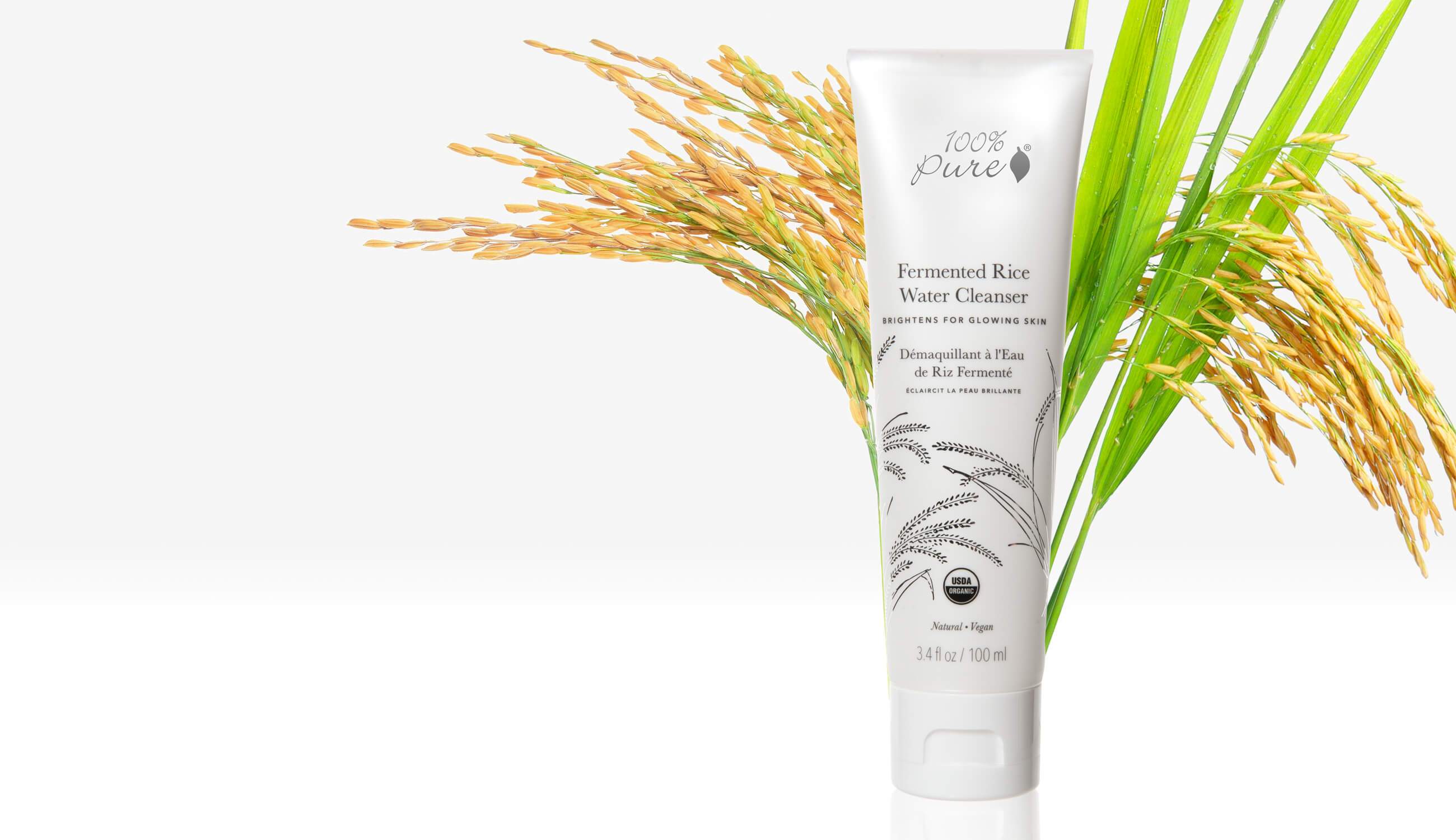 SKIN TYPES: Dull, normal, aging
Key Ingredients: Licorice, Sake, Pineapple
This facial cleanser brightens and refreshes dull skin for a more awakened glow. Skin that has lost its luster due to dryness, diet, age, or environmental damage will benefit from this rejuvenating formula. This cleanser is packed with natural skin care lighteners like licorice, sake (fermented rice water), mulberry, papaya, and pineapple. You won't have to choose between using harsh, synthetic bleaches that can cause long-term damage or getting brighter skin. This cleanser helps you avoid the toxic bleaches while both brightening and hydrating skin.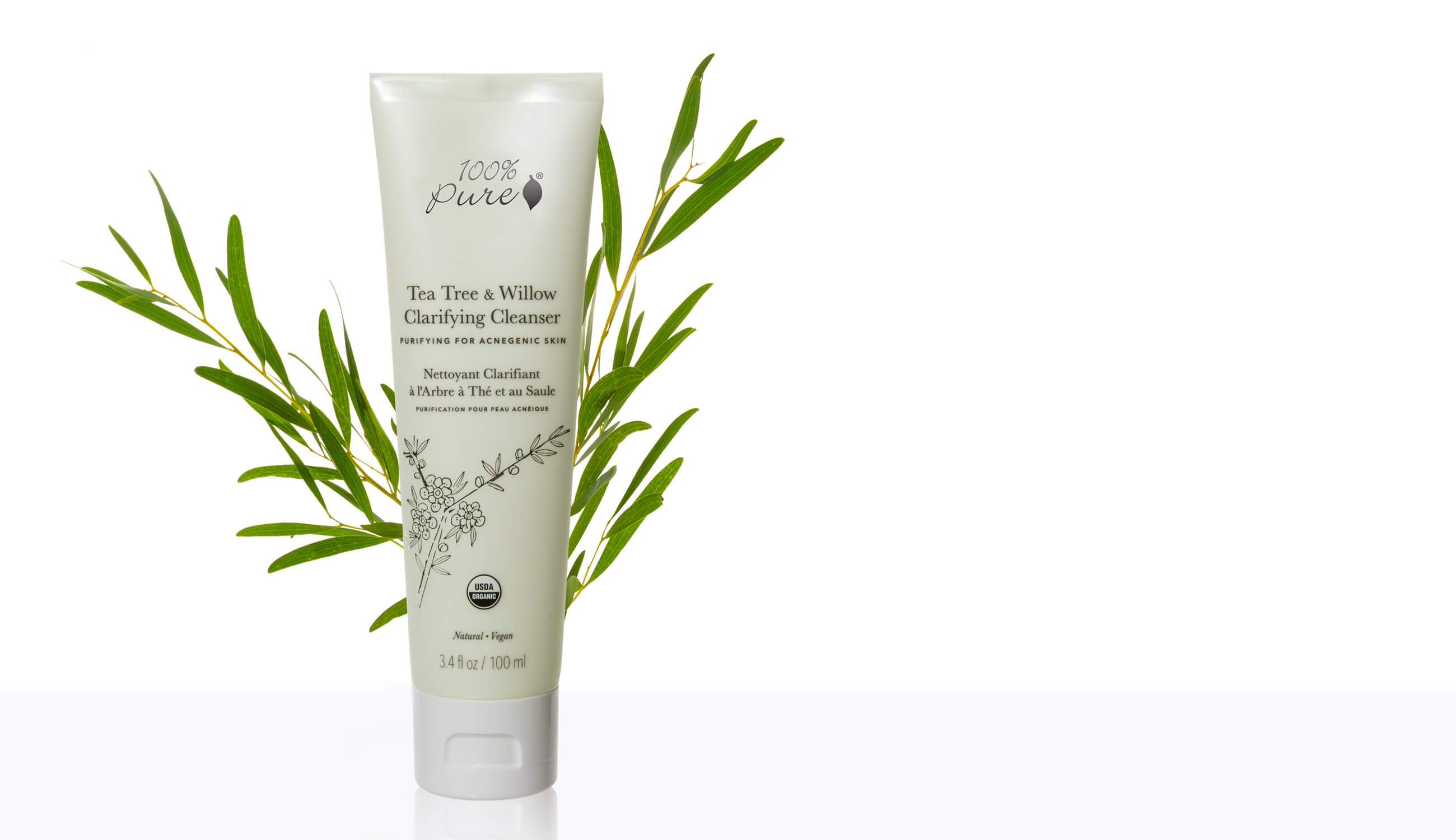 Tea Tree & Willow Clarifying Cleanser
SKIN TYPES: Acne-prone, oily
Key Ingredients: Tea Tree, Willow Bark, Parsley
Instead of exposing tender, inflamed acne to a skin-stripping acne cleanser, opt for antibacterial and antifungal herbs to soothe skin. Tea tree alone is anti-inflammatory, antimicrobial, antiviral, antifungal, antiseptic, and antibacterial. Whew! That means it can calm redness, swelling, and irritation caused by acne. Willow bark naturally contains salicylic acid, a popular anti-acne ingredient that can gently exfoliate skin in order to clean pores and remove dead skin cells. Antibacterial herbs like parsley, rosemary, and neem are all included as acne-bacteria-killing backup in this seriously purifying anti-acne cleanser.
SKIN TYPES: Dry, normal, aging, sensitive
Key Ingredients: Aloe Juice, Argan Oil, Saponified Coconut Oil
This fan-favorite cleanser is one of our original formulas for deeply cleansing any skin type. Argan oil is a dry oil, meaning it won't leave skin feeling greasy but will deliver all of the skin nourishing benefits of a facial oil while you wash your face. Aloe juice helps to hydrate dry skin, as does honey and green tea. Saponified coconut oil lightly foams to help wash away dirt, makeup, and impurities, while blood orange cuts through excess oil. Renewing vitamins C and E, plus CoQ10, also make this cleanser a secret-weapon for softening and brightening aging skin. This cleanser is great for any skin type, and especially nourishing for dry skin!
SKIN TYPES: Dry, normal, sensitive
Key Ingredients: Virgin Coconut Oil, Coconut Milk, Vanilla Planifolia
Inspired by the double cleansing method popularized in Korean beauty, this cleanser is both a cleansing oil and moisturizing face wash. Coconut contains Lauric acid, which is antibacterial for deep pore purifying. This cleanser can remove makeup while cleansing and softening skin.
SKIN TYPES: All skin types, especially dry or sensitive
Key Ingredients: Avocado Oil, Olive Leaf Oil, Blood Orange Essential Oil
Made from rich oils of avocado, coconut, and olive leaf, the oil molecules in this skin softening balm bond with the oils in your skin. These oils help to remove excess oil while deeply cleansing. Olive leaf, coconut, and blood orange are all especially antibacterial, meaning they can kill acne-causing bacteria when massaged into skin. The star here is blood orange, which is a natural degreaser that cuts through oil buildup on dirty skin. Polyglyceryl-3 Palmitate is a surfactant (cleansing agent) derived from coconuts, to pick up any makeup, dirt, and environmental debris to leave skin soft, supple, and thoroughly cleansed. This is our favorite natural face cleanser for removing even the most stubborn makeup — yes, even waterproof mascara!
Why We Don't Make Facial Cleansing Wipes
Our commitment to 100% PURE ingredients prevents us from making certain popular items, like facial cleansing wipes. Everyone loves a one-and-done face wipe, and we're asked for them all the time. But these products have not been made by us for a specific reason: there are no non-chemical preservatives to keep wipes moist, that we believe are safe enough for your skin. We refuse to compromise on our commitment to your optimal skin health by using synthetic chemical preservatives and synthetic chemicals to stabilize the products. Every product we make goes through an extensive nine step testing process to ensure that the product is safe, stable, pure, and potent. If a potential product cannot pass this extensive testing process, it will not become a product.
We don't recommend using the facial cleansing wipes on the market, because they are highly preserved and harsh to the skin. The synthetic chemical ingredients used in the wipes are likely to irritate the skin and may even leave unsightly bumps. That's why we recommend using natural cleansers that have been formulated without the addition of synthetic chemicals, fillers, or chemical irritants.
Why Use a Natural Face Cleanser?
Our natural face cleansers on the other hand, only contain nutrients for the skin. Each ingredient we use has a particular purpose and benefit for the skin. Forget those conventional cleansers made with harsh chemical surfactants and sulfates, or cheap fillers like plain water. We're using ONLY ingredients that promote hydration, moisturization, and nourishment. Make sure to massage the cleansers deeply into the skin, to help them foam and increase circulation. We love using our Charcoal Konjac Sponge to gently exfoliate and buff away dead skin cells.
PRO TIP: After cleansing, always remember to tone the skin. Toners will wipe away dead skin cells sloughed off during cleansing, and any loosened dirt or debris that was not fully rinsed. Use a hydrating and nourishing serum, followed by a moisturizer to lock in all benefits from the previous steps.