6-Step Anti-Aging Routine
How to use anti-aging products and sun protection to protect and nourish aging skin
Published on Apr 22, 2019
Written by: 100% PURE®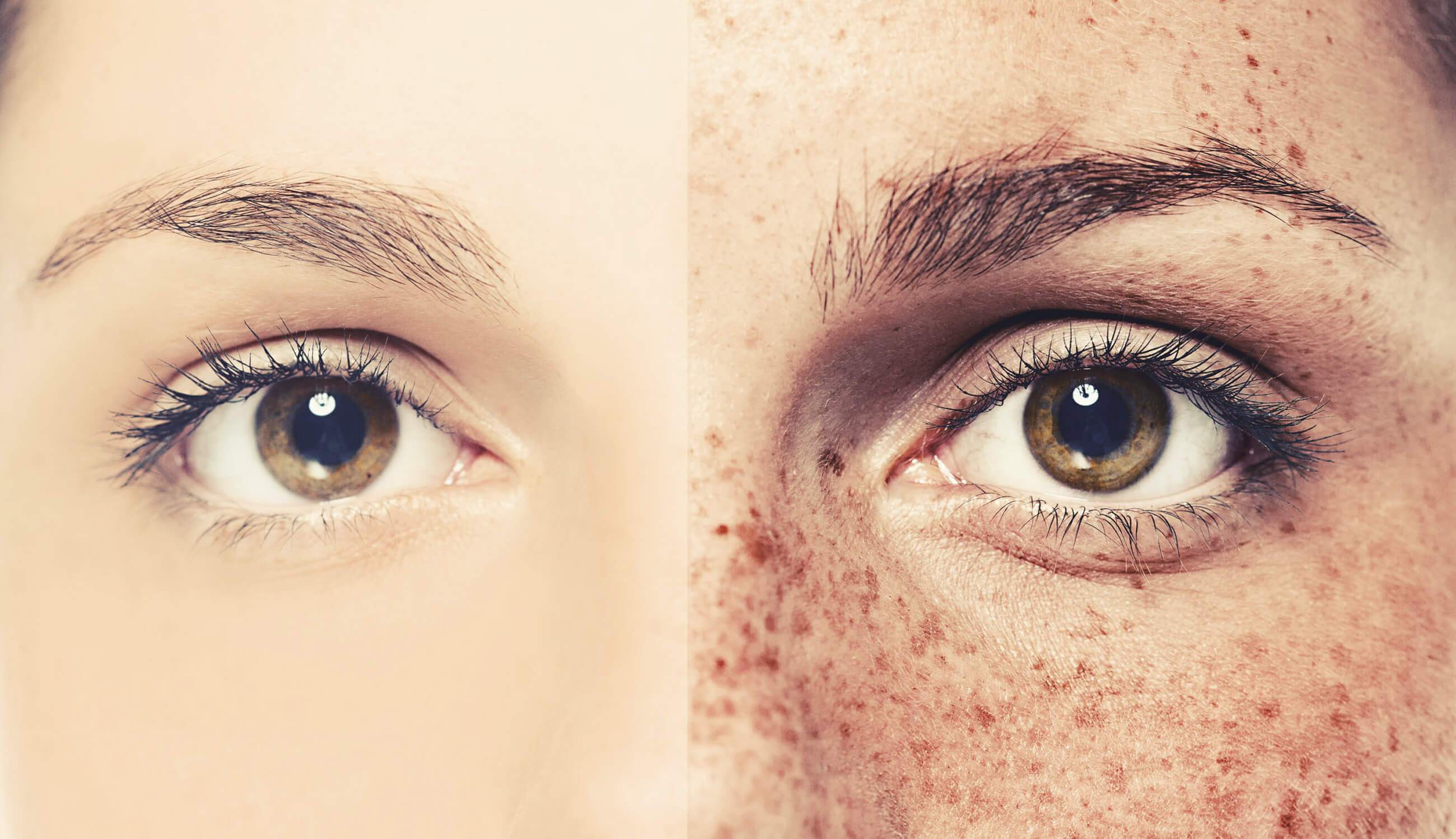 Right now we're channeling inspo from the world's oldest yogi, 100 year old Tao Porchon-Lynch. Tao embraces aging gracefully, with a health-forward approach. We could all take a page out of her book, because after all, we're not trying to halt aging. We're looking to sustain an age-protective skin care routine that allows us to age gracefully, healthfully, and with confidence. The first step is to accept that aging cannot be stopped (sorry, Twilight fans). Next, commit yourself to a healthy, caring relationship with your aging skin. Because when your skin feels truly healthy and nourished, your entire perspective on aging can change.
Built to nourish and address your skin concerns, this 6-step routine is derived from powerful natural ingredients. We'll show you how to sustain skin health, while encouraging youthful vibrancy and radiance in 6 simple steps. Join us in tackling pro-aging – that is, aging like pro.
Why Choose Natural Anti-Aging Products?
When it comes to "anti-aging" products, it can be super tough to find natural solutions. You're not trying to PUNISH your skin for aging, so don't buy harsh, toxic products that will strip or peel. Many anti-aging products claim to boost collagen and banish wrinkles, but will typically do so at the cost of drenching your face in harmful chemicals that eventually end up in your bloodstream.
Conventional products also place you at risk for major irritation and clinical dryness. High percentages of synthesized acids might get rid of dead skin cells that are causing dullness on your face, but they'll also get rid of a lot of good things, like natural oils and enzymes. Natural oils are key for lubrication and filling and smoothing fine lines, so the last thing you want to do for aging skin is to remove all of the protective oils. Our bodies are pretty smart, and for beauty and skincare, it's better to work with them instead of against them.
6-Step Anti-Aging Routine
While this is definitely a potent anti-aging routine, it's also an 'age-protective' routine, since it minimizes the damaging effects of UV rays and pollution. Your skin takes a beating from the sun during the day, so these PM only products (minus step 6) work hard when the sun goes down, to repair UV damage. These natural anti-aging products work together to address the stresses environmental factors can impart onto your skin. Sun is the main culprit of dark spots, sagging, and fine lines. Some of the best things in life age your skin the most, but with the right care, you can manage your skin health and quality while still conquering your outdoor plans. Time to dive in!
Step One: Serum
🌙
Multi-Vitamin + Antioxidants Potent PM Serum
Benefits:
Helps balance complexion, even pigmentation, and gently resurface sun or age damaged skin.
Instructions:
Apply onto cleansed and toned skin. Massage gently into skin, without pulling or tugging.
We've included our super popular Multi-Vitamin Serum to deal with discoloration caused by the sun and environmental factors over time. We love your freckles, but if you're concerned about age spots or slight darkening, this is a great product to use in your routine. Instead of stripping formulas that literally bleach your skin, our version is comprised of rose water, retinol, vitamin C, and niacinamide, along with a stellar blend of nourishing oils and vegetable extracts. With its potent mix of vitamins and antioxidants, this serum has been praised by fans for reducing hyperpigmentation and post-inflammatory marks.
Step Two: Eye Cream
🌙
Retinol PM Eye Cream
Benefits:
Promotes collagen production, elasticity, and lessens appearance of fine lines and wrinkles.
Instructions:
Dot gently around orbital eye area with ring fingers, then softly massage into skin. Don't pull or tug!
Using a targeted anti-aging product around the eyes is key to completing your age protective routine. The eye area is always exposed, meaning signs of aging may appear more harsh in that specific area than other parts of your body. Deep wrinkles, sagging, and crepey skin are all telltale signs of environmental damage. In addition to wearing sunscreen (we'll get to that later), you'll need to reverse damage done to this delicate area with products that aren't too harsh.
The Retinol PM Eye Cream is gentle enough to be used around your eyes, since it's made in a base of balancing rose water, renewing vitamin E, and gently soothing chamomile butter. Vegan retinol, stem cells, and peptides encourage cellular turnover and plump up skin that's become weathered and dull. This eye cream encourages cells to turn over more quickly, to diminish harsh signs of aging around your pretty peepers.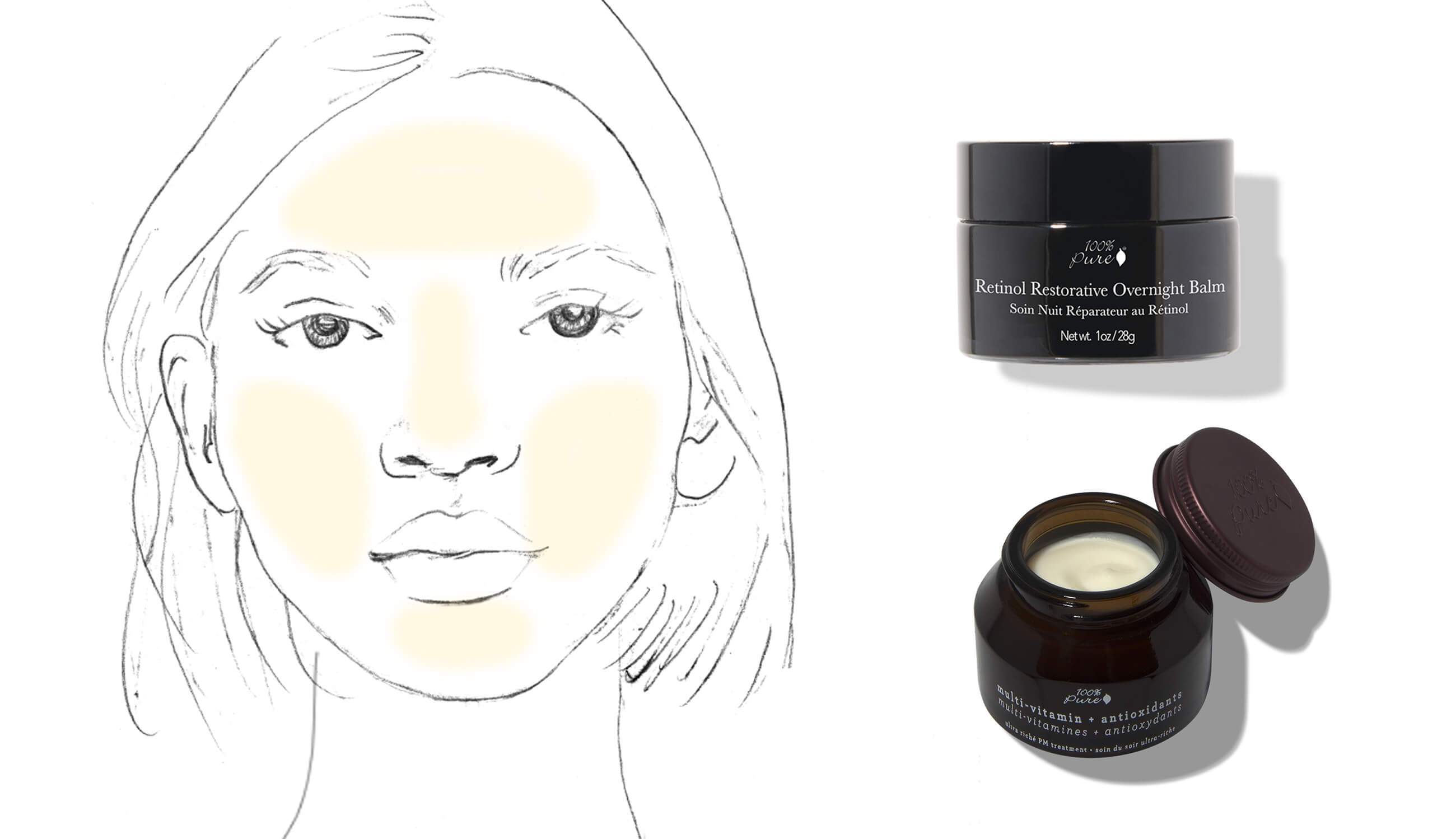 Step Three: Moisturizer
🌙
Multi-Vitamin + Antioxidants Ultra Riche PM Treatment or Retinol Restorative Overnight Balm
Benefits:
Rejuvenates, plumps, and reduces fine lines.
Instructions:
Apply quarter sized amount into cleansed skin of face and neck, on top of nightly serum.
Our Multi-Vitamin + Antioxidants Ultra Riche PM Treatment is another all-star player – it should be applied post-serum for a healthy glow. It's comprised of nourishing ingredients that pack a punch of Vitamin A, Vitamin C, Vitamin B3, Vitamin B5, Vitamin D, and Vitamin K2. The result is an ultra rich, correcting moisturizer that deals with dryness and irritation that comes with age, and years of environmental exposure.
This formula respects your skin's natural barriers and PH balance, thanks to a base made up of glacial water infused with aloe vera and organic green tea – ingredients that neutralize harmful free radicals that are the root cause behind aging skin. It's a hard working treatment that will have you covered for your daily dose of nutrients.
For a more targeted punch of retinol, you can swap out the Multi-Vitamin cream for our highly concentrated Retinol Restorative Overnight Balm. With a higher percentage of retinol, this balm will work wonders for resurfacing rough, hyperpigmented, and dull skin to reveal softer, more youthful layers of skin. This overnight treatment is gentle enough for all skin types, but should not be used every night. We recommend using 2-3 times per week, alternating with your Multi-Vitamin cream or other nightly moisturizer.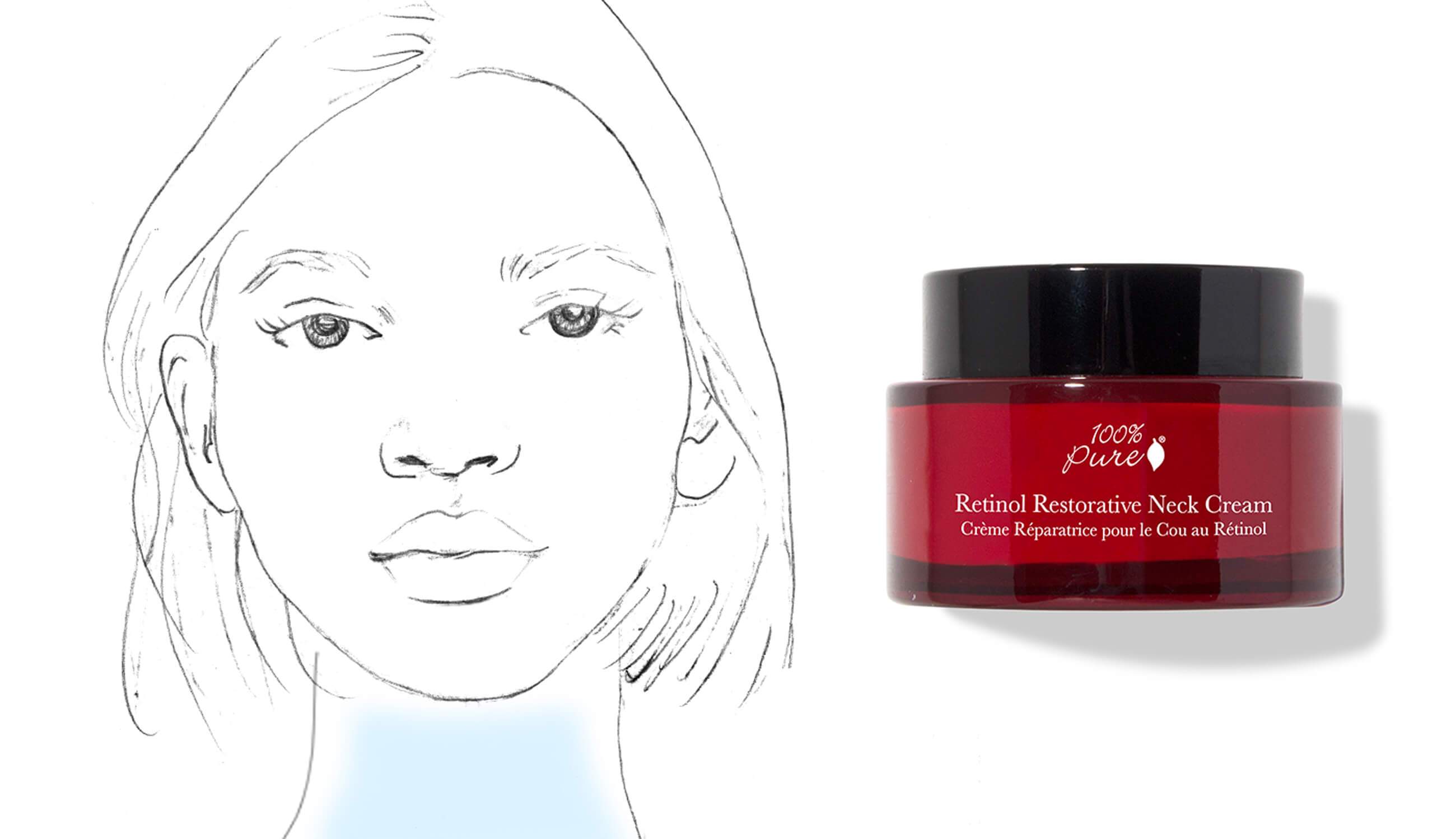 Step Four: Neck Cream
🌙
Retinol Restorative Neck Cream
Benefits:
Repairs signs of daily damage and fights free radicals.
Instructions:
Dab a quarter sized amount onto neck and décolleté, then massage gently upwards into skin.
A total pro-aging routine means paying a little extra attention to areas that have the most fragile and sensitive skin. Years spent outdoors will add up, and speed up aging in the process. So it's important to give a little TLC to delicate zones that are the most prone to sun spots and sagging. Your neck and decollete require sun protection, adequate cleansing, and hydration in order to stay healthy and taute over time.
With these important points in mind, we're diehard fans of our Retinol Restorative Neck Cream. This formula combines powerful natural ingredients like hydrolyzed quinoa (for increased skin density), naturally derived retinol (proven to be the most effective wrinkle-fighter), and olive squalane (for plumpness and hydration). Retinol is a powerful part of the anti-aging puzzle, hence its star status in most products in this 6-step routine. We've isolated cruelty free, plant-based retinoids in our anti aging formulas to reap the stellar collagen production benefits. Peep our retinol guide for more info on plant-based retinol!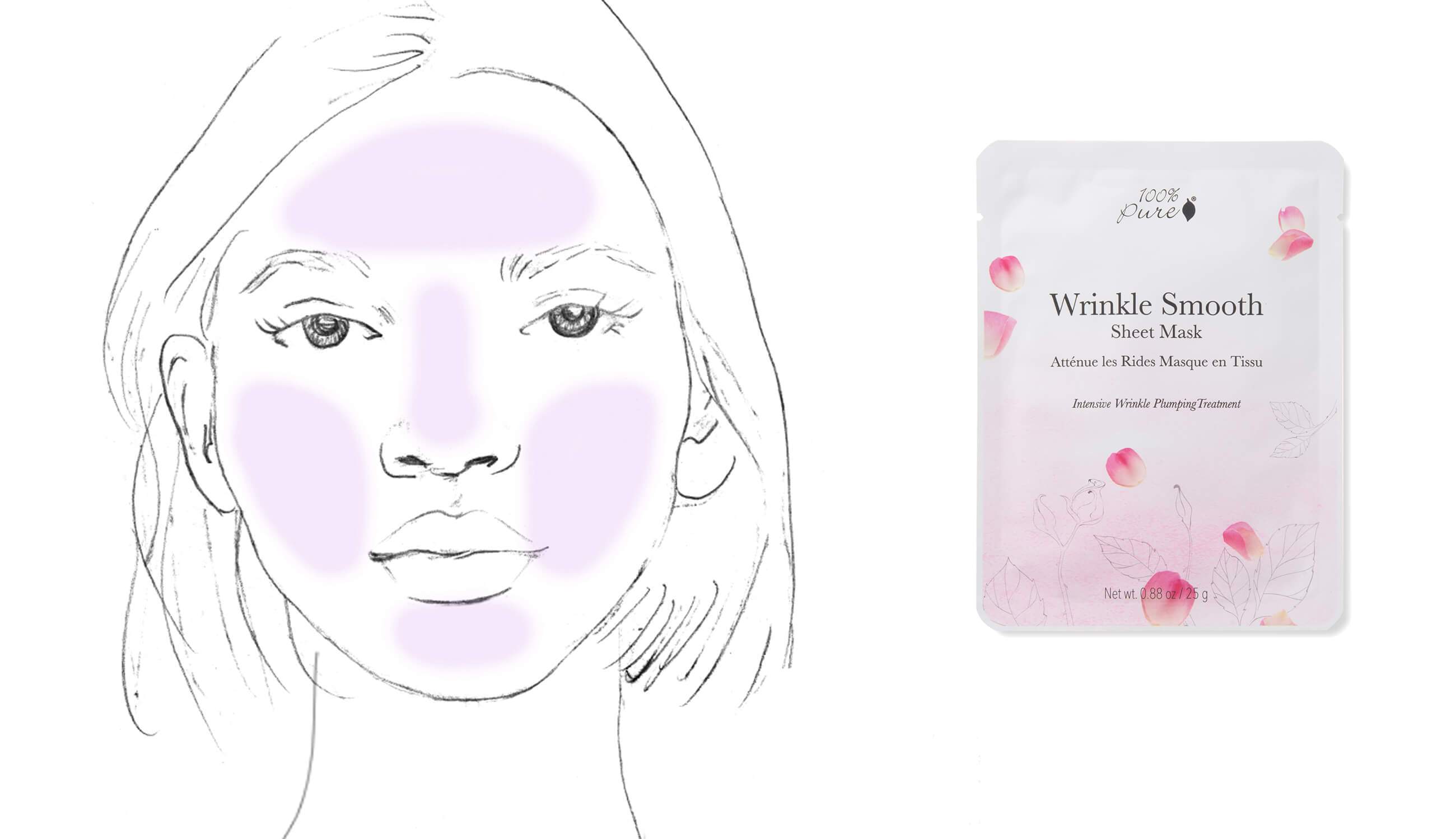 Step Five: Mask
🌙
Wrinkle Smooth Mask
Benefits:
Firms, brightens, and lessens appearance of fine lines and wrinkles.
Instructions:
Unfold mask and apply directly onto cleansed, moisturized skin. Remove after 20-30 minutes.
The 'mask' step is probably our favorite in this anti-aging routine, since it means you can stop and smell the roses (and more importantly, relax). Applying this mask later in this step-by-step process is key to stop and lock in nutrients from the previous steps. This prevents you from rushing through the routine, and allows nutrients to fully absorb before the big finale.
Wrinkle Smooth Mask ingredients like retinol (hello, old friend), vitamin C, and CoQ10 are all major players in restoring vibrancy to your skin. Green tea stimulates blood flow for de-puffing skin and calming redness. Orange peel and pink grapefruit extract naturally brighten with fruit acid. Flower oils of ylang ylang, geranium, and rosehip nourish and rejuvenate. Finally, hyaluronic acid packs a final punch of deep-penetrating hydration, to prime skin for optimal absorption in the last steps of your routine.
Step Six: Sunscreen
☀️
Tomato Lycopene SPF 20 Moisturizer
Benefits:
Moisturizes and protects.
Instructions:
Apply quarter sized amount onto cleansed skin of face, neck, and any other exposed skin.
Here it is: the pièce de résistance of your 6-step anti-aging routine. More important than all of the steps that came before it, sunscreen is the crucial connective link between your night and daytime routines. Without sunscreen, you are exposing skin to the horrors of UV exposure: burning, dehydration, and hyperpigmentation, to name a few. Dermatologists, doctors, and beauty experts agree: SPF is your skin's secret weapon.
Using a natural sunscreen can most definitely prolong the youthful characteristics of your skin. Our Tomato Lycopene SPF 20 Moisturizer makes the ideal daytime facial sunscreen, since it's designed to have a thin, lightweight texture. The base of hydrating aloe and gentle fruit and seed oils keep your skin feeling fresh, even under makeup. Physical sunblocks zinc oxide and titanium dioxide provide 2-pronged protection against UVA and UVB rays, while powerful antioxidants lycopene (found in tomatoes) neutralizes damaging and aging free radicals. This sunscreen is easily the most powerful multitasker in your anti-aging routine, and can be used daily!
Sun Exposure and Dark Spots
While there are many natural sunscreen products on the shelf to guard your skin, they are not all created equal. Some may not have a high enough protection factor to shield your skin from the sun's harmful rays or might be loaded down with toxic chemicals. In order to effectively defend yourself from skin cancer, sunburn, and wrinkles due to premature aging of the skin, you need to consider a few factors before deciding what to slather onto skin on a day-to-day basis — no matter the season.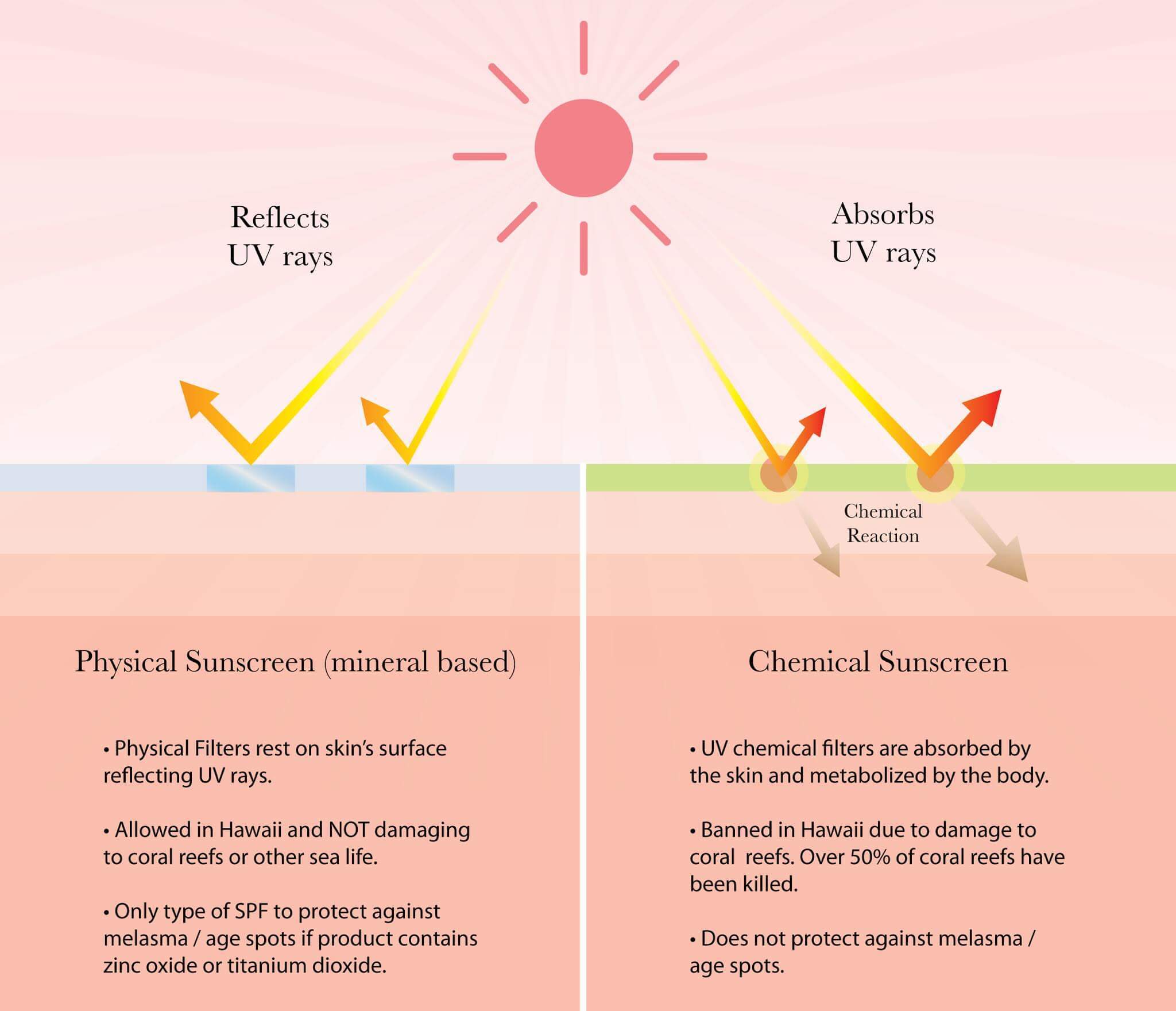 Year-Round Sun Safety
Freckles are generally harmless darkening of the skin through melanin. These tiny brown spots usually appear more pronounced when sun-exposure happens in early life and can fade over time or during winter. Age or dark spots from sun damage look similar, but are usually seen later in life and tend not to fade naturally.
What can I do about dark spots?
When skin is damaged by the sun it may become discolored. In addition to practicing the above 6-step anti-aging routine, you can use our Dark Spot Remover or Fermented Rice Serum (this one is safe for daytime use) to even out your skin tone. Always wear SPF the following day when using any retinol-based products, since UV exposure + retinol can sensitive and damage your skin.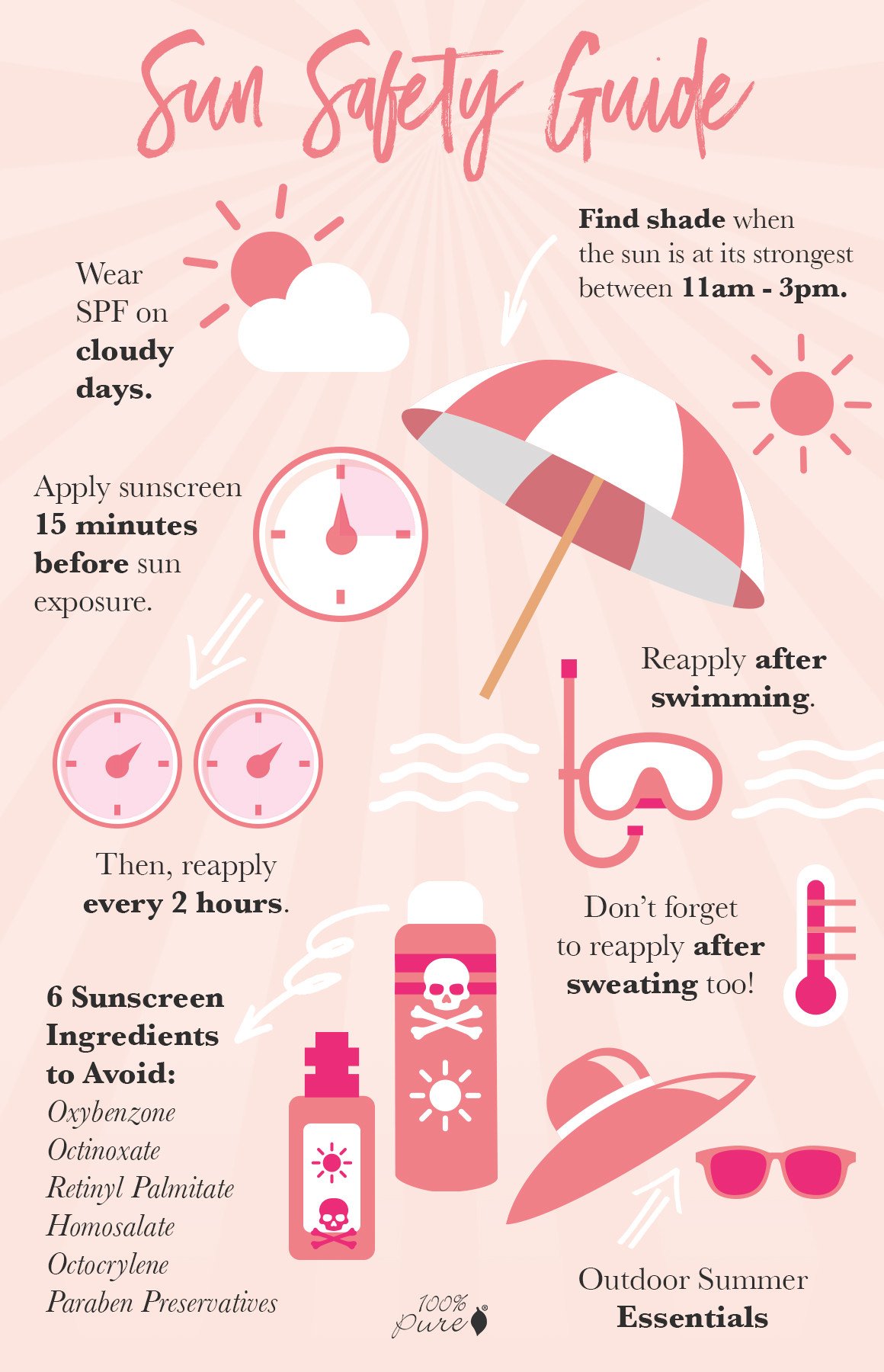 Important Tips for Buying and Wearing Sunscreen
According to Women's Health magazine, there are six potentially harmful ingredients that you should avoid:
Oxybenzone
Octinoxate
Retinyl Palmitate (Vitamin A Palmitate)
Homosalate
Octocrylene
Paraben Preservatives
You should look for labels that say broad spectrum, SPF 20 or higher, or skin cancer or skin aging alert. Broad spectrum means the sunscreen lotion will protect your skin from ultraviolet A (UVA) and ultraviolet B (UVB) rays, both of which can cause cancer.
UVA rays cause premature aging and can pass through glass. UVB rays cause sunburn and cannot. Sun Protection Factor (SPF) is a number that indicates how well your sunscreen will guard you from sunburn (UVB rays). So if you're using and SPF 30 sunscreen, that means you get 30 times the amount of sun protection than your normal amount of protection.
Everyone needs sunscreen, regardless of age, gender or ethnicity. The sun's harmful ultraviolet rays can lead to various skin cancers, the deadliest form being melanoma. Over their lifetime, 1 in 5 Americans will develop skin cancer.
When Should I Reapply Sunscreen?
This depends on how long you normally start to burn, but for instance, if you burn in 10 minutes, this is how you can figure out when to reapply.
Equation: Normal burn time X SPF rating = Total minutes of protection
SPF 15 – reapply after 150 minutes (10 minutes X 15)
SPF 30 – reapply after 300 minutes (10 minutes X 30)
PRO TIP: Every two hours, or so, reapply. When using water-resistant sunscreen, reapply after leaving the water or sweating, for maximum effectiveness.